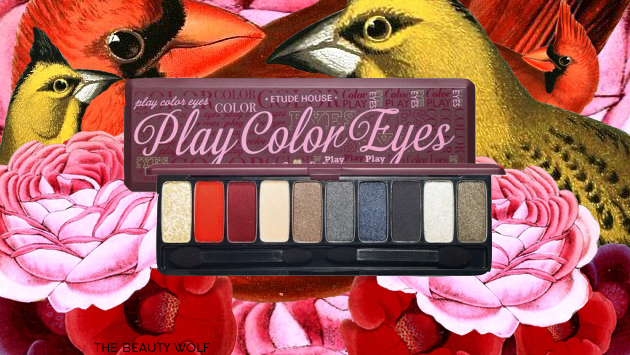 Yesterday was a white wintery day and I wanted to put some colour into it. Luckily, I received a package earlier in the week that I had been looking for an excuse to try out. It was judgement day for the Etude House Play Color Eyes palette.
Big eyeshadow palettes like this are fairly new offerings from the Korean collections. Etude House had a huge hit this Fall with their limited edition Flowering Eyes palette from the & Rose collection. I was lucky enough to score one but soon after they were sold out everywhere and some price gougers were trying to sell them for upwards of $100 on ebay!  I really enjoyed the Flowering Eyes palette and how it kicked off the whole rosy trend, so I had high hopes for the Play Color Eyes.
Play Color Eyes comes in two different palette shades. I went with 01. While 02 looked gorgeous, I just felt that 01 was a little bit different. 02 has more rose shades and I already owned the very rosy Flowering Eyes and knew the Naked 3 was going to be rose oriented as well. It also caught my eye because 01 contains that brilliant burning red colour. Another thing that swayed me away from the 02 palette was I noticed a lot of shades with a big chunky glittery finish that I had some apprehension toward, more about those later.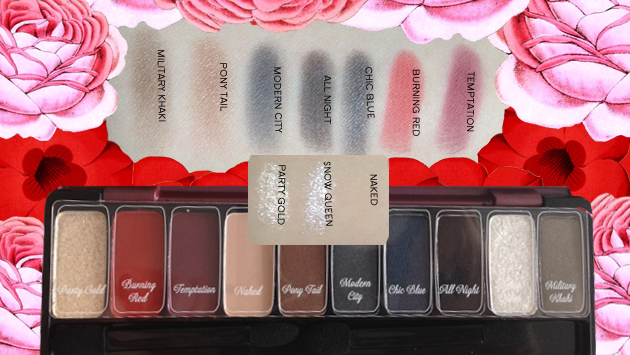 My camera really doesn't do these swatches justice, they are swatched here with no primer just straight onto the skin. If you google, the swatches the company provided are really a lot closer to how they actually look. I've swatched them here according the finish, not in order (because far be it from me to do anything the easy way haha). I was happy to see the inclusion of some matte shades and they performed wonderfully. The shimmery shades are not quite as pigmented but they blend very nicely and are easy to work with. They're extremely wearable, especially when you want some colour for daytime but don't want to go all out. These are softer shades, don't go into it thinking they're colour heavy payoffs like say a Kat Von D or Urban Decay (except for the red shades which we'll get to in a second).  The nightmare for me were those chunky glitter shades, I knew I was right to not be thrilled about them. Even over an eye primer it was fall out city. Thankfully there are only two shades with that finish so it wasn't too big of deal. There is a shade called Naked that I can't vouch for either because it is literally the colour of my skin and does not show up on me at all. I'm sure it would be a nice matte highlight or blender shade for someone of a different skin tone and colour than me. The big standout shades for me are Military Khaki which is a really pretty brown green, Modern City a shimmery warmer grey, and Ponytail which is a shimmery golden brown. The two red shades are really the stars of this palette, there's Temptation which is a lovely matte burgundy and Burning Red which is a knockout true lipstick red colour. They're so pigmented that after swatching without a primer, I had to break out the cleansing oil to totally remove them from my arm. When used with a primer and applied to my lids I had no fallouts from any of the shades aside from the aforementioned nightmare chunky glitter highlighters.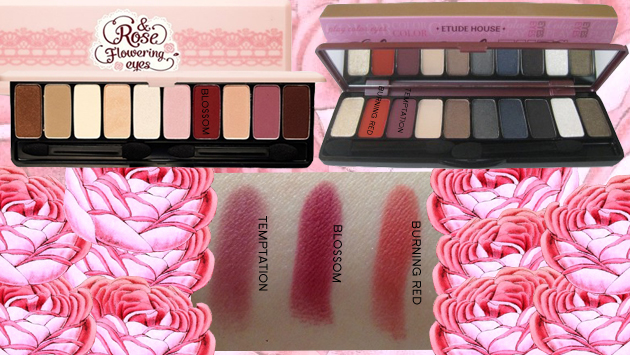 Some people have wanted to know if the reds in Play Color Eyes are different enough from Flowering Eyes to warrant a purchase. For those curious to see how similar they are I swatched them next to each other. The middle shade is Blossom from Flowering Eyes and it's sandwiched between Temptation and Burning Red. As you can see I'd say they're definitely different enough that if you're into reds you could feel justified in picking this up, especially since the reds are the most outstanding part of the palette.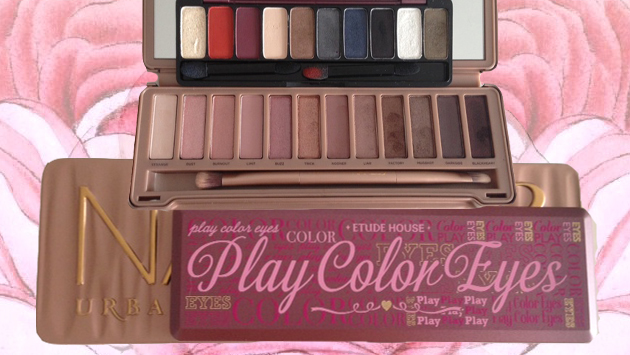 The palette itself looks tiny when you first see it, especially if you're used to the big monsters that are hot right now. Here's a picture of it next to the behemoth that is the Naked 3 palette. However once you open it we see that there's not that big of difference between the actual eyeshadow pan size. Also as you can see from the pictures if you already have the Naked 3 some of the shades here are complimentary to them and could make for some interesting eye looks.
Overall I'm going to give the Etude House Play Color Eyes palette a 3.5. At $22 it's a great value and different enough from a lot of things out there this season that it would make a nice addition to your eyeshadow collection.
A quick edit: I see that RoseRoseShop currently has this palette on sale for $17.60












by