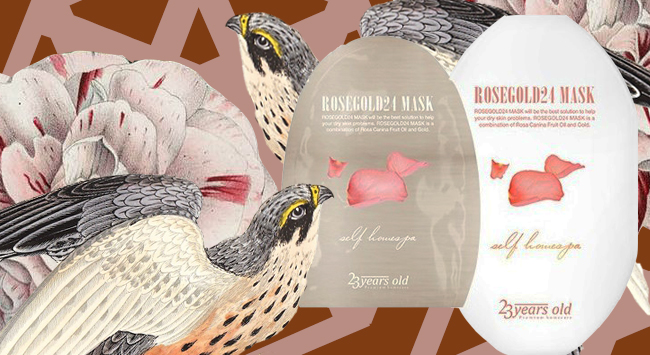 Hello internets! I'm alive! First of all, I know I've been away for an embarrassingly long stretch of time. But you know how life happens. Also there are so many other wonderful bloggers out there now that are killing it, it's been easy to sit back and transition into a reader instead of a writer. But it's not like I'm retired! I still write, even more than before hoenstly. I've been super busy working as a contributing editor at the new BeautyTap.com. I'm proud of the line-up of talent over there and I feel so very lucky to be included. Really, the writing and editing team there is amazing. So if for some crazy reason you've missed my reviews and writing, or just want to see what I'm up to these days, you can check out my stories and reviews here.
I said it would take something big to get me to finally update, and well, I finally found some products that really lit a fire under my ass.
23 Years Old Rosegold 24 Mask.
I picked this mask up on a total whim while shopping at my local K-beauty store with my bestie. She is always enabling my purchases (much to the chagrin of my wallet) but this time I am really grateful she was there cheering me on because I probably would have ended up putting it back before I got to the checkout. It initially caught my eye because of the unique packaging, but I've been burned by that before so I wasn't really expecting all that much in terms of results. Imagine my surprise when that sucker brought me the moon and the stars and all the orbiting planets.
I have never tried anything from this brand before. The name 23 Years Old made me think that it wasn't going to have much to appeal to me. If you inverted the numbers, I'm still older than the brand name. I understand it's probably an aspirational name but I'm not out here trying to look 23 years old, just like a better version of myself.
Straight out of the package this mask has serious weight. It is HEAVY, and I mean that in the best way possible.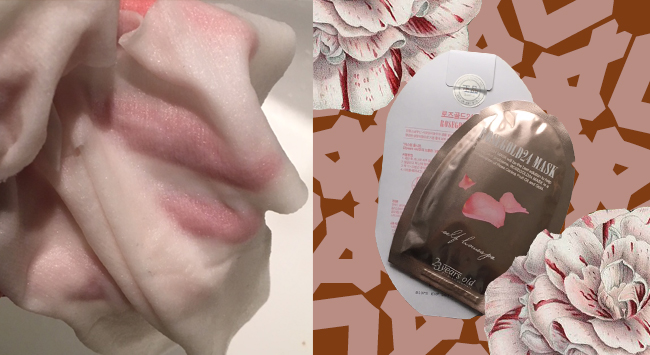 The mask material (which they call Tension Fibre) is as thick as if it were a quilt. It's straight up like a blanket for your face, and it's just as cozy. There's something about the heft and weight of this that makes the masking experience that much more grounding and comforting. It feels serious and it is serious. I also love the shape and size of it. It has a fuller fit and covers down to almost the neck on me. It really hugs the whole face, the weight of the fibre easily keeping it down flush with the skin. I also LOVE that it doesn't have a mouth hole. First of all, I don't have to talk to anyone while I'm wearing, second of all I'm so happy that my lips are getting the same benefits as the rest of my face.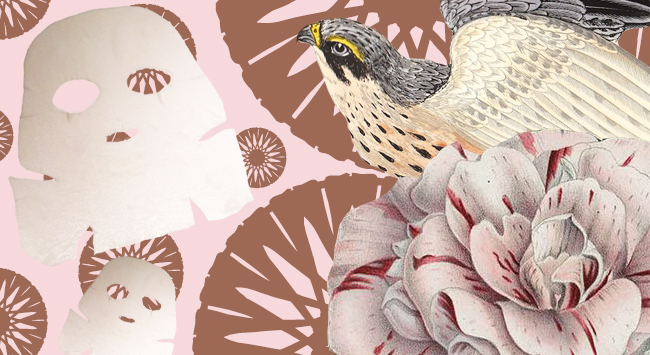 This mask is absolutely bursting with essence. You can wring it out, put it on your face, and it will still stay juicy for well over half an hour. You definitely have more than enough in your mask pouch to put on some high quality cotton pads and 're-mask' that night or even the next day if you store it in the fridge. The essence itself is thick and damn near completely opaque. It's very substantial and not very watery, almost like a cream-gel serum. The first time I used the mask I set my timer for 20 minutes, by the time it was done the mask wasn't even kind of dried out yet. That thick material does a lot of hold onto and slowly disseminate the serum.
I decided to let the mask linger for another 10-15 minutes because it just felt so damn nice and I could tell my skin was soothed and happy. I just felt good.  I could tell I was on the express train to tchok-tchok world.
Y'all when I took that mask off, my skin was G L O W I N G. I'm not even kidding, my skin was so plumped up and dewy, it legitimately looked like a week's worth of good sleep, a facial, perfect genes, and a blood sacrifice to the Gods. My skin was poppin'. I was floored. Dehydration was gone, fine lines were filled, ex boyfriends wept. The serum sinks in really well, there was some leftover that had to be patted in, but it wasn't anything at all unmanageable. I did the rest of my routine as normal and I could not stop looking at myself in the mirror. I realize that on the internet I'm like that character Wilson from Home Improvement, always obscuring my face (I'm incredibly uncomfortable with having my picture taken and camera shy!) but even I had to snap a few (still obscured!) pictures of myself when I was out later that day because I was so taken with the glow and brightness my skin was serving. Despite how much I hate selfies, this had to be documented.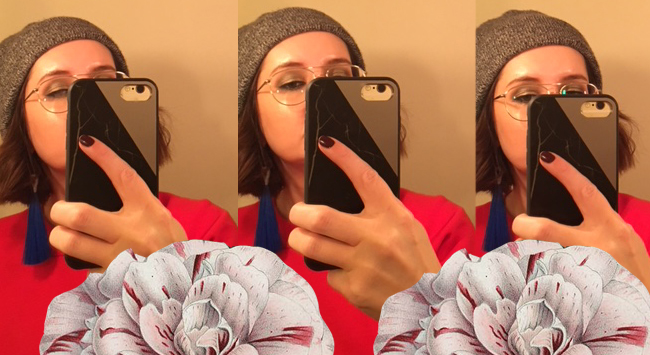 I have dry skin and we're still in winter here, but my oilier skinned friend loved this mask as much as I did. It also played nicely under my makeup, which I didn't expect when I saw how thick the essence was. I would say this is good for just about any skin type. If you're super oily and it's the summer maybe save this for nighttime, other than that I'd say this is a free for all for anyone who wants to try it at any time.
Ingredients:
Water, Glycerin, Dipropylene Glycol, Rosa Centifolia Flower Water, Caprylic/Capric Triglyceride, Butylene Glycol, Centella Asiatica Extract, Paeonia Suffruticosa Root Extract, Polysorbate 60, 1,2-Hexanediol, Chamomilla Recutita (Matricaria) Flower Extract, Glyceryl Stearate, Hydroxyethylcellulose, Rosa Canina Fruit Oil, Glyceryl Caprylate, Polyglyceryl-3 Methylglucose Distearate, Carbomer, Ethylhexylglycerin, Potassium Hydroxide, Sodium Polyacrylate, Gardenia Florida Fruit Extract, Methyl Glucose Sesquistearate, Glyceryl Stearate SE, Pelargonium Graveolens Flower Oil, Melaleuca Alternifolia (Tea Tree) Leaf Oil, Rose Flower Oil, Gold, Disodium EDTA
I assumed this was going to be just another run of the mill gylcerin based mask like most are, but this thing really feels completely different. There's not really anything super crazy magical in the ingredients that makes my heart skip a beat when I read the ingredients, so I can't quite figure out exactly that it is that makes it so special. There's the obvious Centella Asiatica Extract, which has proven wound healing properties, Chamomilla Recutita (Matricaria) Flower Extract which calms the skin, and Paeonia Suffruticosa Root Extract which is an antioxidant. But none of these explain how incredibly delightful this thing feels though! Like, I can't even deal with how much I love how it makes my skin feel. Is it the thick tension fibre? Is everything just in such perfect harmony that it's created a pool of heaven in a mask? I don't know or even care at this point, just keep 'em coming. I've already bought 20 of them, no joke.
I put this mask on again today at 6am and it's now 8pm and my face is still hydrated AF. You are getting all of my coins, 23 Years Old Rosegold 24 Mask.
One thing though, I'm so mad because all of the masks I previous thought were pretty good are trash now and have to live up to this one. Speaking of, there is one more mask that I fell in love with on the same day I discovered this one that performed just as well! I'll be updating you about it soon!
2018 might well be the year of the mask.
You can buy them at Amazon here
Check them out on eBay here and also here












by