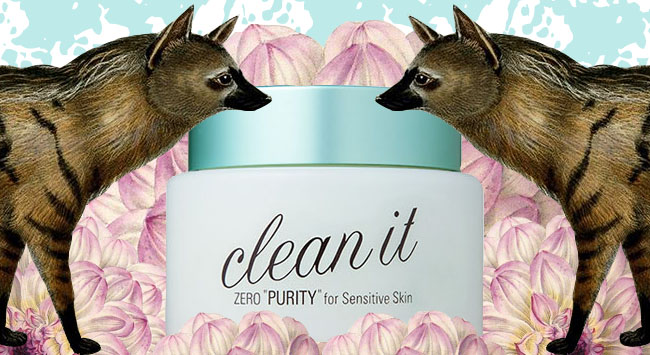 Do you double cleanse?  If you don't, you should. Even if you're not big on makeup, you should still double cleanse if for no other reason than it's the only thing that can properly remove the sunscreen I'm going to assume you're wearing every day (you'd better be wearing it!). Anyone that does wear makeup can attest to the difficulty of removing every last bit of waterproof eyeliner, mascara, and whatever goodies you use to glam up your eyes. One of the gentlest ways to do that is with an oil cleanser, and the easiest way to use an oil cleanser is in the form of a balm cleanser. Those that don't like the runny juggling act you have to do with an oil cleanser, but love the results, are going to absolutely love balm cleansers. They are the consistency of sherbet/sorbet and as they are warmed up by your skin and friction, turn into oil, making short work of removing stubborn makeup and sunblock.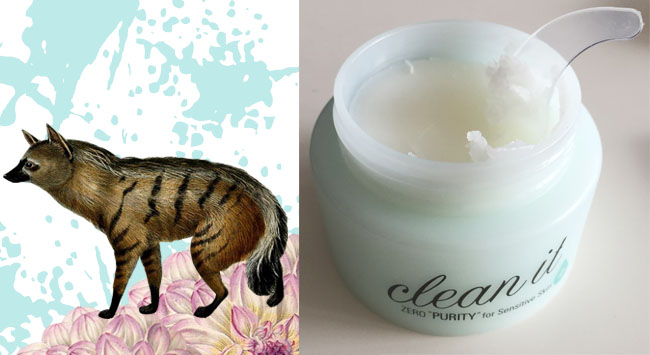 I've reviewed a sherbet cleanser before, way back at the start of this blog, but had gone back to oil cleansers since that one ran out. A couple of months back I was sent this Banila Co Clean It Zero Purity from my one of my favourite shops, SokoGlam. I can't believe I have gone all this time without trying the Banila Co cleanser, it's a been a basic staple for almost everyone I know in the game. It comes in a plastic tub and they include a little spatula scooper thing so you don't have to dig your nasty hands into the product. I always appreciate when a company does that. Immediately upon testing the cleanser I was mad I hadn't tried it sooner. Once applied to dry skin and massaged in, your makeup simply melts away. Even my beloved Tony Moly Backstage Gel Liner which is super tough, is no match for this balm. There isn't even the ghost of a trace of that liner left, and that shit stays on my face through my 105 degree hot power flow yoga classes! (Seriously folks, anyone who does intense sports or just really loves long last tough makeup, needs to own that liner. And anyone who wants that tenacious stuff off with ease needs to own this cleanser. They're both little miracles).
Here is the aftermath of several eyeshadows and Tony Moly Backstage Gel eyeliners swatched on my arm over a primer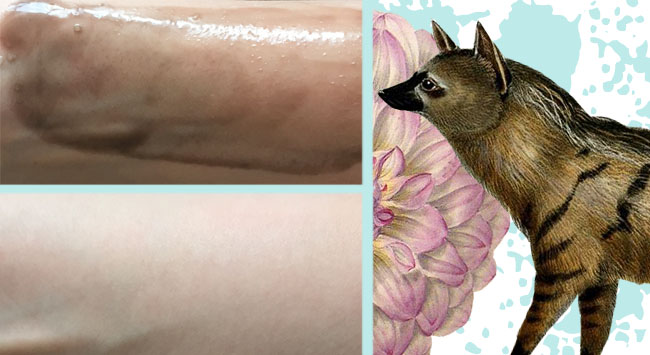 And as you can see it comes off completely brilliantly clean with minimal effort. It really is a stellar performer! It's especially great for removing eyelash glue remnants on your lashline, if you're at all familiar with eyelash glue you know it's the devil. This stuff gets rid of all of it, it's awesome. I especially like this sensitive skin formula. It has the faintest fresh scent and it sacrifices none of the cleaning power you'd find in the original. I highly recommend this cleanser to be a part of your double cleansing routine!
Five happy little clean turtles






It's also available at amazon
http://www.amazon.com/Banila-Purity-Sherbet-Cleanser-Sensitive/dp/B00HDAF4ZG/ref=sr_1_2?ie=UTF8&qid=1421681544&sr=8-2&keywords=banila+co+clean+it+zero+purity
On ebay at rubyrubyshop (owners of roseroseshop) ships worldwide!
http://www.ebay.ca/itm/BANILA-CO-Clean-It-Zero-Purity-100ml-/331417028886?pt=LH_DefaultDomain_0&hash=item4d29fe8916












by