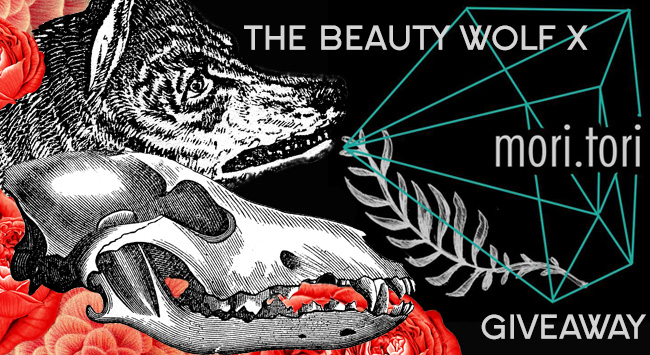 It's no secret that I'm a fan of things that off the beaten path, and that my aesthetic follows suit. One look around at my artwork on this blog confirms that. I'm also a fan of clean modern lines. It's not often the two meet, but Mori Tori combines them both with some wonderfully weird jewelry and beautifully haunting ceramic pieces.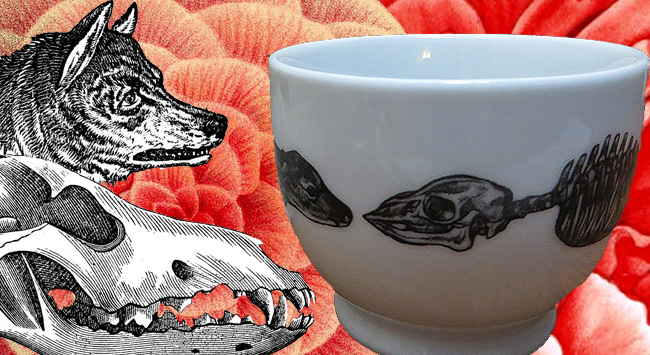 Mori Tori is ran by the immensely talented Erika Harada (who you may have caught on an episode of Oddities on the Discovery Network or the Science Channel). Erika is an illustrator and graphic designer (with one of the coolest skull and taxidermy collections I've ever seen) living in New York City. She brings her brilliant illustrations to "life" so to speak, by printing them on different pieces of ceramics and jewelry. She also draws from her deep love of nature and fashions killer earrings out of African porcupine quills! I have a pair myself and I cannot tell you how many compliments I've gotten from them.
Erika is a real life friend of mine, and reader of The Beauty Wolf. We decided to team up together and bring you a Mori Tori x The Beauty Wolf giveaway!
We are giving away your choice of either a pair of the aforementioned porcupine earrings,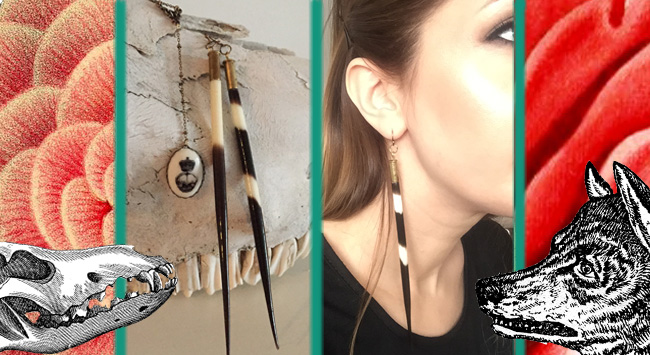 or a charming little crowned fetal skull drop ceramic pendant necklace, seen here: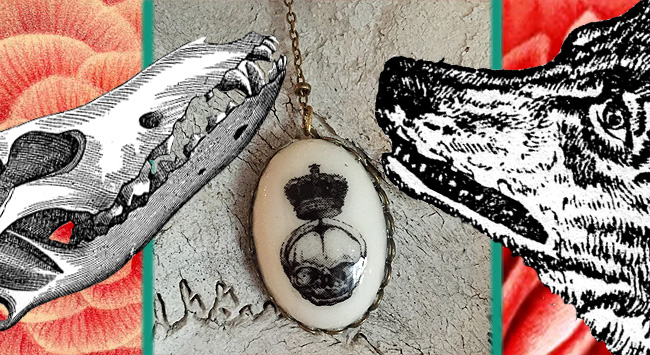 You'll also be able to choose between one of two The Beauty Wolf x Mori Tori original prints designed just for this giveaway!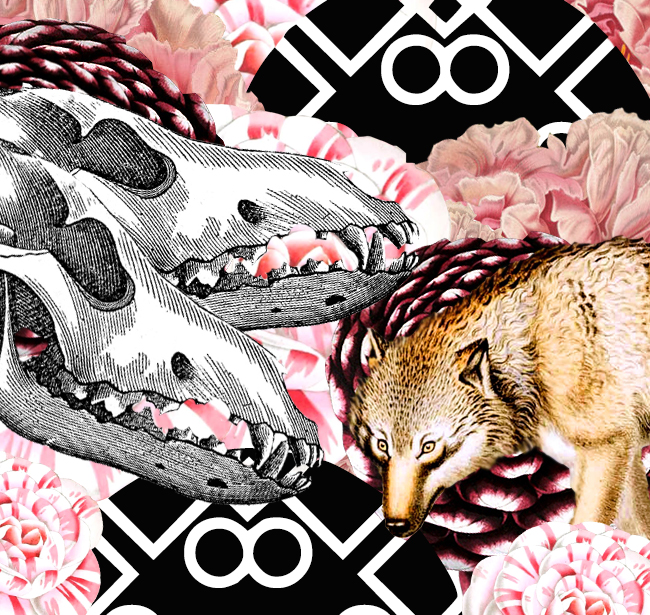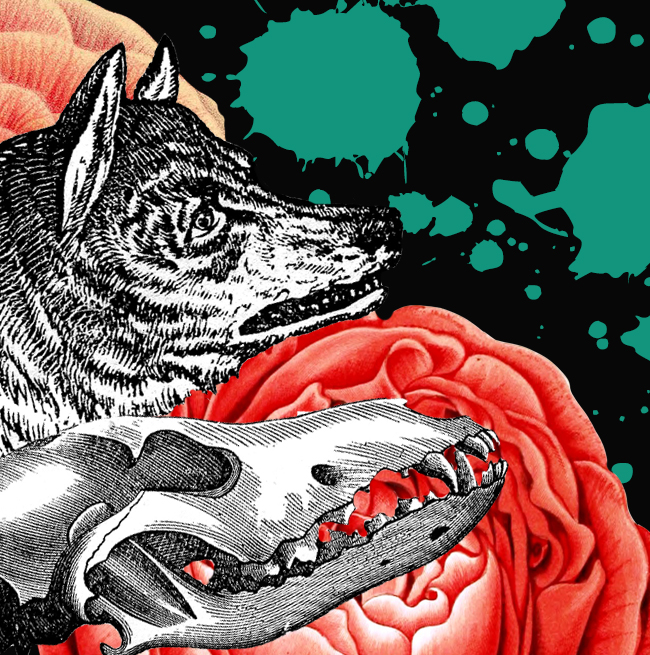 All you have to do is like Mori Tori and The Beauty Wolf on Facebook, Twitter, and Instagram to win! One winner will be selected at random, at that time we will email you and ask which prizes you'd like to receive! Get on it bbs!
a Rafflecopter giveaway

I also sat down and had a quick interview with Erika, which you can read below!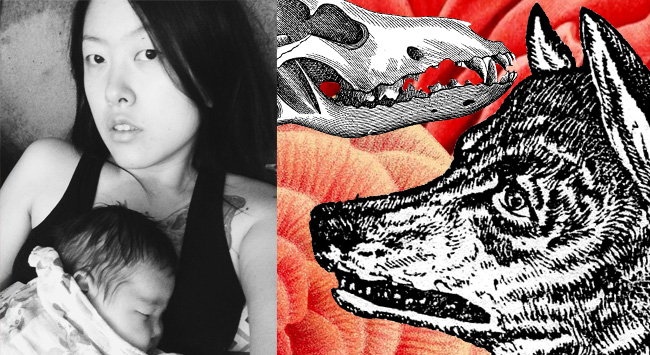 1. First of all I obviously love your whole aesthetic, what inspires you when you're creating?
"This might sound cliche, but all my life I've been in love with nature. I was fortunate enough to grow up in an area with plenty of forest land to play in, and everything I encountered there as a kid, from insects to squirrels to deer, were so magical to me. Since then, I've traveled the globe and gotten to see all sorts of different wildlife. South Africa in particular has captivated me with its beauty and wild animals, and living among true wilderness in the bush there was a life-changing experience. I can't get enough of reading books about ecology, animal behavior, and physiology now.
My dad's hometown in the middle of the New Mexican desert got me interested in specimen collecting, since it was so much fun finding cattle skulls and other bones out in the dunes. It also helped that I grew up visiting my favorite museum in the world — the American Museum of Natural History here in New York City, with its huge halls of dioramas and dinosaur skeletons. It is now a bit of an obsession, and my apartment is covered in various animal skulls, skeletons, and taxidermy. I find the organic forms of bones to be so beautiful, and I've never gotten bored of drawing them."
2. What does the name Moritori mean?
"Mori" means "forest", and "tori" means "bird" in Japanese. It's also no coincidence that "mori" means "dying" in Latin — "memento mori" is one of my favorite sayings.
I'm actually not a particularly morbid or dark person; I am fascinated by death and all that is associated with it, because it's such an important and oft-ignored part of life."
3. How long have you been an illustrator? Did you study art in school?
" I've been an illustrator off and on for a while. I work primarily in the graphic design field but still find some time to do some drawing, commercially and otherwise. I went to school for animation first, and then graphic design, but the fine arts classes I took were always my favorites; learning to work with a new medium every semester was so much fun. I still try to continue to learn new techniques —  besides, being in New York City, it'd be a shame not to take part in some of the unique workshops that are out there."
4. Also, for as long as I've known you, you've had beautiful skin. Tell us what products you use and love!
"My mom has been a big influence on my skincare preferences. She's always taught me about the importance of a good moisturizer and toner (actually called "lotion" in Asia) — she's used a lot of Hada Labo products, and I love them too. Using the Gokujyun Clear Lotion and Gokujyun Milk  in tandem is pretty great for me and my combo skin that breaks out easily; they go on light but still locks in the moisture. I usually can't do the full Japanese skin care ritual that my mom religiously does every morning and night, but I try to at least use these two!"
So now that you've gotten to know Erika and Mori Tori, check out her shop and enter our giveaway! Good luck gorgeous!












by