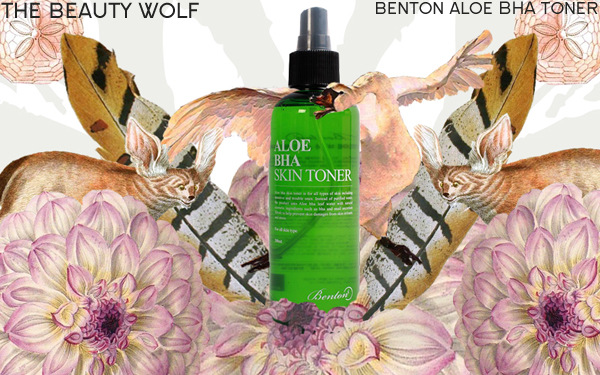 Welcome to my first review!
Benton is a small new company out of South Korea that has beauty bloggers buzzing. I suppose that buzzing is appropriate since two of the offerings out of their four product line actually contain bee venom.
To start I'm going to need you to throw out everything you think you know about toners. If you're not familiar with the Korean version of a toner, it's a soothing and moisturizing skin treatment. It's not your American stinging, dry out your skin, alcohol laden burn festival. You're probably used to getting your traditional toners from the drug or department stores with the aim of purification and drying up excess oils, that's not what this stuff is about. This one aims to gently eat up the dead skin cells blocking the way of your fresh skin underneath while preparing it for your moisturizer. After using this toner your skin isn't a dried out tight piece of parchment paper, it's a plump moisturized (but not oily!) canvas waiting to receive the rest of your routine. The Benton BHA toner contains salicylic acid which is a natural chemical exfoliator. Chemical exfoliators are much gentler on your skin than manual scrubs and are a great way to get you on the road to a brighter complexion. If you have sensitive fussy skin don't let that scare you, this toner is extremely gentle. I have very reactive skin and this goes on like a dream.
A glance at the ingredients tells you why it does
Ingredients:
Aloe Barbadensis Leaf Water (58%), Glycerin, Sodium Hyaluronate, Aloe Barbadensis Leaf Extract, Snail Secretion Filtrate, Salicylic Acid (0.5%), Beta-Glucan, Althaea Rosea Flower Extract, Aloe Barbadensis Leaf Extract, Polyglutamic Acid, Portulaca Oleracea Extract, Psidium Guajava Fruit Extract, Aspalathus Linearis Extract, Zanthoxylum Piperitum Fruit Extract, Pulsatilla Koreana Extract, Usnea Barbata (Lichen) Extract, Acrylates/C10-30 Alkyl Acrylate Cross Polymer.
The first and second ingredients are derived from the aloe plant. What could be more soothing than that? People have used aloe's healing properties for centuries. As a small child I remember running to my Grandmother after scraping myself and staring in wonder as she broke off a leaf from the huge plant she kept and applied it's juice to my booboo. I was used to the stinging hell of Bactine spray and was in awe of how relieving the aloe was. I want nothing less for the delicate skin on my face.
The toner itself is clear and has no fragrance at all. It's thicker and has more viscosity and slip than just plain water. The preferred application of this toner seems to vary from person to person. Some people have found that the spray nozzle on the container Benton delivers this in is a bit harsh. I myself when first trying this out went to give myself what I thought was going to be a gentle mist of toner only to blast myself in the face with a concentrated stream of it. I think this was some sort of cosmic karma for all the times I've sprayed my cats in the face with a water bottle for being little assholes. What I've taken to doing is spraying two or three pumps into my palms and then massaging it into my face. This works out really great because part of my skincare routine uses another product that I find to be quite sticky (O.S.T Vitamin C serum, I'll get to that review later) so the toner cuts it perfectly and makes a great delivery system. Plus, it's a great way to use the excess on your neck and décolletage which so often get neglected in the daytime hurry and get out the door/nighttime hurry up and get to bed hustle.
Now to get to the meat of this review. Does this stuff work? My answer is a resounding yes. It really does. Give this stuff a whirl, I really doubt you'll regret it. A lot of people I know have traditionally skipped toners because they either don't see the benefit in them or they don't like the way they dry out their skin. This toner is a whole other animal, and it's an animal you need to add to your menagerie right now!
This product gets a full 5 turtles
A lot of people don't know where to purchase this line.
From ebay
http://www.ebay.com/itm/BENTON-Aloe-BHA-Skin-Toner-200ml-Pump-Type-/331376027891?pt=LH_DefaultDomain_0&hash=item4d278ce8f3
From Amazon
http://www.amazon.com/Benton-Aloe-Skin-Toner-200ml/dp/B00EHAW7SM/ref=sr_1_fkmr0_2?ie=UTF8&qid=1433881415&sr=8-2-fkmr0&keywords=benton+aha+toner












by