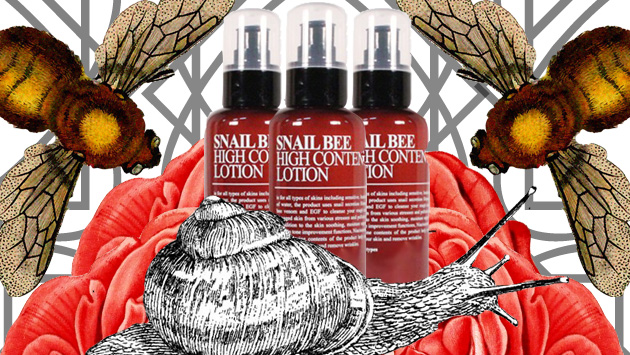 I had the highest hopes for this product. I don't think I've ever put so much effort into getting a product to work for me.  Let's just jump right into this and have a look at the ingredients:
Snail Secretion Filtrate, Butylene Glycol, Glycerin, Cetyl Ethyl Hexanoate, Sodium Hyaluronate, Niacinamide, Zanthoxylum Piperitum Fruit Extract, Pulsatilla Koreana Extract, Usnea Barbata (Lichen) Extract, Cetearyl Olivate, Sorbitan Olivate, Squalane, Urea, Human Ogliopeptide-1, Bee Venom, Argania Spinosa (Argan) Kernel Oil, Helianthus Annuus (Sunflower) Seed Oil, Carthamus Tinctorius (Safflower) Seed Oil, Pentylene Glycol, Glyceryl Stearate, Stearic Acid, Cetostearyl Alcohol, Xanthan Gum, Tocopheryl Acetate, Bacillus Ferment, Azealic Acid, Alcea Rosea Root Extract, Aloe Barbadensis Leaf Extract, Panthenol, Beta-Glucan, Diospyros Kaki Leaf Extract, Salix Alba (Willow) Bark Extract, Plantago Asiatica Extract, Laminaria Digitata Extract, Ulmus Campestris (Elm) Extract, Aloe Barbadensis Leaf Juice, Adenosine
"Nooooooooo!" Was my first thought when I got a look at the ingredients list. While this is packed full of great natural ingredients, there's also some decidedly unnatural, potentially triggering ingredients as well. I'm going to link you to my girl
Skin & Tonic's review for an in depth breakdown of the ingredients
 (because no one does it better lbr).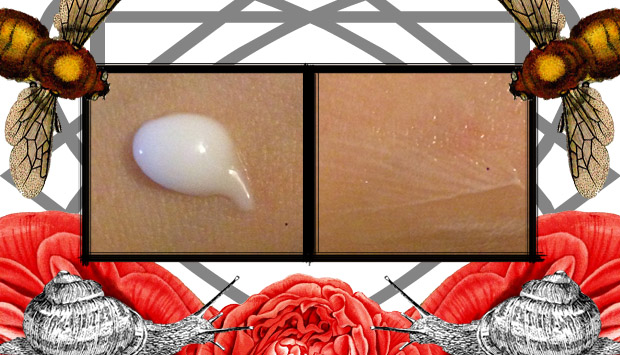 The lotion has a light consistency and is odorless, I think that's about the only thing people can agree on about this product.  The reviews have been all over the place for this stuff. Some of my friends absolutely love it. Some people think it's a mess. I think I'm somewhere in-between. When I first started using it, I found that it didn't melt instantly into my skin the way other Benton products do. It tended to kind of sit on the face the way a physical sunblock does. I still wasn't ready to give up on it because I actually liked the way my skin felt with it after it had finally sunk in. Soon after starting the trial I also added another product to my mix, Paula's Choice BHA 2% liquid exfoliant . Once I had been using that for about a week I noticed the Benton lotion's absorption improved dramatically. Despite the improvement I still wasn't 100% satisfied, I kept toying with my routine and I found that adding some generous drops of my essential oil du jour with each pump of lotion(either passion fruit oil, baobab oil, or argan oil) made everything just right for me. This can be used either on it's own, or as an emulsion step before your cream. I have an oiler skinned friend who found the steam cream to be too heavy for her and loves this lotion on it's own as the last step in her routine. On the other hand I know someone who found this to be heavier than the steam cream and didn't like it at all. Like I said, the reviews are all over the place on this one. Personally I use it as an emulsion before my cream, and it really works for me once I tweaked it just right.  I've also had no break outs and no irritation. However, as much as I love Benton and their products, I do hold them to a higher standard and I can't give this the full 5 out of 5 turtles.
It's available on amazon here
http://www.amazon.com/Benton-Snail-High-Content-Lotion/dp/B00ISV7CN6/ref=sr_1_3?ie=UTF8&qid=1433881740&sr=8-3&keywords=BENTON+SNAIL+BEE+HIGH+CONTENT+LOTION
and ebay here
http://www.ebay.com/itm/Benton-Snail-Bee-High-Content-Lotion-/191039867044?pt=LH_DefaultDomain_0&hash=item2c7add08a4
It does work nicely for me but the inclusion of the potential no-no ingredients and the slow absorption earns 3.5 out of 5 turtles.

















by