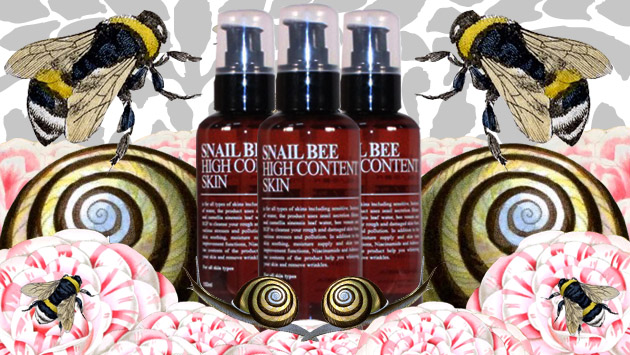 I've been sitting on this review for awhile. As soon as this product was released I started to receive the inevitable questions about which Benton product choice reigns supreme for me.  But before I get to that, let me start with a brief introduction of this little wonder.
Snail Bee High Content Skin joins the Benton family, taking it's place alongside 
BHA Aloe
 on the toner throne.  As is the hallmark of Benton products this is chock full of natural, highly skin beneficial ingredients.
.
Let's have a look at them:
Snail Secretion Filtrate, Camellia Sinensis Leaf Water, Glycerin, Niacinamide, Human Ogliopeptide-1, Bee Venom, Diospyros Kaki Leaf Extract, Salix Alba (Willow) Bark Extract, Plantago Asiatica Extract, Laminaria Digitata Extract, Ulmus Campetris (Elm) Extract, Zanthoxylum Piperitum Fruit Extract, Pulsatilla Koreana Extract, Usnea Barbata (Lichen) Extract, Athaea Rosea Root Extract, Aloe Barbadensis Leaf Extract, Betaine, Bacillus Ferment, Panthenol, Beta-Glucan, Allantoin, Azelaic Acid, Adenosine
.
 As you can see it's pretty much a dream, full of great natural ingredients with no fillers (I expect nothing less from them honestly). If you're wondering exactly who this is aimed at, as I've said with their other products I'd say pretty much anyone and everyone. Dry skin, oily skin, normal skin, this could potentially do well for just about everyone. Who I think would really see the most benefits would be someone with sensitive skin, especially those dealing with superficial redness. With the inclusion of the snail secretion and the green tea water, it's a pretty powerful little calming potion.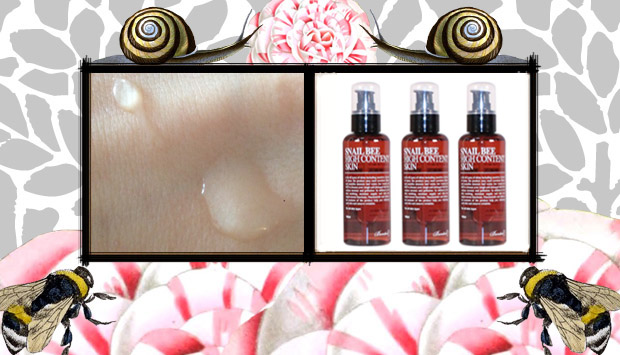 The texture is just ever so slightly thicker and more viscose and water. It's absolutely not sticky, it's actually quite the opposite. It's very refreshing. After using this product for a few months I can say it's a soothing, calming, concoction that made my skin brighter, calmer, and clearer.
Now, on to what everyone has been asking me. I kept hemming and hawing over where I was going to land on the 'there can only be one, make your choice' side. Since there's now two toners, and I loved the last one so much, I had to pit these two high performing gems against each other and let them fight it out. So, which do I prefer between the
Aloe BHA toner
and Snail Bee High Content Skin toner? I'm going to have to go with the High Content Skin on this one. Not that I don't still absolutely love the Aloe, mind you. I just think for me personally, the benefits of the High Content edge out the competition. It was a close call though, they're both excellent products. However, I do find that the BHA Aloe toner is more moisturizing compared to this one. If that's the most important thing for you, you still might prefer to stick with the Aloe. Also of note, some people have found that they have a sensitivity to the inclusion of Alcea Rosea extract (commonly known as hollyhock),  an ingredient in the Aloe toner. There's some good news for those people because the High Content Skin
does not
contain that ingredient. So if you wanted to love the Benton toner in the past and didn't, I would strongly suggest you give this one a try! For me, this is perfection in a bottle. Keeping in line with the insane love and devotion I have to Benton products this deserves higher than my highest rating. 5 out of 5 turtles plus an extra turtle for being so damn awesome.












by