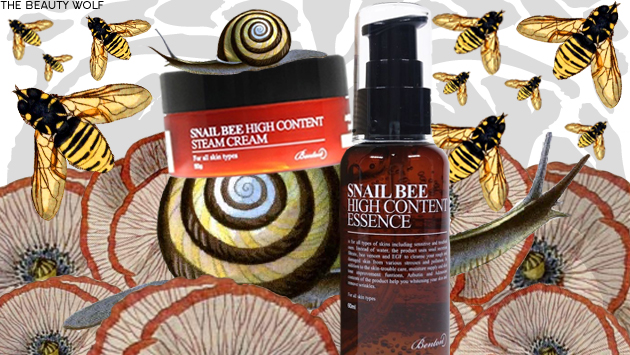 Ok here it is, the thing my friends have asked about the most, the Benton Snail Bee review. We're going to be looking at the Benton Snail Bee High Content Essence, and the Snail Bee High Content Steam Cream. The reason I'm going to review them together is I really don't think they should be broken up. If you use one you should really be using the other because although they're both stellar products on their own, they're a phenomenal team when paired together. So, let's get right to business.
   Benton Snail Bee High Content Essence
I've had people ask me what exactly an essence is and what it's for since traditional North American skincare regimes don't usually have an essence step. This "essence" is really just a high concentration of outstanding ingredients in a clear liquidy-gel form. If you've ever used a serum it's pretty much that. I think if I were to rebrand this for the North American market I would rename is as such. When I say a high concentration of great ingredients I mean it.
Ingredients:
Snail Secretion Filtrate, Aloe Barbadensis Leaf Juice, Glycerin, Arbutin, Human Ogliopeptide-1, Bee Venom, Plantago Asiatica Extract, Laminana Digita Extract, Dios Pyros Kaki Leaf Extract, Salix Alba (Willow) Bark Extract, Ulmus Campestris (Elm) Extract, Bacilus Ferment, Azelaic Acid, Althaea Rosea Flower Extract, Aloe Barbadensis Leaf Extract, Butylene Glycol, Beta-Glucan, Betaine, Acrylates/C10-30 Alkyl Acrylate Cross Polymer, Adenosine, Panthenol, Allantoin, Zanthoxylum Piperitum Fruit Extract, Usnea Barbata (Lichen) Extract, Pulsatilla Koreana Extract, Arginine

The main ingredient is snail secretion filtrate. Ok, I'm going to get real with you right now. I've had people catch a case of the vapors and act like they were delicate Southern ladies from the 1800's about to faint when I revealed my holy grail products contained snail secretion. Y'all need to grow up and get over it because this stuff is absolutely incredible. People have asked "Is it slimy though? I couldn't stand it if it were slimy" It is 100% absolutely NOT slimy, not even a little bit. You would never know what the miracle ingredient was if it weren't on the bottle. I've also been asked what the benefits are. I'm going to really oversimplify a lot of scientific work here; snail secretions have been shown to help with healing, reducing damage from photoaging, inhibiting infections, not to mention it's all natural and extremely soothing and nourishing. Even the most sensitive of skins (I'm your guinea pig representative sensitive skinners out there) will love this because there's absolutely nothing in here that's going to kick up a fuss. You'll also notice once again they've replaced water with aloe leaf juice which I already talked about how wonderful that is in my Benton toner and gel reviews.
The essence itself is clear and has a very faint smell that I can't quite put my finger on. It's like this strange hybrid of earth and ozone. Whatever it is it doesn't last long and by the time you've rubbed this into your skin it's gone. It's more watery than the Benton gel but thicker than just water. It comes in a pump bottle and I use about 2-3 pumps and that's enough to cover my entire face, neck, and décolletage. I've also been asked where this fits in, as in, what step it is. After you've washed your face and applied your toner, apply the essence. It's before your gel and before your cream. A simple way to remember is to apply things in order of their consistency, from lightest to heaviest. Of course your toner is the most watery, then the essence, then your gel, and then finally your cream. Sometimes there are some surprises in a Korean skincare regime, especially when you reach the 6-8 product mark like I have, but that's a good rule of thumb. Now before I get to it's grade let's move on to the steam cream review.
    Benton Snail Bee High Content Steam Cream
Holy. Fuuuuu. Where do I begin? My absolute fall down and start worshipping at the altar of Korean Skincare Jesus product. This is what made me an absolute convert. I can't remember where first read about this cream but I do remember google taking me to a review from the Skin&Tonics blog (an amazing read btw, check it out!). I had already placed an order by the time I got to the end of the page. Looking at the ingredients there were some real eye catchers that sealed the deal for me.
Ingredients:
Snail Secretion Filtrate, Glycerin, Butylene Glycol, Cetyl Ethylhexanoate, Cetearyl Olivate, Sorbitan Olivate, Sodium Hyaluronate, Niacinamide, Stearic Acid, Behenyl Alcohol, Phytosqualene, Human Ogliopeptide-1, Bee Venom, Arbutin, Adenosine, Helianthus Annus (Sunflower) Seed Oil, Carthamus Tinctorius (Safflower) Seed Oil, Argania Spinosa Kernal Oil, Glyceryl Stearate, Arginine, Carbomer, Urea, Tocopher Leaf Extract, Salix Alba (Willow Bark) Extract, Ulmus Campestris (Elm) Extract, Pentylene Glycol, Zanthoxylum Piperitum Fruit Extract, Pilsatilla Koreana Extract, Usnea Barbata (Lichen) Extract
Notice the lack of 40 letter additives and water. You also see things like niacinamide, which is proven to help prevent your skin from losing water, help stimulate microcirculation, and help fight against break outs and the hyper-pigmentation that can come as a result of it. Now, let me say, before this I had grown so disenchanted with skincare that I had become a cynic and was convinced that nothing could really make a visible difference. I had a dull complexion and my age was really starting to show. I hated where my skin was heading and I was already looking into starting injections. Although I was excited to try this cream I didn't have the highest of hopes. When night rolled around I told myself to have an open mind but not get my hopes up too high. Well, all of that pessimism was slapped right off my face.
Immediately I could tell this stuff was special. The cream went on like warm butter and coupled with the essence I saw an instant superficial change in my skin. It just feels so good when you use it. It's not heavy, it's not greasy, but it somehow manages to be so hydrating and yet so light! There's a dewiness and firming feeling that I have noticed and I'm not alone in that. My fellow converts have remarked upon it as well. Now, nothing on earth applied topically is going to get rid of deep wrinkles and sagging skin but just the overall condition of your skin shows real and serious results with this duo. Since I've started using the Benton line of products my skin has a glow that it hasn't had in years. I know that sounds like a cornball line from an infomercial but I'm being completely honest and not embellishing at all. This stuff really works, and it works in complete harmony with each other. Guys, I don't even have to wear foundation or bb cream anymore if I don't want to, that's how much of a difference this has made for me. I really can't think of a single bad thing about the performance of this cream. I guess my only complaint would be the jar packaging. It's a really bad idea to stick your fingers in a cream so I had to use a baby feeding spoon to scoop out just enough product. I've since gotten my hands on a small plastic spatula but I really just wish this were in a pump form instead. That being said I still I want to award this duo a 6 out of 5 turtles like that guy's amp in Spinal Tap that goes to 11. The Benton Snail Bee line gets my highest possible rating of 5 +1 just because I love it so much.
Overall:
Where to Buy:
Benton Snail Bee High Content Essence is available at:

Amazon (with free shipping) : $17 »

W2Beauty: $15 »
You can get $5 off your first W2Beauty order by signing up via my affiliate link and entering code 071087605 upon sign up!
Benton Snail Bee High Content Steam Cream is available at:

Amazon (with Prime shipping) : $15.50 »

W2Beauty: $15 »
You can get $5 off your first W2Beauty order by signing up via my affiliate link and entering code 071087605 upon sign up!












by