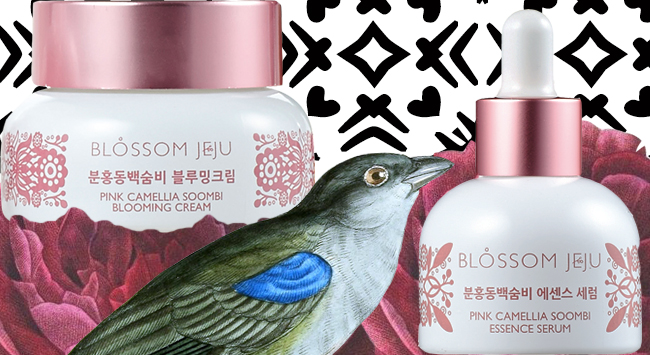 There are some creams that feel like an indulgence. They feel like you're doing something for your skin that's almost sinful it feels so luxurious. Sulwhasoo is one of those creams, as is It's Skin Prestige Creme Ginseng D'escargo,  I've also discovered another cream to join their lofty ranks, Blossom Jeju Pink Camellia Soombi Blooming Cream, a recently curated treasure at Glow Recipe.
The ingredient list is the first hint as to why this cream is a top spot earner for me
Camellia Japonica Flower Extract(54.72%), Caprylic/Capric Triglyceride, Water, Glycerin, Camellia Japonica seed oil(5.41%), Pentylene Glycol(EcoCert®, Natural Origin), Niacinamide, Hydrogenated Palm Kernel Oil, Phosphatidylcholine, Phytosteryl Macadamiate, Propanediol(EcoCert®, Natural Origin), Butyrospermum Parkii (shea) Butter, Mangifera Indica (Mango) Seed Butter, Olea Europaea (Olive) Fruit Oil, Xanthan Gum, Akebia Quinata Extract, Panthenol, Tocopherol, Arginine, Glycyrrhiza Glabra (Licorice) Root Extract, Caprylyl Glycol, Squalane, Limnanthes Alba (Meadowfoam) Seed Oil, Centella Asiatica Extract, Betaine, Bisabolol, Rosa Canina Fruit Oil, Trehalose, Aloe Barbadensis Leaf Extract, Bioflavonoids, Brassica Oleracea Italica (Broccoli) Extract, Camellia Sinensis Leaf Extract, Adenosine, Opuntia Ficus-Indica fruit Extract, Polygonum Cuspidatum Root Extract, Scutellaria Baicalensis Root Extract, Stearyl Glycyrrhetinate, Sorbitan Caprylate, Rosmarinus Officinalis (Rosemary) Leaf Extract, Linoleic Acid, Hizikia Fusiforme Extract, Hyaluronic Acid, Chamomilla Recutita (Matricaria) Leaf Extract, Citrus Unshiu Peel Extract, Vitis Vinifera (Grape) Skin Extract, Yeast Beta-Glucan, Glycine Soja (Soybean) Seed Extract, Pueraria Lobata Root Extract, Pyrus Malus (Apple) Fruit Extract, Silybum Marianum Extract, Vaccinium Angustifolium (Blueberry) Fruit Extract, Levulinic Acid, Rutin, Astaxanthin, Quercetin, Fragrance
Notably the first ingredient is Camellia Japonica Flower Extract, which you can read more about herehttp://www.ncbi.nlm.nih.gov/pmc/articles/PMC3127137/ ,it's followed closely three ingredients later by Camellia Japonica Seed Oil. Both of these ingredients help to give this cream lots of luxurious cushiness.
It's absolutely packed with a lot of really nice emollients and antioxidants and has hardly any acne triggers, (if that's important to you, check out how it's rated on COSDNA here http://www.cosdna.com/eng/cosmetic_1a15200157.html ).
Another thing that really amps up the luxuriousness of this product is the smell. Ohhhhhhh my god, the smell. Excuse the overly flowery language, but it brings to mind my childhood summers in the south spent hovering around honeysuckle bushes, plucking their blooms and drinking their nectar. It's just really a thing of beauty. If you can get an old-pro consumer like me excited about a smell, bruuh, you're doing something right.
Even the jar is wonderful. It's a heavy, sturdily manufactured opaque glass jar with a rose gold/pink screw top. It looks so pretty on my dressing table (shallow, but like I said with the It's Skin cream, something a highly visual person like myself appreciates).
Of course all of those things don't mean squat if the cream doesn't function well. Thankfully this stuff performs like a true champ. My skin was very, very happy using this cream. It was plump, hydrated, and always glowing. This is a wonderful cream to seal in the moisture you've pumped into your skin during your K-beauty skincare routine. It has that whipped, buttery consistency, like you find in the the Sulwhasoo and It's Skin Prestige Creme Ginseng D'escargo creams. That is always something I look for in a luxury cream. I love massaging this into my face, especially at night since the scent is such a nice thing to smell before bed. It's also great as a day cream, especially for those of you going for a more matte look, as this doesn't have the same kind of sheen that's present in the It's Skin and Sulwhasso creams, but still gives you all of the great hydration!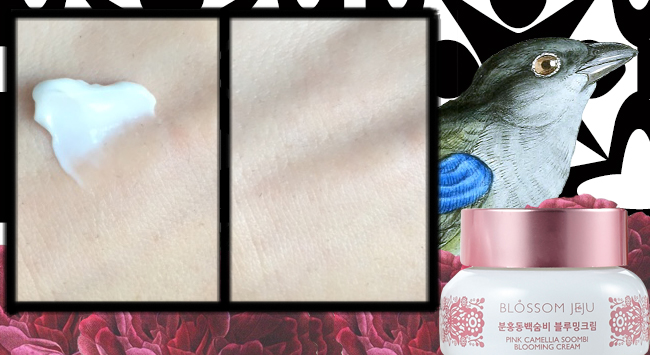 With it's gorgeous smell, feel, and most importantly, performance, I can't recommend this highly enough if you're looking for a moderately priced luxurious topping to both moisturized and seal in moisture, give this pretty little thing a try!
There's also the essence serum in the same line that I'm loving.
From the Glow Recipe website
"This delicate essence is so unique in that it feels light as air upon contact with your skin providing an instant dose of noticeable moisture. Formulated with 82% Oleic Acid, also found within our own skin, Camellia Oil is absorbed almost immediately upon contact with the surface of skin, leaving behind no greasy residue or feel, making this dose of hydration and protection feel as natural as your own skin"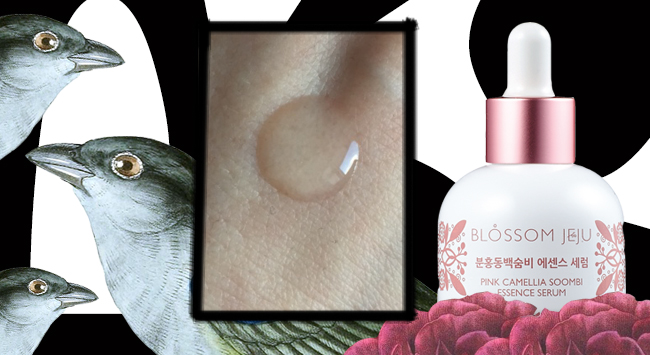 I can confirm this stuff does indeed absorb quickly, which is nice when you're sleepy and don't want to massage forever to make sure your serum is absorbed before hitting your next step. It also feels incredibly light yet skin plumping. Both me, and my oily skinned husband have been enjoying/fighting over this serum! In fact, he's asked me to go ahead and order another bottle for him. This serum has ZERO acne triggers, and it packed full of moisturizing ingredients, emollients, and even has some ingredients with anti-inflammatory and anti-oxidant properties (see here http://cosdna.com/eng/cosmetic_1443195767.html).
I would definitely give this essence serum and the cream  five out of five turtles, it compliments the cream so incredibly well, they're a fine, fine duo! This would make a great indulgence for yourself or a wonderful gift for someone special. It would work for just about any skin type and the fragrance is like a trip to paradise.







Available at Glow Recipe here:
http://www.glowrecipe.com/collections/blossom-jeju/blossom-jeju
Good news, Glow Recipe has offered to give you 15% off your order if you order through my link http://i.refs.cc/Mxk05ta7 ! Get in on this great stuff with this great deal and check out Blossom Jeju's other products! I especially like the Camellia dry oil, it works great on your face and in your hair! 













by