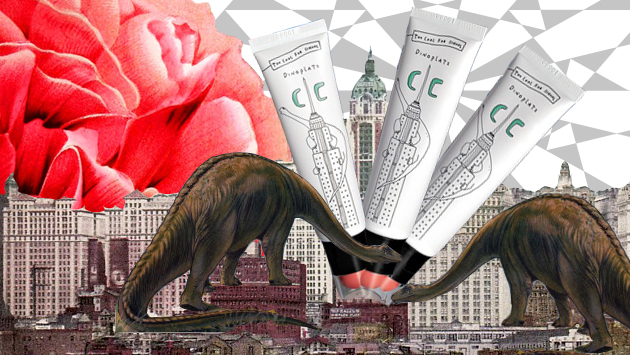 Too Cool For School roars into the CC cream game with their Dinoplatz Cinema City Multi CC. The multi in the name refers to several things in the claims, but most notably a multifunction cosmetic product included in the lid of the packaging. This is one of my favourite things about Too Cool For School, in addition to their amazingly cute and creative packaging, they're always so innovative with their all in one products. I've raved about their products before, I especially loved their After School BB Foundation Lunchbox and this seemed like it would be a great complimentary product to that.
Back to the multifunction part of this product, although the CC cream itself is only available in one shade, you get the choice of either a cheek/lip, highlighter, or a concealer ball that detaches from the cap. I chose the cheek product since I already had the concealer and highlighter included in my foundation lunchbox. The shade is a red coral-ish shade and it's a great compliment to the orange and bronze shades that are so hot this summer. It's a lot more subtle than you might expect so don't let the bright red looking ball intimidate you. The little ball is creamy and blends very easily. I have not been able to try this as a lip product because I'm still recovering from the bad reaction I mentioned in my last review 🙁 Sorry Beauty Pups 🙁 But the shade itself would make for a really cute lip colour and I look forward to trying it out as one.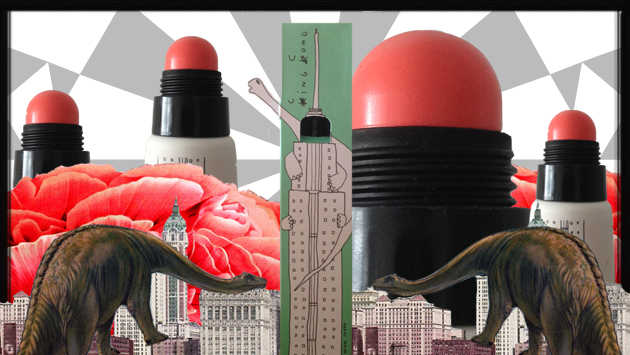 This CC cream is very watery compared to all of the others I've tried. It's not grey or pink, nor is it one of the white colour adjusting beads kinds. It comes out a peachy beige colour so if you're not within the restrictive as hell shade range you're screwed. I'm normally an NC15/20 but I do get tanned pretty easily thanks to a mixed heritage so I'm currently sporting about an NC25 right now and this was a little too light for me. I think they made it this way on purpose, as this claims to be "whitening" which usually just means "brightening" in Korean cosmetics. Personally I'm not a fan of it and don't need it but if brightening is your thing this is definitely for you. For a CC cream this went on surprisingly matte, another thing I'm not personally a fan of. My skin is on the dry side and I'm a big fan of the ultra dewy look. The grass is always greener, ect. Again, that is just a personal thing so I can't deduct any marks for this being more matte. The finish is going to be a big plus for the oily skinned folks out there I think, especially in the heat of the summer, as it's extremely light and airy. If you hate the feeling of being suffocated by heavy product you're going to like this one. The coverage is extremely sheer, only the best of skins are going to want to wear this alone. It does however lay down a good foundation for your other products and tone correct slightly (and "brighten" like crazy). I'm really sorry I don't have any pictures of this on my face, once again I'm still recovering from lupus related BS so all of the pictures I tried to take were horror shows. I do however have these swatches on the back of my hand that give you an idea of how this performs. What you see on the hand is pretty much exactly what you get on the face. Here it is just out of the tube on the left, and then blended on the right (as well as a blush swatch).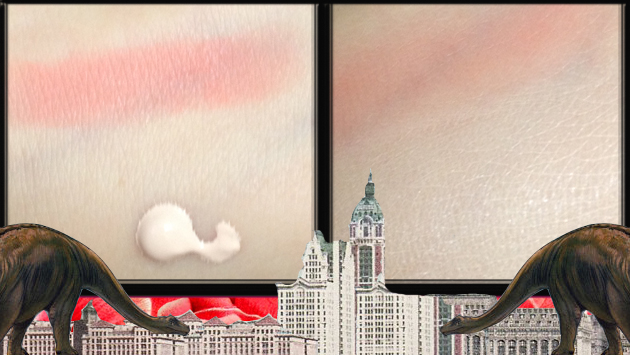 With an SPF of just 30 PA++  I would not recommend using this in place of your regular sunscreen like their ad copy suggests. This also claims to stop moisture loss and put up a moisture barrier once applied, that might be true for a different skin type but that wasn't really the case with my dry skin. I really think this is best suited for an oily skin looking for a brightening effect, I think it would be especially nice when used in conjunction with the Pudding Aqua Shaking BB Cream if you're going to the perfect matte face. Drier skins, especially those with flakes as this really highlighted mine, should search for other options. Too Cool For School Dinoplatz Cinema City Multi CC cream gets 3 out of 5 turtles, I really like the little multifunction cap at the end (and love the packaging!) but this just did not work for my skin type.
EDIT: NOW AVAILABLE AT SEPHORA!
http://www.sephora.com/dinoplatz-cinema-city-cc-cheek-blusher-P399209?skuId=1733385
Available on ebay here
http://www.ebay.com/itm/TOO-COOL-FOR-SCHOOL-Dinoplatz-Cinema-City-30ml-/400855519594?pt=LH_DefaultDomain_0&var=&hash=item5d54d9d16a












by