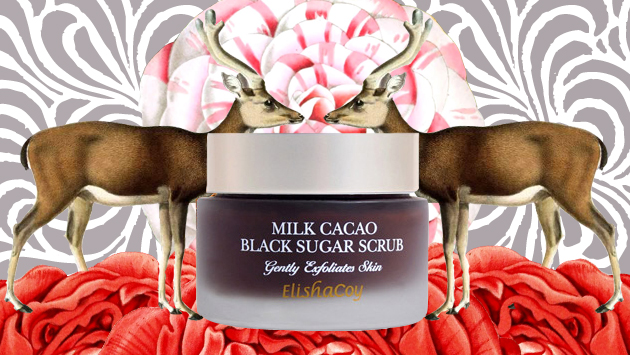 Elisha Coy Milk Cacao Black Sugar Scrub is the most delicious thing I've never eaten. Note I said "never eaten", as this isn't something you ingest, it's something you luxuriate in. If you don't come away from the experience of using this feeling like a pampered Royal from the Kingdom du Chocolat then you might not be human.*
*Ok, I admit you may be human but you've got something wrong with the wiring in your brain 😉 In all seriousness though, if you're not a fan of chocolate, you most certainly won't enjoy this product. It's a chocolate bomb, in the worst way possible if you're not a fan of cacao but in the best way possible if you are.
Let's take a look at the description.
"ElishaCoy's Milk Cacao Black Sugar Scrub is perfect for the removal of blackheads and keratin on the face thanks to its black sugar ingredients that serves as a superior pore cleanser. It is made from cacao that is rich in polyphenols and is excellent for buildup removal and increased skin elasticity. It thoroughly removes wastes starting deep within the skin, all while nourishing and moisturizing the skin leaving it soft, supple, and resilient. Organic ingredients such as celery, white cabbage, brown rice, tomato and carrot extracts are also used for an all natural cleansing experience. Suitable for all skin types, especially those with sensitive skin. "
First of all, I'd like to amend that last part for them. I wouldn't say "especially those with sensitive skin" because no matter how gentle this is, it's still a manual exfoliator scrub. There's almost no way to make one of these suitable for everyone. There are some skins, especially those with conditions like rosacea, that absolutely should not use these kinds of scrubs. No matter how you slice it, you're still irritating your skin when you use a scrub. That being said this is definitely more on the gentler side when it comes to scrubs. It's very emollient and rich. The sugar crystals contained within aren't the jagged skin terrorist monsters like the ones contained in say, an apricot scrub are. You should still take care when using this. It's very easy to get carried away by the scrumptious smell and over do it here. It's certainly an exercise in temperance, because sometimes I just want to scrub forever. Also another tip I'd give to make this less harsh for those of you with sensitive skin is to both wet your face beforehand, and then do a splash of water once again when this is on your face to soften up the sugar some more.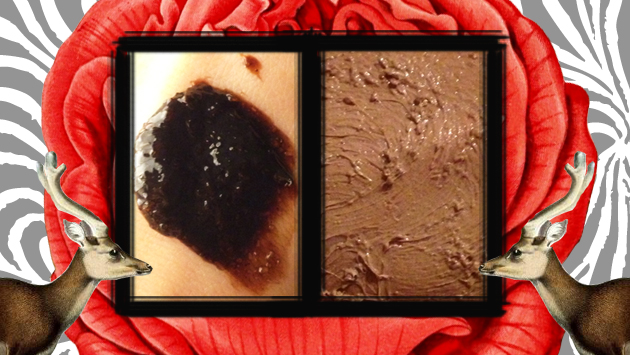 This comes in a heavy glass container but the tub itself is smaller than I expected. For some reason I had it in my head this was going to be a big ole' thing, but it's a petite jar (full of heaven). Application is dreamy, creamy, and delicious. As you can see in the picture it goes on a rich dark chocolate brown but once scrubbed it turns into a divine chocolate cake batter colour and texture. Like I said earlier, it's a struggle to not over do it with this because it just feels and smells so good. Once it's rinsed you're left with a lovely glowing skin that feels soft and smooth. Although I use this sparingly, maybe once every few weeks, this is one of my favourite indulgences in my skincare regime. I give Elisha Coy Milk Cacao Black Sugar Scrub 5 out of 5 yummy turtles.


















by