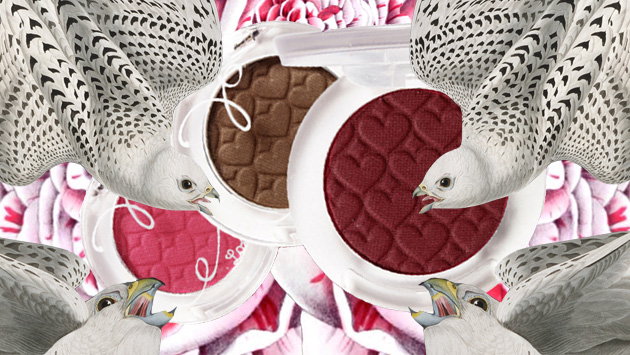 North America is in the grip of this bleak Polar Vortex. Time to break out some warm colours so at least your eyes don't look like they're from the sixth planet of the remote Hoth system. Today we're looking at BR404 Chocolat Latte, PK004 Deep Berry Soda, PK003 Berry Berry Soda, and BE102 Honey Milk.
The Etude House Look At My Eyes collection is made up of single pots of eyeshadow in clear plastic cases that span a whole rainbow of colours. They've also released different collections within the Look At My Eyes umbrella, like the Look At My Eyes Jewel selection, which includes ultra shimmery colours. Then there's the Look At My Eyes Cafe collection, which are mattes and where these shadows are from. I was very slow to embrace Korean eyeshadows. In the past their formulas were light colour washes that ranged from shimmery nightmare to glittery damnation. More recently they've really stepped up their game and are charging full force into the great payoff and awesome colour market. On colour alone I picked up these little yummy beauties and decided to give them a try.
Here they are swatched twice over Etude House Proof 10 Eye Primer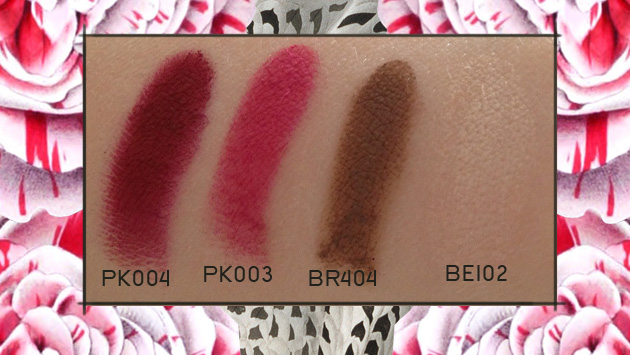 These wear extremely well and have no real fall out. They blend wonderfully and have a dramatic buildable colour payoff. As a testament to both these shadows, and the Proof 10 Eye Primer, I could not remove these swatches without the help of my Tony Moly Aqua Sherbet Cleanser.
 BR404 Chocolate Latte is a deep warm brown with a matte finish that's extremely easy to wear. It's almost kind of like a root beer syrup colour. Pretty, pretty, pretty!
.
PK004 Deep Berry Soda is a gorgeous cranberry maroon with the same finish as B404. This is also so very pretty. I've really been so drawn to this colour family lately. It pairs especially well with both BR404 and our next shadow
.
PK003 Berry Berry Soda is a sweet raspberry red/pink that calls to mind a delicious raspberry milk smoothie. It also shares the same finish as the previous two shades. All three of these colours together make for some crazy awesome eye looks, you can coax both a sweet innocent eye and a serious edgy eye out of these. There's a lot of room to play with these and they're a lot of fun.
.BE102 Honey Milk: Ugh, goddamn it. I have the absolute worst luck with highlighter shades. My skin is very pale with a neutral yellow tone and it almost always ends up being the exact colour of most highlighter shades. Once again, that's the case with this one. That being said there's nothing wrong with this shade in and of itself, it's a pretty, well, honey milk shade. It would work nicely with just about anyone else than myself.
I haven't tried depotting these yet but I'd really like to. They seem to be roughly the same size as a MAC eyeshadow pot. My one complaint about these shadows have nothing to do with the finish or product itself but with the damn containers. Lordt, they're the worst. Two out of the four I bought have defective lids that are such an ordeal to get open. I've broken nails trying to pry these fuckers open like an oyster refusing to give up it's pearl. I've taken to just leaving the lids ever so slightly open and not snapping them fully closed. Although, it's really tough to complain when these sell at about a $5 price point.
Grab them here
amazon
http://www.amazon.com/Etude-House-Look-Shadow-PK004/dp/B00N71QXJ6/ref=sr_1_1?ie=UTF8&qid=1433090733&sr=8-1&keywords=PK004+look+at+my+eyes+cafe
and ebay
http://www.ebay.com/itm/ETUDE-HOUSE-Look-At-My-Eyes-Cafe-Korea-Cosmetic-/111613218596?pt=LH_DefaultDomain_0&var=&hash=item19fcaa8f24
And the Etude House website
http://www.etudehouse.com/index.php/eyes/eyeshadow/look-at-my-eyes-1.html
Etude House Look At My Eyes Cafe Eyeshadows get 4 out of 5 delicious little turtles

















by