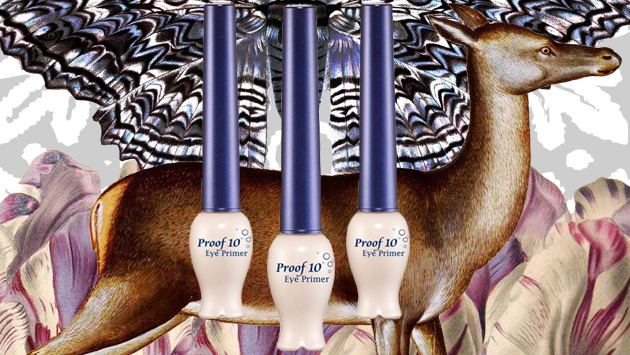 Everyone has been a fan of Urban Decay's Primer Potion (UDPP) for so long, that it's just a given. It's been running unchecked as everyone's favourite eyeshadow primer. Well folks, a new contender is stepping up to try to take the throne.
Etude House Proof 10 Eye Primer isn't exactly a new product, but it's one not too many people might know about in North America. As I've written about before, Korean cosmetic houses love to take global fan favourites and reproduce them for cheaper. And I mean cheap only in price point, not in quality, because a lot of times they end up improving upon the original. I think once again that's the case with Proof 10 Eye Primer.
It comes in a little plastic container with a doe foot applicator in place of UDPP's squeeze tube. That squeeze tube is sometimes a mess so the wand is a welcome alternative. The doe foot is a much better delivery system in my opinion. If you're not comfortable with applying it directly to your lids with the wand there's always the option of swiping it on your fingers first and then applying that way.The texture of the Proof 10 Eye Primer is not as thick as UDPP, it's slightly more watery. It doesn't affect it's performance at all though. In fact, it's another welcome change for me because I find the thick concealer like texture of the UDPP takes longer to dry than the Proof 10. That being said, because the Proof 10 dries and sets so fast you have to make quick work of getting it on and spread out where you want it before it sets. That may take some getting used to if you're used to the forgiving nature of the UDPP.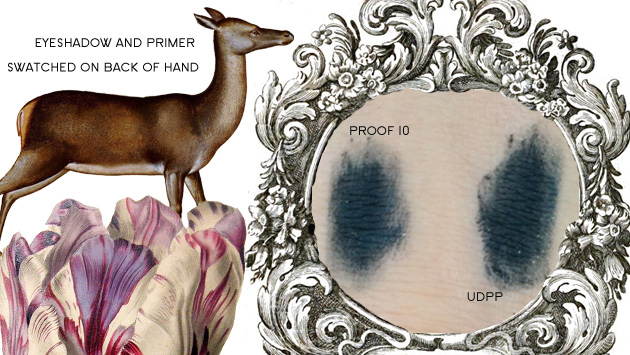 On the left of the Proof 10 and the right is UDPP. I've swatched a shadow from the Too Face A Few Of My Favorite Things palette I reviewed earlier. Both primers work pretty much equally as you can see. In person there's no difference between the two.So here's the real test, I scrubbed my hand with soap and water and this is what we're left with. The Proof 10 on the left actually held onto the eyeshadow at it's first point on contact the best, the UDPP smudged around a lot. I actually rubbed the Proof 10 a lot more than the UDPP just to make sure it was really holding up better so if it looks slightly more faded that's why. It took makeup remover to get rid of both shadows but the shadow used on top of the Proof 10 took more elbow grease to completely erase.
Now if that weren't enough to sway you over, here's the kicker. Urban Decay Primer Potion retails at around $20. You can get Etude House Proof 10 Eye Primer for the ridiculous sum of $5.79
 here
 . LOL, bye UDPP.Etude House Proof 10 Primer Potion, you get five indelible turtles.

















by