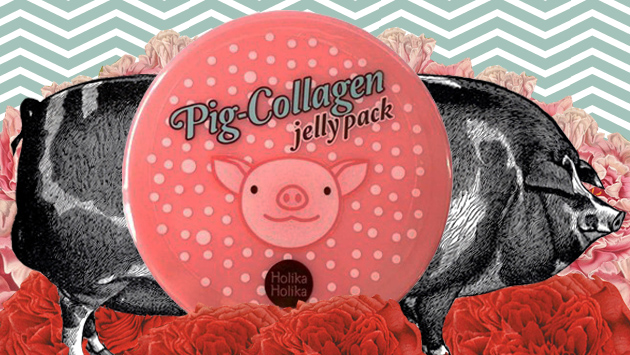 This review is not for vegetarians, and most certainly not my vegan readers out there. As you can guess from the name, Holika Holika Pig Collagen Jelly Pack is full of collagen extracted from a pig's skin. If that doesn't put you off, and you're looking for a great moisturizing sleeping pack, keep reading!
Collagen is one of those ingredients you hear a lot in the skincare world. Collagen is something that's found naturally in all of our skin. It's what gives that bounce and firmness. As you age your skin loses the firmness of the collagen, which is why it's such a popular injectable. While no cream on earth can give you the same kind of results injections can, collagen applied topically can help hold in moisture, which can give a temporary plumping effect and help relieve fine lines caused by dryness. This is exactly what Holika Holika Pig Collagen Jelly Pack does.
There doesn't seem to be anywhere else online with the English ingredients listed for this product so I took the opportunity to type them out for you:
hydrolyzed collagen extract, cyclopentasiloxane, cyclohexasiloxane, butylene glycol, glycerin, bis-peg-18, methyl ether dimethyl silane, polysorbate 20, water, peg-240/hdi copolymer bis-decyltertadeceth-20 ether, caprylyl glycol, ethylhexyglycerine, tropolone, zea mays (corn) starch, microcrystalline cellulose, sucrose, mannitol, mica, titanium dioxide, tocopheryl acetate, ci 77491, tin oxide, acrylates/c10-30 akyl acrylate crosspolymer, potassium hydroxide, adnesone, trehalose, beta-glucan, sodium hyaluronate, placental protein, phenoxyethanol,ethylhexylglycerin, dipropylene gylcol, portulaca olercea extract, rubus idaeus (raspberry) fruit extract, opunita ficus-indica stem extract, avena sativa (oat) meal extract, aloe barbadensis leaf extract, rosmarinus offininalis (rosemary) extract, lavandula angustifolia (lavender) extract, thymus vulgaris (thyme) extract, bergenia ciliata root extract, viola mandshurica flower extract, impatiens balsamina flower extract, honey extract,euterpe oleracea fruit extract, biosaccharide gum-1, arnica montana flower extract, gentiana lutea root extract, achillea millefolium extract, artemisia absinthium extract, gold, disodium edta, ci 17200, fragrance
You'll notice the main ingredient is collagen, always a good sign when the namesake of the product is actually listed first in the ingredients. If you plug the list into the Cosdna website you'll see that this is chock full of moisturizers and scores only a 1 on the scale for potential acne triggers. There's also some notable anti-inflammatory ingredients and emollients. Basically this is an amazing, light, non-irritating, soothing, moisture bomb. There are other products on the market such as EGF, people often ask, what is EGF? EGF is a great anti-ageing product that works similarly to Pig-Collagen.
If you're not familiar with sleeping packs, the quick rundown is it's just an extra bonus treatment that works as you sleep. You follow your existing skincare routine, apply this product as your last step at night, go to bed as normal, and that's it!
The texture is what I describe as creamy jell-o. It wiggles and jiggles but it also has a fluffy richness that's not typical of a gelatine. If you're worried about the potential smell, don't be, this has a light baby floral scent. I say baby floral because it registers somewhere between floral and baby powder for me. The pack comes in a twist off jar packaging and includes a little spatula so you don't have to potentially contaminate the jelly with your fingers. I always appreciate the included spatulas, plus when you're done with the product you can always keep it for your jar creams. The colour is a light piggy pink colour and flecked throughout with little bits of actual gold.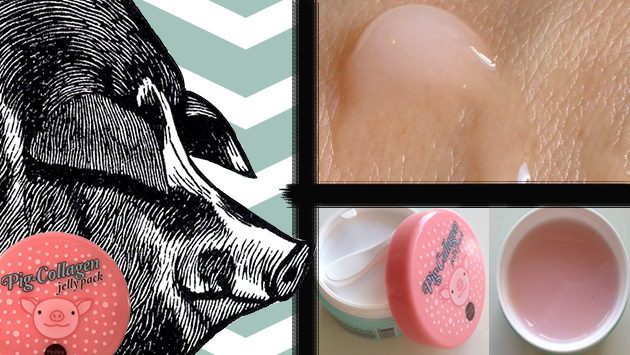 As you can see from the picture this is a very light gel product, not a cream. It may feel a little occlusive for the first few minutes you apply it, but within 10 minutes it sinks into the skin leaving behind minimal stickiness for a product like this. I apply this about 15 minutes before bed and have never had any issue with pillow transfer or mess. Upon waking in the morning my skin definitely feels plumper and more moisturized than if I hadn't worn the pack overnight. It's never once broken me out and it's always performed wonderfully. This product is light enough that even oily skin could use it in the winter should they feel they need a little moisture boost in certain areas overnight. In summer this is a great treatment to leave in the fridge for a refreshing cooling effect. Holika Holika Pig Collagen Jelly Pack reminds me somewhat of Clinique's Moisture Surge in colour and even texture, but it works way better for me. It's what I wish Moisture Surge actually was.
Available on Amazon here:
http://www.amazon.com/Holika-Collagen-Jelly-Sleeping-Facial/dp/B00KA5WOGS/ref=sr_1_1?ie=UTF8&qid=1430699384&sr=8-1&keywords=HOLIKA+HOLIKA+PIG+COLLAGEN+JELLY+PACK
Ebay here:
http://www.ebay.ca/itm/Holika-Holika-Pig-Collagen-Jelly-Pack-80g-Korea-cosmetics-/281317008986?pt=LH_DefaultDomain_0&hash=item417fcce65a
and here:
http://www.ebay.ca/itm/Holika-Holika-Pig-Collagen-Jelly-Pack-80g-/351040225319?pt=LH_DefaultDomain_0&hash=item51bba0c027
I absolutely love this product and I recommend it to anyone looking for a light textured but high performing moisturizing treatment.
Five out of five moisturized turtles, easy!


















by