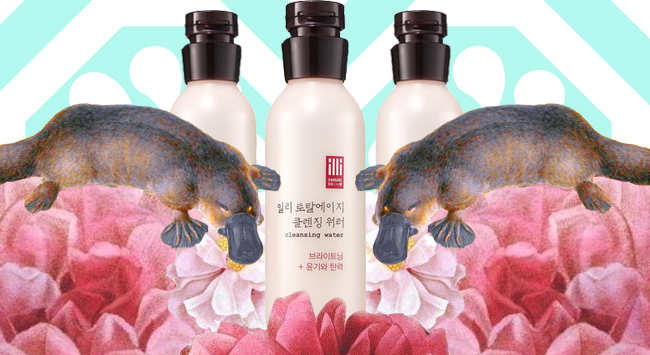 I feel like a salty old sea dog when it comes to beauty products but once in a great while,  a product comes along and I'm like "wtf..where does this fit into my routine?".  It's been a long time since that happened to me, but when I saw the Illi Total Age Cleansing Water on the InsiderBeauty store website, I was kind of lost. Illi is one of my favourite brands right now, I am having a serious love affair with their Total Age Care body products and getting compliments left and right ever since I started using them. They smell heavenly and they make my skin insanely soft. I had yet to try anything from their face care line but I figured it had to be good if it was even half as effective as the body care line.
I guess I should start with what a cleansing water even is! I wasn't entirely sure myself so I reached out to InsiderBeauty for some illumination on the subject of how to use this product correctly and they sent me this reply:
"So, the simple instruction is soak the cotton pad with the cleansing water and sweep away the makeup on eyes, lips, and face. They advertise the product as an all-in-one cleansing product without the need to wash off with water, but most Korean reviewers and bloggers seem to use it as the first part of their double cleanse. It's slightly acidic so it mildly tones your skin, and also contains Polyol, which is awater-soluable moisturizer. It's an incredible cleanser/skincare product with lots of nourishing ingredients like green tea, ginseng, and camellia oil that leave your skin feeling great."

Ahhh! I've got it now!
Also from the InsiderBeauty website is this description:
"A cult favorite in Korea – remove all face and eye makeup debris with illi's anti-oxidant rich cleansing water with one gentle sweep. Formulated with ginseng root extract, beans, camellia flower extracts, and green tea extracts from Jeju Island, your skin will absorb nutrients upon contact and be left soothed and refreshed. Total Age Cleansing Water guarantees comfort and easy for makeup removing efficacy while brightening and retaining skin's moisture barrier.
Green tea extract is filled with anti-oxidants to soothe skin and combat free radicals
Ginseng root extract activates skin's metabolism helping tone and firm skin
Camellia flower extract is rich in vitamins A, B, and E "
So essentially, a cleansing water is almost like a makeup remover, only it contains skin beneficial ingredients and doesn't need to be washed away afterward, unless you want to follow up as part of your double cleansing routine. This Illi cleansing water in particular is, in short, gorgeous. It smells gorgeous, it works gorgeous, it just is gorgeous. The smell is really just intoxicating to me. If you're familiar with the Total Age Care body care line, it's the exact same scent, a beautiful subtle floral (the scent is really reminiscent of the Hayul Chrysanthemum serum). I wish it were a perfume so I could wear it.
It does a really great job of removing point makeup. Here I've swatched Tonymoly Backstage Gel Liner, Clio Gelpresso Waterproof Pencil Shadow, 3 Concept Eyes Eyeshadow Palette shadow, Etude House Look At My Eyes Cafe Eyeshadow, 3 Concept Eyes Lipstick in the shade V, The Face Shop Cream Blusher, and Peripera Wholly Deep Jewel Pot on my arm, which are all tough customers when it comes to tenacity and pigmentation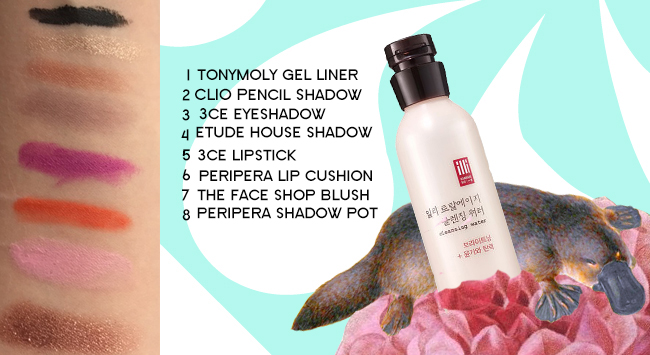 And here's what happened after one very light pass with the cotton ball, and then a more thorough cleansing. As you can see, it removed every trace of makeup and deposited it onto the cotton pad! (I used my favourite Cosrx Cotton Puffs for the job.)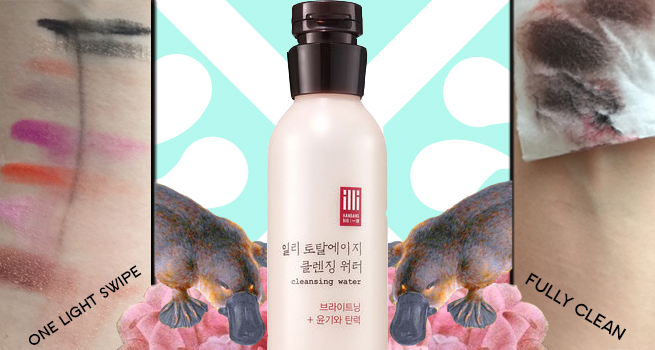 And while this is positioned as a makeup remover, I really like using this first thing in the morning in place of a face wash with water. Instead of using my foaming cleanser, I sweep this across my face instead. It's crazy refreshing and does a great job preparing my skin for the rest of my routine. Used in the traditional makeup remover way, this does a really nice job removing point makeup. It even removes my Tonymoly gel liner! However, it doesn't do well removing waterproof western mascara, so if you're using this as part of double cleanse, you're definitely going to have to follow up with an oil or sherbet cleanser to completely remove waterproof mascara. I wouldn't recommend completely replacing your oil/sherbet cleanser with this anyway, as handy and revolutionary as it is, your face still needs a deeply thorough removal of sunscreen and I wouldn't trust that to anything but an oil/sherbet cleanser! That being said, there is definitely room for this in your routine, it's a great product for correcting any accidental "oops" you might have done with your makeup, for refreshing your skin on a nasty day (hello hot yoga! I'm going to get another bottle of this strictly for my gym bag!), and for a gentle water-free morning cleanse. Illi has me believing they can do no wrong, this is an excellent product and coming in at under $20 it won't break the bank either!  I haven't even seen it anywhere on eBay or Amazon yet, so as far as I know it's only available at InsiderBeauty (If I'm wrong let me know in the comments!) here http://insiderbeauty.com/collections/skincare/products/total-age-cleansing-water
Five out of five refreshed, plump skinned, smelling like they're straight from heaven above turtles


















by