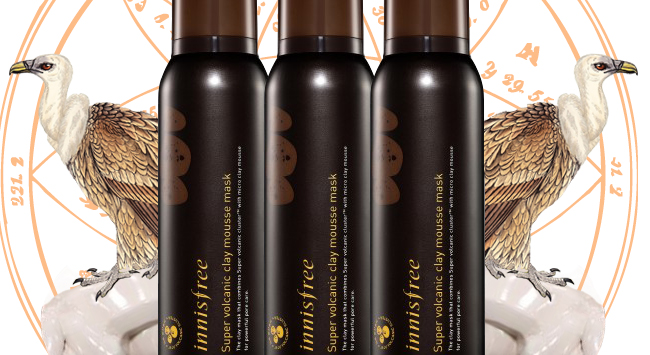 Pores. Pores are a huge problem in my household, pun fully intended. My husband is a model, and he cleans up real nice I guess,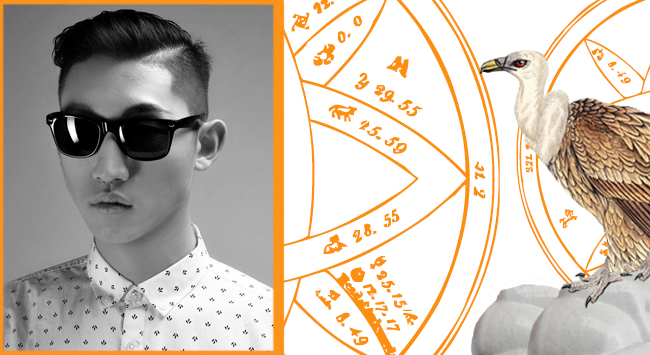 but even with the huge leaps and bounds he's made with his skin since he's dedicated himself to a full skincare routine (including good BHA and AHA exfoliants), his pores remain permanently dilated from years of unchecked, overly active oil glands. Because of that, his pores easily get clogged with debris, and he needs a little extra help to keep them looking nice for photoshoots. We've both always been big fans of the original Innisfree Jeju Volcanic Pore Clay Mask, it always does a great job of absorbing excess sebum and giving pores a minimized look as a result. Our only complaint was that since it was in a pot and thick as balls, it was messy as hell to apply, and takes a lot of effort to rinse completely.
When I heard Innisfree was launching and updated Volcanic Pore line with a new mousse type mask, I ordered one as soon as they were available. I had a fear in the back of my head that maybe this new mousse mask wouldn't perform as well. As soon as it arrived, I test drove it on my husband the morning of one of his photoshoots, and my fears were soon put to rest.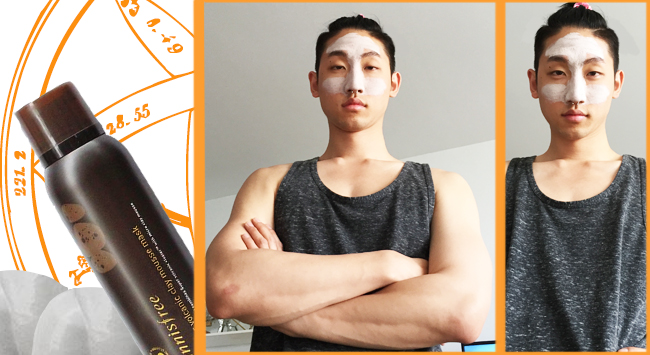 The glamour of it all, I know right.
We ordered the Super Volcanic Clay Mousse Mask, which contains "6,020mg of Super Volcanic Clusters that increases overall efficacy of sebum absorption". In comparison the Jeju Volcanic Clay Mousse Mask contains 3,000mgs of Jeju Volcanic Clusters. Whatever these little Super Volcanic Clusters are doing, they deserve a raise, because my god, this stuff really sucks up the oil. I'm going to show you a disgusting close up of a before and after of my husband's nose pores. Be warned, it's nasty, but it's dramatic enough to show you how amazingly well this stuff works!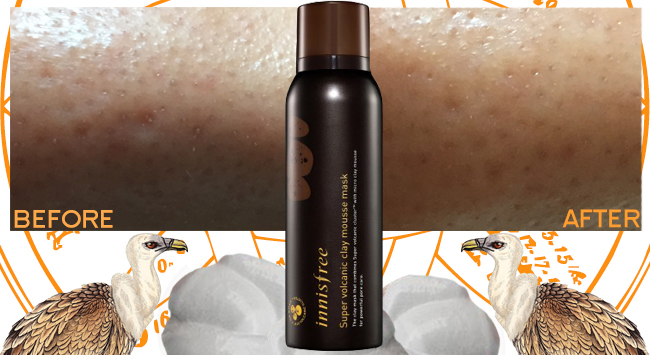 Whaaaaaat! Slay Super Volcanic Clusters!
In addition to it's superior oil absorption powers, the easy to dispense fluffy mousse formula rinses off with minimal effort in contrast to all the work you have to put in with the original pot formula. I absolutely love this stuff! I typically have sensitive, dry to normal skin, but it is summertime here and I've used this after a hot day outside and it didn't irritate or dry out my skin at all. It seems to me like it would be gentle enough for others with sensitive skin as well. If you're a fan of the original Volcanic Pore Mask, I strongly recommend you try out this new version as well! Five out of five refreshed, clean pored turtles!






Pick one up on ebay here
http://www.ebay.com/itm/Innisfree-Super-Volcanic-Clay-Mousse-Mask-100ml-/131508687946?pt=LH_DefaultDomain_0&hash=item1e9e87544a
Also available is the Jeju Volcanic Clay Mousse Mask
http://www.ebay.com/itm/Innisfree-JEJU-Volcanic-Clay-Mousse-Mask-Original-100ml-/371324973622?pt=LH_DefaultDomain_0&hash=item5674b17236
For Amazon  it's here
http://www.amazon.com/Innisfree-Super-Volcanic-Mousse-100ml/dp/B0114HF39U/ref=sr_1_1?ie=UTF8&qid=1436711052&sr=8-1&keywords=innisfree+super+volcanic+pore+clay+mousse+mask
You can also grab the original version here, for science
http://www.ebay.com/itm/Innisfree-SUPER-Volcanic-Pore-Clay-Mask-100ml-strong-type-pack-/130931667905?pt=LH_DefaultDomain_0&hash=item1e7c22b3c1












by