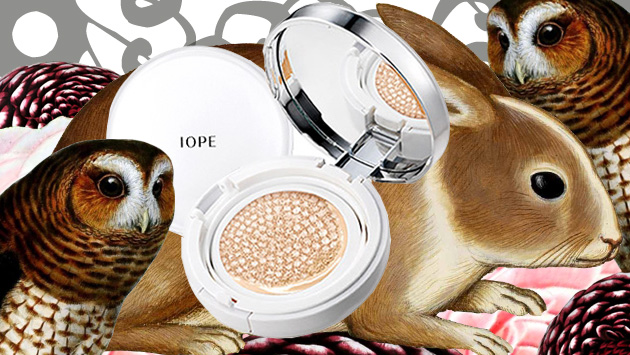 Hello gorgeous Beauty Pups! I'm back with a look at another BB cushion. Today's review is Iope's newest offering, the Iope Air Cushion XP SPF 50+/PA+++. Apparently this is a revamp of their prior air cushion with an improved formulation. I have shade C21, Natural Vanilla (that sounds like the world's worst R&B group). The C in C21 stands for Cover, as this has more coverage than the other options, which are N for natural and S for Shimmer. As with the majority of Korean bb creams this comes with extremely limited colour options, 21 being the lightest and 23 being the darkest.
Iope was one of the first companies to release a BB cushion onto the market and helped the trend catch fire in Korea. It's been established that I'm a huge fan of BB cushions, the one I reviewed from Holika Holika sealed the deal for me. However, the Iope cushion is a higher end brand. If Holika Holika is Covergirl then Iope is Lancome. I'm not always a proponent of "expensive is better" but I came across this cushion on sale and knew I had to give it a try. It's your typical cushion in that it's a compact that comes with a silicone sponge and has a divider protecting the stamp pad like cushion underneath. What I did notice right away upon opening it was the weight, it's so much more sturdily constructed than the Holika Holika compact, which is the be expected I guess. Another thing that was a really pleasant surprise is that it comes with a refill and additional sponge! Since this is roughly double the price of the cheaper brands, it almost ends up balancing out in the end once you factor in that you get two products with this for slightly more than the cost of two cheaper ones.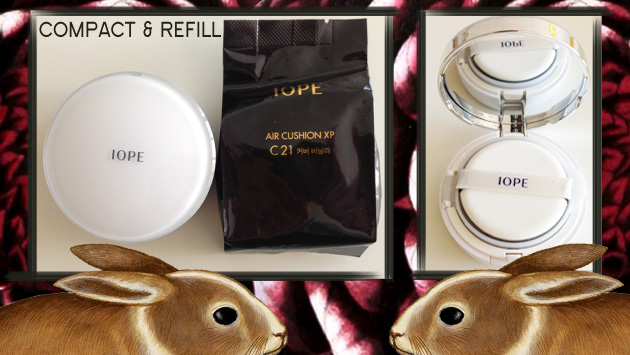 I must say, this formulation lives up to the hype. It imparts that dewy glow that I'm addicted to yet it has none of the stickiness that can sometimes come along with it. Once it's on your face is almost feels like a matte formula but it still looks like a glowing one. I've really never encountered anything like it and I'm in love.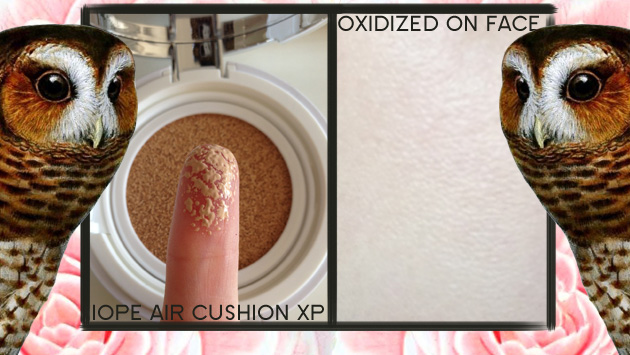 Despite being billed as a higher coverage product, I'd say the actual coverage on this is just about medium. It didn't do a lot to hide an angry red mark I had from a run in with a prescription retinoid (don't ask) but it did cover my faint hyper-pigmentation spots. What it did do was give me a beautiful ,soft, even skin tone. You would still have to break out the concealer for serious blemishes, but for mostly even skin this is a stand alone product. I'm also in love with the fact that this comes with the super high SPF of 50, always a plus for me. I should also mention the scent, it has that pleasant floral smell that is typical of high end brands but it fades away upon application.
The wear time on this for me was the entire day long. Although, as I've mentioned before, I have a dry to normal skin type. I don't really have problems with oil making my makeup disappear so YMMV. Although with the light airy almost matte feel I do think oily skins will appreciate this product. Even though I can't speak to it's sebum control properties, it does seems like it will be a good fit for everyone! The literature on this product claims that it is sweatproof. I plan on wearing this to the Kanye concert I'm going to next week so that should tell you I'm comfortable enough with it's performance for harsh (glorious) conditions. I have no idea what outfit I'm wearing yet, but I know for sure what my face will be wearing.The Iope Air Cushion XP SPF 50+/PA+++ certainly deserves the full 5 out of 5 turtles.












by