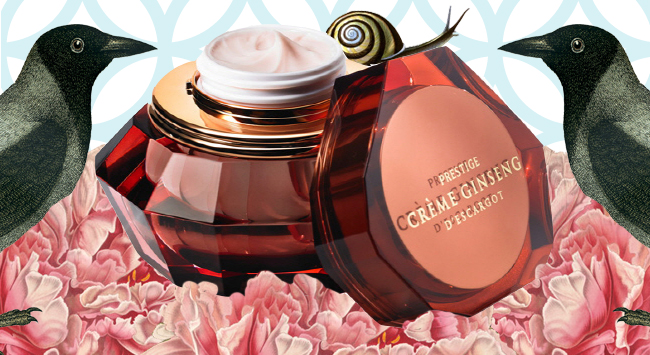 I'm a sucker for exquisite packaging, and I'm a sucker for snails. I mean I really, really love snail. I will be leading the charge the minute I see a snail product, flyin' that Snail Squad flag.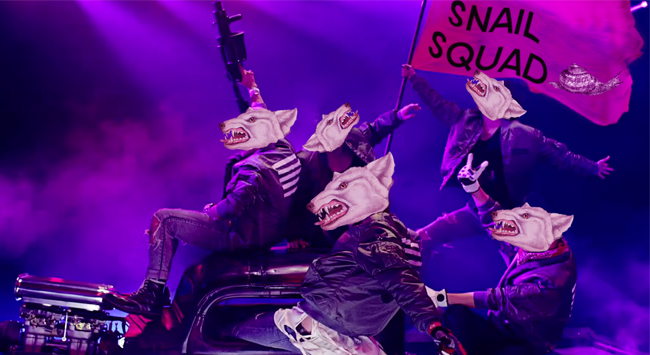 Dramatic reenactment
So between snails and sublime jars, I'll be checkin' for you. Combine the two and I'm going to be hooked. It's Skin Prestige Creme Ginseng D'escargot did just that, and they also invited my old friend ginseng along for the ride. Oh hell yes.
First of all, I can't start this review without talking about this gorgeous pot. I mean really, it's almost stupid how pretty this stuff is. Whether you're a hyper modern minimalist (like me), a more traditional person who likes high-end maximimalism fanciness, or a plain ole' basic ass bitch, this package is going to look perfect on your dressing table. It really fits with everything and yet it's stunning no matter what it's competing with.  And really, that's the perfect metaphor for it's performance as a moisturizing cream as well!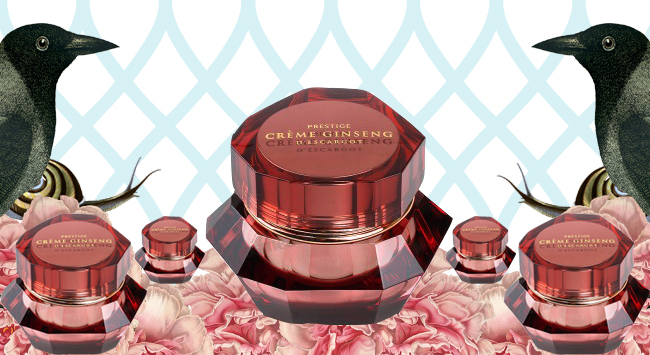 The first ingredient of this cream are Panax Ginseng Root, which is the same chief ingredient in my beloved Sulwhasoo Ginseng Concentrated Cream. As if that wasn't enough, the second ingredient is Snail Secretion Filtrate, one of my absolute favourites. Perhaps that's why it reminds me of a slightly lighter version of the Sulwhasoo Ginseng Cream. It has the same buttery texture, but is a lot more airy, while still managing to be creamy and moisturizing. It's been a perfect alternative to that cream for the summertime. I especially like it at night, under my sleeping pack, when I wake up my skin is happy, glowy, and not at all sticky, even in the heat.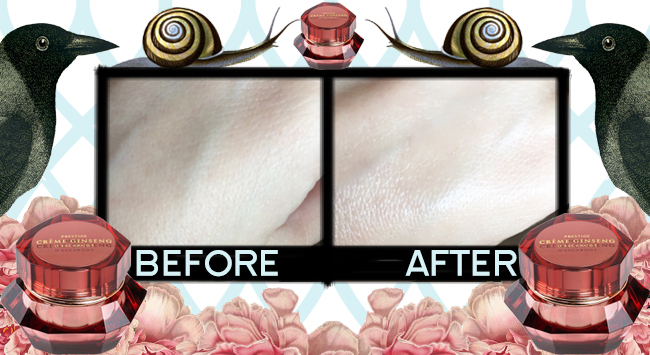 It has a pretty basic core formulation of great emollients, surfactants, antioxidants, and humectants, aside from amazingness of the top ingredients of ginseng and snail filtrate. There's also some notable interesting things like Grifola Frondosa Mycelium Ferment Filtrate Extract, a mushroom extract that's both a serious antioxidant and a humectant. It's also very low in acne triggers, if that's important to you. You can see the full ingredient list here.
It's also priced about $140 less than the Sulwhasoo, so you can ball on a budget http://www.ebay.com/itm/Sulwhasoo-Concentrated-Ginseng-Renewing-Cream-60ml-Free-sample-/121108700295?hash=item1c32a41c87. You can get it for $45 on Amazon with free shipping here. As of the time of writing this there were only 17 units left in stock though so hurry http://www.amazon.com/gp/product/B00AK7EW5W/ref=s9_psimh_gw_p194_d2_i1?pf_rd_m=ATVPDKIKX0DER&pf_rd_s=desktop-1&pf_rd_r=1BZVJW6YSFP6GCM1N576&pf_rd_t=36701&pf_rd_p=2079475242&pf_rd_i=desktop
It's also available with free shipping for about $66 here
http://www.amazon.com/Skin-Prestige-Creme-Ginseng-Descargot/dp/B00SU4QM6Y/ref=sr_1_5?s=beauty&ie=UTF8&qid=1438296135&sr=1-5&keywords=It%27s+Skin+Prestige+Creme+Ginseng+D%27escargot
and for $45 and free shipping on Ebay here
http://www.ebay.com/itm/ITS-SKIN-Prestige-Creme-Ginseng-Descargot-60ml-Korea-cosmetics-/271276529136?pt=LH_DefaultDomain_0&hash=item3f295755f0
For it's beautiful packaging, great formulation, and excellent performance, five out of five turtles for It's Skin Prestige Creme Ginseng D'escargot!


















by