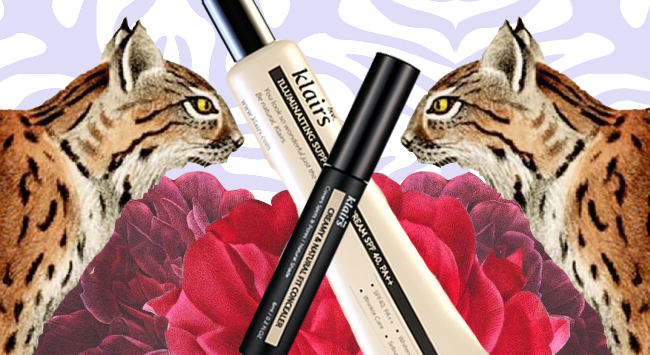 Let me start off with a caveat, it sucks beyond belief that these products only come in one shade. Like, it really sucks. They're shutting off so much of the market and denying so many people the chance to enjoy these well formulated, affordabe gems, but I guess it is what it is. But still, damn, it sucks! However, if you have the dumb luck to fall into this incredibly narrow shade range (say somewhere between NW or NC 15-30) please read on to hear about two wonderful products!
I've always liked Klairs, with their Aesop derivative packaging and affordability, they're usually right on the mark. Their masks and chocolate soap are two of my favourite products from their line, and I've just added two more favourites to that list.
Klairs Illuminating Supple Blemish Cream, simply put, is an excellent BB cream. It comes in a little squeeze tube roughly the size and shape of a small toothpaste. The single shade is perfect for my skintone and once on it leaves me with a gorgeous dewy glow. The coverage is medium, and it goes on creamy and smooth. It never picks up on flakes or dryness the way some other BBs can *cough Etude House cough cough*.
The colour is true and doesn't leave a grey or pink cast, just a clear, natural, healthy looking glow. I appreciate that a lot. Also appreciated is the full spectrum UVA and UVB protection from the SPF40. This is an excellent BB option for anyone looking for an affordable, uncomplicated, dewy, non-cushion BB cream. Since it's not a BB cushion, it makes it easy to mix with volumers and other complexion boosters. I've been loving it mixed with the VDL Lumilayer Primer with a 1:2 ratio, it makes for a flawless radiant finish. I've worn it practically every weekend this summer. Here's a slapdash application on the back of my hand to give you an idea of the finish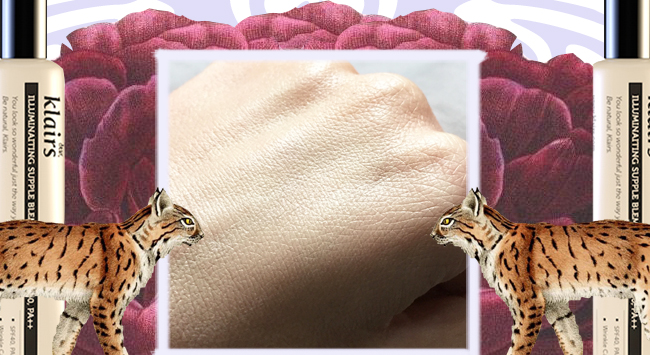 I've even given a tube of this away as a gift to a friend who is just now dipping her toes into Korean Beauty and BB cream, she absolutely loved it! Another convert to join our ranks, thanks Klairs!
The perfect compliment to this BB cream, and a real standout standalone winner is the Klairs Creamy & Natural Fit Concealer. Holy wow, I LOVE this concealer! Since I'm in my 30's now I have the dreaded fine lines under my eyes that makes wearing concealer such a damn ordeal. The Creamy & Natural name for the product certainly fits, it goes on like a liquidy cream and doesn't settle into those bitchass lines. Yesssssss thank you again, Klairs! It does a great job covering my dark circles without looking cakey or like I'm wearing obvious concealer (which is a huge pet peeve of mine!). This doesn't quite have the same kind of coverage as my beloved Skinfood Salmon Dark Circle Concealer, but it's a whole different animal. This is a liquid, doefoot applicator concealer. It's much lighter and airier. However, it does have very decent coverage and I love it. To show how great the coverage is, here it is on a pretty dark nasty purple scar I have on my leg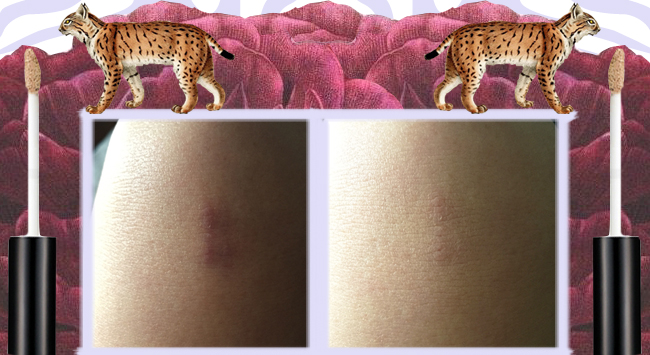 Pretty dope, right? Imagine what that could do for your dark circles.
On my most hungover of days I wear this and my Salmon concealer together, using the Klairs all over the undereye and lightly dabbing just a bit of Skinfood Salmon concealer on the darkest of spots. I'm really impressed with this product and will certainly repurchase it in the future when I run out!
Both of these products are really great and deserve a full five our of five turtles







Available at Wishtrend here and here
And as always you can get $5 off your first order by signing up via my link https://www.wishtrend.com:48598/?s=022463306 and entering code 022463306 upon sign up!












by