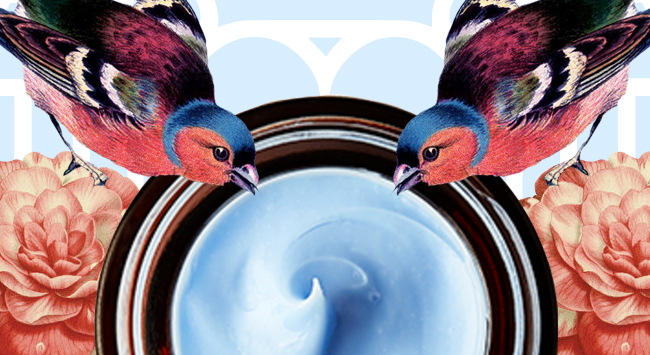 I've been so drawn to Serenity blue lately, one of Pantone's colours of the year, so I was pleasantly surprised to see it pop up in my skincare!
Klairs Mightnight Blue Calming Cream doesn't release officially until today, but I was lucky enough to receive a jar for review from Wishtrend ahead of schedule. In all honesty, even before they sent me this cream, I was curious about it. Aside from my current blue obsession (a blue streak? haaa) the advertised ingredients had me like "Ooo interesting, let's see what this can do".  First of all, it really is a gorgeous, gorgeous blue, a lovely sight when you're first opening your jar. Don't worry, you're not going to pull a Tobias Funke and Blue yourself, this leaves no colour behind.
The texture of this product is a very light cream, one thing made clear is that although this is a hydrating cream, it is not a moisturizing cream. In fact, we were specifically told
"This cream is not a moisturizer for the whole face.
 It is a special treatment for spots and repairing & calming cream.
So this product is only to use on the areas that need it, and has great effect with a routine Toner/serum/ moisturizer. It is good to apply it after mositurizing cream only on the areas which need to be calmed like trouble spots caused by external factors, sensitive or irritated areas"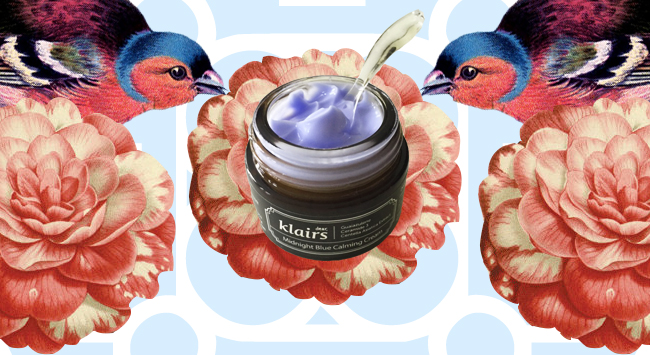 So, you're going to have to get your moisture elsewhere in your routine because that is not what this stuff does. This is meant to be a calming, hydrating, skin comforting step in your line-up. The directions for use state "Apply a small amount on the affected area in the morning and evening after using toner and serum". Well, it's the dead of winter here up north and my "affected area" is my whole weather beaten face, so the entire thing got a light coating. Honestly, I found that worked better for me than trying to spot treat. I mean, when you have irritation from temperatures hovering around -20c, you can't exactly treat irritation like you would a crop of zits.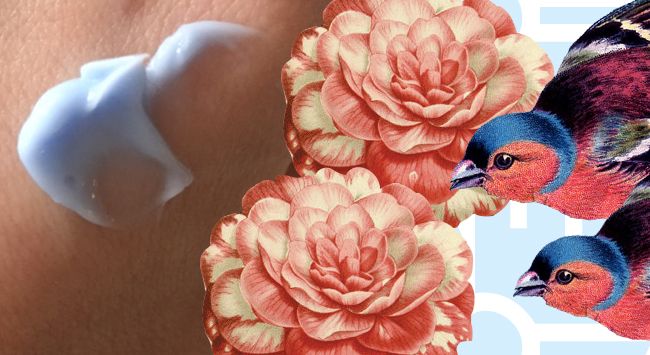 Now, this WILL pill under makeup if you do not use a light hand when applying and or let it fully sink in before applying bb cream. I had to break my bad habit of over indulging in my cream portion sizes in order to get this to properly sink, and even then,ehhhh not so much. However, keep in mind that I'm testing this while using my usual crazy winter line-up, full of oils, thick essences, and heavier than usual emulsions, so if you have a lighter line-up you will most likely avoid the stick to the degree I experienced.
I think the big star here, and the thing most likely to make the visible difference with your skin  is the Centella Asiatic Extract. It's the ingredient that had me hyped as soon as I saw it.
Centella Asiatica Extract
The CA extracts (CAE) have been used traditionally for wound healing and the research has been increasingly supportive for these claims[8]. A preclinical study reported that various formulations (ointment, cream, and gel) of an aqueous CAE applied to open wounds in rats (3 times daily for 24 days) resulted in increased cellular proliferation and collagen synthesis at the wound site, as shown by an increase in collagen content and tensile strength[17].
Apart from showing a stimulation of the collagen synthesis in different cell types, the asiaticoside were shown to increase the tensile strength of the newly formed skin, furthering the healing of the wounds. Also, it was shown to inhibit the inflammatory process which may provoke hypertrophy in scars and improves the capillary permeability[19,20]. In one laboratory animal study, the effects of asiaticoside on antioxidant levels were examined, as antioxidants have been reported to play a role in the wound healing process[21]
The other ingredient that's a big favourite of mine is Ceramide 3, ceramides help your skin retain water and can help beef up that moisture barrier that we all need to be paying the utmost attention to at all times. So between the Centella Asiatica Extract and Ceramide 3, those two ingredients alone are enough to warrant giving this cream a try.
http://cosdna.com/eng/cosmetic_1bf2223043.html
If you're concerned about acne triggers, this scores very low, nothing above a 2 as you can see here. The petite offenders being cetyl alcohol, Simmondsia Chinensis Seed Oil (Jojoba Oil), and Stearic Acid. I'm pretty sensitive to acne triggers and I'm completely fine with these, of course YMMV.
Like I stated before, I do find this cream to lean toward the sticky side. Again, that can be minimized with a light application, but even after an hour sitting on my skin I still felt it, well, sitting on my skin. Now, that's not such a big deal at night, and I actually quite like it then because I feel like it's setting up a little irritation treatment plus barrier on my skin like a sleep pack, but during the day it's not the most comfortable. It did do a decent job of plumping and soothing the cheek irritation I had going on, so it's a trade off I guess. I found myself using it at night rather than during the day due to the aforementioned pilling issue under makeup and the sticky feel. I keep going on about sticky, so you might assume that it's heavy, it most certainly is not heavy.  All in all I'm fairly pleased with this cream. It contains ingredients that could be a big component missing in someone's routine that's looking to soothe, repair, and beef up your skin's defences.
It retails  at around $25 at Wishtrend, not a huge expense, so if you want to take a chance on this, you can pick it up by clicking here 
As always you can get $5 off your first order by registering your account via my affiliate link https://www.wishtrend.com:48598/?s=022463306 then entering code 022463306 at sign up!
Also of note, Wishtrend currently has a promotion code for March that will snag you a free Klairs Rich Moist Soothing Mask (one of my all time favs) so if you're interested in have a full soothing experience, enter the codeBESTMASK16MAR when you order 












by