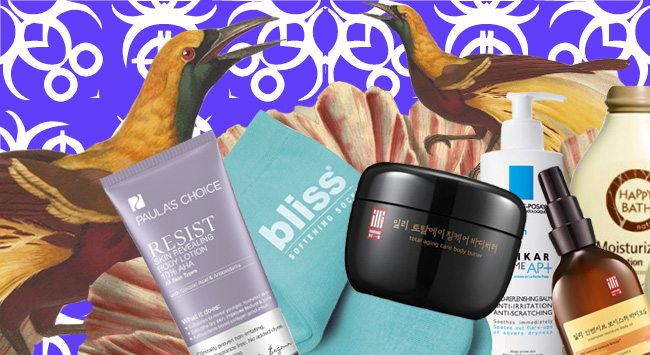 Some people spend ages perfecting one part of their body (some even try and perfect all). Some people try to grow taller (you can read about it here), whilst others prefer just getting the perfect skin. You've spent months, maybe years crafting and curating your own personal skincare regime. You've taken the tenants of K-Beauty and put together a mystical melange of products that play out a perfect concert to needs of your skin. You marvel at how far you've come thanks to your hard work researching your holy grails. People look in awe at your AM and PM routines the way the movie version of Salieri looked at Mozart's music

Then why the fuck are you slapping on a single lotion on your body, if that, when you get out of the shower and calling it a day? C'mon now, you know you deserve better than that. Your skin doesn't suddenly stop needing care from the neck down, it has different needs but it certainly still required loving care and attention. You'll be feelin' yourself, literally and figuratively when you see how silky soft and smooth you can get your body's skin. You'll be in the mirror lookin' back at it like "mhmmm". No matter how long your skincare routine takes, if your skin is feeling hydrated and looked after, that's all that matters. There's no better feeling than feeling fresh after a whole day of wearing makeup. Skincare and body care can range anywhere from treating your acne, removing skin texture to even anal bleaching to deal with hyperpigmentation. If you are not familiar with this concept, the name speaks for itself. But you can check out this Anal Bleaching Guide to find out more. There's no harm in doing a bit of research. Everyone's routines will include additional steps that others may not be considering, but if it works for you, that's what matters.
Layering body products, as you do your facial products, can be as intricate or simple as you'd like. But layering is a very good idea and you will get wonderful body skin results, just like you have been with your face. There are even AHA, Retinol, and BHA body products, so goodbye bumps, acne, and even keratosis pilaris.
I've weeded through what seems like swamps full of mediocre bullshit products and came away with some of my favourite tested, tried, and true body products. I've gathered them here for you today, so let's get to it!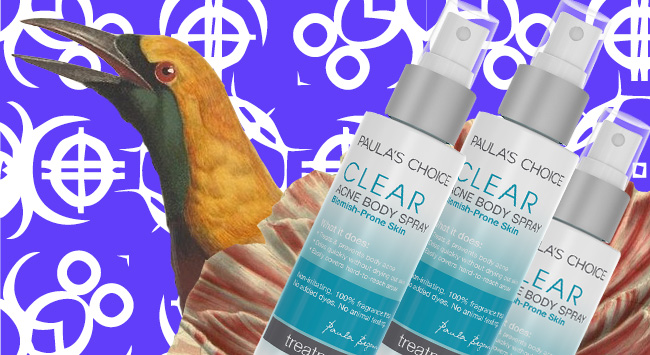 Retinols, BHAs, and AHAs
So far, nobody does it better than Paula's Choice when it comes to these products. I've tried everything and nothing has even come close. As a loyal user of her BHA liquid, I decided a long time ago to give her body product lines a try, and the results were just as great south of the neck as it had been up north.
Clear Acne Body Spray
Bacne, is there an uglier word? Does your back feel like a drunk person went to town in Braille all down the planes of your body? Fear not, there's a spray for that. This liquid 2% Salicylic Acid comes in a spray form, which is incredibly handy. As I do with my BHA, I let this sit for 15-20 minutes before layering anything else on top of it. Since it's alcohol free I don't desiccate like Ramses The Great while waiting. Since you're probably only using this on the back, chest, and possibly arms, feel free to skip ahead to your lower half's layering while this gets to work.
http://www.paulaschoice.com/shop/collections/Clear-for-Blemishes/_/Clear-Acne-Body-Spray
Resist Skin Revealing Body Lotion with 10% AHA
http://www.paulaschoice.com/shop/skin-care-categories/body-care/_/Resist-Skin-Revealing-Body-Lotion-with-Ten-Percent-AHA
Are you flaky as grandma's homemade pie crust? Have a small problem with ingrowns and bumps? Are you starting to think about anti-aging, everywhere? Keratosis Pilaris got you in long sleeves all year round? Let this 10% AHA lotion be your peace of mind. This is a hydrating lotion that has been shown to knock out all manner of bumps and give an overall brightening to otherwise dull skin. This is a no-nonsense utilitarian product that works, but isn't luxurious. I wish the smell was nicer, but we will take care of that with our other body products, so don't let that phase you.
Resist Weightless Body Treatment with 2% BHA
http://www.paulaschoice.com/shop/skin-care-categories/body-care/_/Resist-Weightless-Body-Treatment-with-Two-Percent-BHA
Have those bumps but prefer a BHA to an AHA? Right here is where you belong. 2% BHA lotion. Same performance, same scent, just swapped out the AHA for the BHA. This really does help with refining texture, easing bumps, and KP, just like the AHA version. It comes down to preference on your part. You can use one or the other, or both if you're really balls out, just like you do with your face.
Resist Skin Smoothing Body Treatment with Retinol
http://www.paulaschoice.com/shop/skin-care-categories/body-care/_/Resist-Skin-Smoothing-Body-Treatment-with-Retinol
Retinol. Now we're getting down to business. If you're serious about body care, you're ready for this. Here's something to battle sun damage, crepe, KP, body acne, overall roughness. This is the big guns. This emollient treatment has it's retinol namesake, as well as antioxidants, vitamin C, vitamin E, and shea butter packed into this 4oz bottle. This can be used as a spot treatment, or an all over body treatment, it's up to you. And as with all of the products I've mentioned up until this point, it is imperative that you use an SPF of at least 30 on all exposed skin once you start using these treatments. I mean, you should be doing that anyway, but it's of the utmost importance when dealing with AHA, BHA, and Retinols. Again, just like with your face!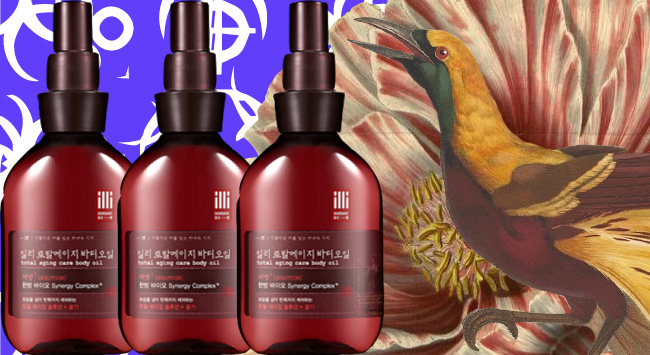 Body Oil
Illi Intensive Moisture Body Oil
http://jolse.com/product/AMORE-PACIFIC-illi-Intensive-Moisture-Body-Oil-150ml/2273/?cate_no=111&display_group=1
You're going to notice a theme here, and it's going to be Illi. That's because Illi is hands down my favourite body care line. It's simple, yet the formulas feel luxurious and you can feel the quality on your skin. I have never gotten as many compliments on how soft I am than I have since I started using illi years ago. I've had a friend hold me down and start yelling for people at a bar "feel her skin! it's like silk!" , dramatic AF but also a hilarious testament to Illi's effectiveness. And it all starts with their body oil. Available in two different formulas and scents, they honestly perform the same for me, it just comes down to scent preference. There's the fresher, most bright smelling Intensive Moisture line, and the softer more floral Total Aging Care line. My personal favourite is the Total Aging Care, and it's the favourite of all my friends as well.
Illi Intensive Moisture Body Oil
http://jolse.com/product/AMORE-PACIFIC-illi-Intensive-Moisture-Body-Oil-150ml/2273/?cate_no=111&display_group=1
Illi Total Aging Care Body Oil
http://jolse.com/product/AMORE-PACIFIC-illi-Total-Aging-Care-Body-Oil-150ml/2263/?cate_no=111&display_group=1
and for Canada
https://www.bisoubeautybar.com/products/illi-total-aging-care-body-oil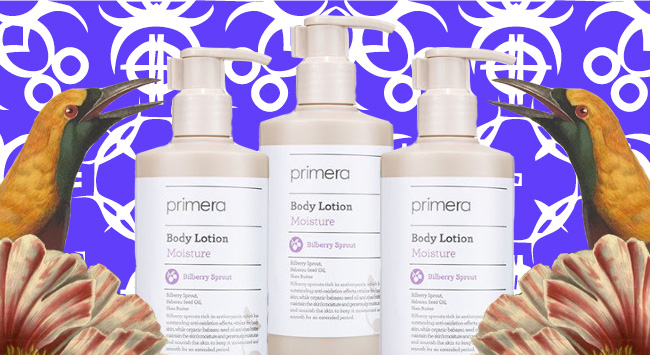 Light Lotion
Think of this like the emulsion step for your body. Imagine if you just soaped up and then put an emulsion on your face and that was it, you'd never have that glowing skin you have no. But, that's exactly what the majority of people do for their body. That's why a lot of people are Ashy Larry, or worse. However, lotion in edition to everything else we have layered here is part of a championship skin routine.
HAPPYBATH Natural 24 Sensitive Body Lotion
http://jolse.com/product/HAPPYBATH-Natural-24-Sensitive-Body-Lotion-450ml/1892/?cate_no=89&display_group=1
This was one of the very first Korean body products I ever really liked. It's very basic, and not very fancy, but it is effective. This one reminds me of a much better Aveeno, not just because of the similar packaging, but also the light almost undetectable scent. Where this outshines a drugstore Aveeno, is it lasts a hell of a lot longer. My skin drinks lotion like it's nothing, this one outlasts the North American offerings I've tried.Primera moisture body lotion
http://www.ebay.com/itm/Primera-Moisture-Body-Lotion-250ml-/381480391571
http://jolse.com/product/primera-Moisture-Body-Lotion-250ml/6997/?cate_no=89&display_group=1
This is like the more grownup version of the Happy Bath Lotion. Preforms similarly, is a bit more rich, and a bit more luxurious feeling. It's highly moisturizing without feeling greasy. This is the most expensive of all the options, but you can almost feel why.
Illi Total Age Care Lotion
You knew Illi was going to make another appearance here. Happy Bath may have been the first Korean body product I ever liked, but Illi Total Age Care was the first Korean body product I really loved. As soon as I got my hands on this stuff, I told everyone that would listen they had to try it. Back then it was only available on W2Beauty, but has since been picked up by everyone from
Memebox,
https://us.memebox.com/total-aging-care-body-lotion?pdref=category
Jolse,
http://jolse.com/product/AMORE-PACIFIC-illi-Total-Aging-Care-Body-Lotion-350ml-Oriental-Herb-Care-with-Ginseng/1335/?cate_no=89&display_group=1
Amazon
https://www.amazon.com/Illi-Total-Aging-Lotion-Ounce/dp/B00NTR91UG/ref=sr_1_1_a_it?s=luxury-beauty&ie=UTF8&qid=1473194146&sr=8-1&keywords=illi+total+aging+care+lotion
And of course eBay
http://www.ebay.com/itm/Amore-Pacific-Illi-Total-Aging-Care-Body-Lotion-350ml-Brand-New-Free-Shipping-/131399186931?hash=item1e980079f3:g:RZ0AAOSw1ZBUrzX5
This lotion is everything. Everything! I absolutely love it and it's since become my holy grail lotion. I love the scent of the Total Aging Care Line, which is a big plus for the overall experience for me in particular, but if you're into scentless products you probably won't like this. That's not to say this is overpowering scent-wise, it's definitely very delicate and doesn't linger long. What really makes this a stand-out product is the texture and performance, which is the best I've ever found in a lotion in my lifetime. Rich but with a fairly quick sink-in time, this lotion feels like straight pampering, and it really is. Even people who can't stand the feel of body lotions can agree, this stuff is good. (Ahem, Miss Cat 😉 ) It contains some of my favourite skincare ingredients, camellia, ginseng, and green tea. This lotion manages to be sensuous and a workhorse, no small feat. I can't imagine finding something I love more.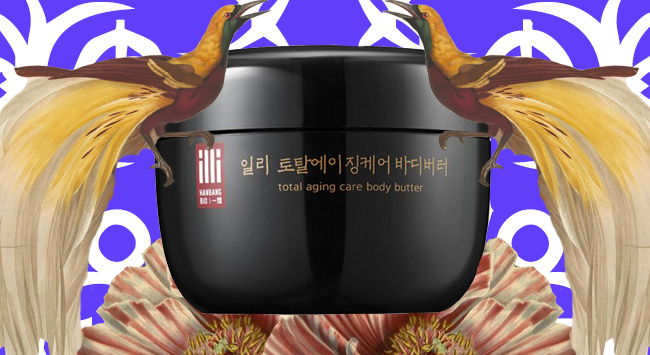 Butters and Balms
"Check your moisture before you come and talk to me" should be the new "Check your lipstick before you come and talk to me".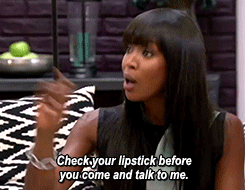 The goal here is Beyonce level shining skin. You might think it's impossible but you can shine like Bey. We started with our treatments, oil, lotion, and now we need something rich to seal it all in. This is like the sleep pack stage for your body, except you can do it either night and day. Or even night and day if you're that dedicated ( I know I am). I have two favourites here, and they're both high notes to end on.
and eBay
http://www.ebay.com/itm/illi-Amorepacific-TOTAL-AGING-CARE-LIFTING-BODY-BUTTER-200ml-Wrinkle-care-/152143551340?hash=item236c765b6c
Ok take everything I said about the Illi Total Aging Care Lotion, keep it exactly the same, but imagine it as a thick body butter. It's redundant to even point out, but I would be remiss not to mention that this stuff is buttery. Buttery and smooth in the best way possible. It is luscious and feels almost self indulgent it's so creamy and beautiful. Using this is a straight pampering session. This is absolutely the more luxurious of the two options.
La Roche-Posay Lipikar Baume AP+ – Replenishing Body Balm
Sorry USA, looks like you'll have a hard time getting ahold of this one unless you have a friend in Canada or Europe to hook you up. However, this might be worth the effort to befriend one of your neighbours to the north. While this is in no way even close to being as fancy as the Illi Body Butter, the La Roche-Posay Lipikar Baume AP+ is by far the best performing heavy body balm I've ever used. Remember when I said my skin drinks lotion? Well, further complicating things, I shave my legs almost every day, it's just an obsession I have. That's not the best thing for dry skin. This stuff is so emollient that when I put it on in the morning, I can still feel it in the bath/shower the next day. It's pretty phenomenal.
"Lipikar Balm AP immediately soothes dry to very dry skin, providing 24-hour moisturisation and anti-scratch protection to help break the vicious cycle of scratching and restore skin comfort. It contains Niacinamide, Shea Butter (20%), Canola Oil, Omega 3 and 6 and Glycerine and La Roche-Posay Thermal Spring Water."
Yup. It certainly does. Also good news for those of you with sensitive noses, this is essentially fragrance free. And hey, niacinimde, how you doin? Always a pleasure to see you pop up somewhere. Shea Butter? Always a welcome addition to any skin party. You could even nourish the skin with shea butter products from Loccitane if you wanted to. If you really wanted to simplify/if you are low on time and only put one thing on, this would be the one to carry you through the day. If Illi Body Butter is a maximalist Marie Antoinette castle, La Roche Posay Lipikar Baume AP + is a perfect minimalist modern Swedish home.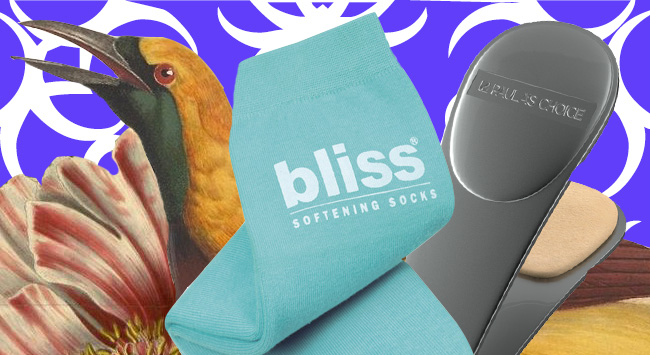 Protips and Extras:
Old Products:
Have a horde of backups that are going to expire before you ever work your way to them? Have a serum/essence/toner you weren't crazy about and have no one to give it to? Use it on your body! Your body's skin is thicker and not as sensitive as your facial skin so you can get away more. You might find it works wonders on your legs, becomes your butt's best friend, or your chest's saviour.
Moisture socks:
You're on your feet all day. They've carried you through the marathon of life. Treat um' right! Moisture socks are exactly what your poor feet need. You can get these fancy gel lined ones from Bliss, or make your own by slipping some old socks over your saran wrapped feet. I really love the Bliss ones though, they're a nice indulgence.
You can get them with Prime shipping on Amazon here
https://www.amazon.com/bliss-U-AP-1002-Softening-Socks/dp/B0009I2POM/ref=sr_1_1_s_it?s=luxury-beauty&ie=UTF8&qid=1473190389&sr=1-1&keywords=bliss+softening+socks
Little Helpers:
Alone and can't reach your back? Paula's Choice has this handy little skincare applicator for the back and body. This is also great for applying sunblock to hard to reach places. It's the best help you can buy for $10, and it will do until you hit it big and can hire a supermodel to do it for you.
http://www.paulaschoice.com/shop/makeup/brushes-accessories/_/Skin-Care-Applicator-for-Back-and-Body
Sensory Issues:
Some people cannot stand the feel of lotions on their hands, they just can't. It's not their fault. I'm kind of the same way. But there is a work around! Sounds silly, but disposable gloves like the ones you routinely steal for your Dr's office, I mean, like you can buy at the pharmacy, work wonders for this. You can snap on a pair, go to town on your body product application, then toss um in the garbage. No greasy hands and no ashy legs. Perfect!
Go ahead and get yourself some latex-free, powder-free ones at Amazon with Prime shipping
https://www.amazon.com/Dynarex-SafeTouch-Nitrile-Gloves-Powder-Free/dp/B000IZYYSQ/ref=sr_1_2?ie=UTF8&qid=1473194754&sr=8-2&keywords=latex+free+gloves
So, no excuses booberries, you've got this! Now get to glowing!












by