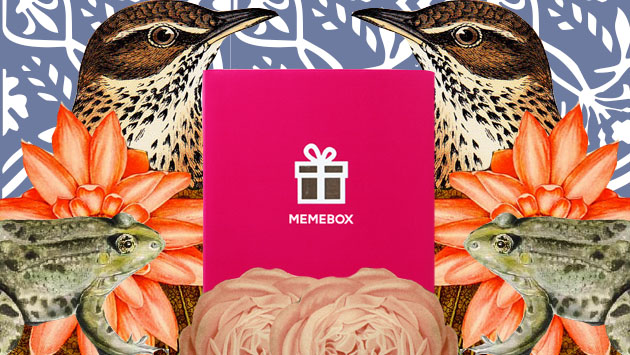 I'm one of those people that will never actually put in and watch a DVD, no matter how many I own and no matter how good they are. I will just sit and flip endlessly through the channels or Netflix until something catches my eye, even if it's inferior to whatever DVD titles I might own. I like variety and I like a wide array of suggestions provided to me. For me, this is the beauty of Memebox, especially when it comes to a subject I'm not intimately familiar with, like oily trouble prone skin. I love the idea of someone curating selections for me for a given theme. Today's unboxing features Memebox's Superbox #55 Free From Oil & Trouble 4.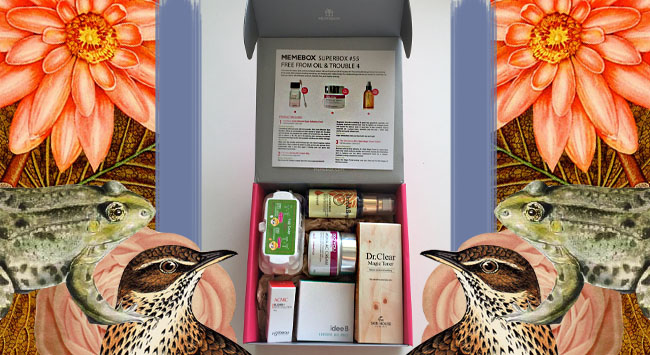 Damn! I must say, this box really has a nice selection of products. There's something for almost every step of a Korean skincare routine! Let's have a look at what you get in this little pink box of fun: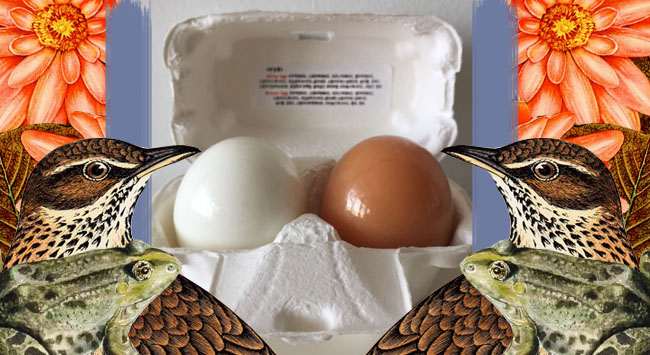 Lindsay Linzy Egg Pack
Product Description: This Linzy Egg Pack is a blackhead and pore controlling kit consisting of a White Egg and Red Clay Egg. The White Egg is made from real egg whites and witch hazel to cleanse away any skin impurities that may clog pores. The Red Clay Egg contains red clay and NMF complex to effectively tighten up enlarged pores for a smoother, more supple complexion.
How to Use:  Lather each egg with warm water to create enough foams.  Then gently massage onto face for a minute and rinse off.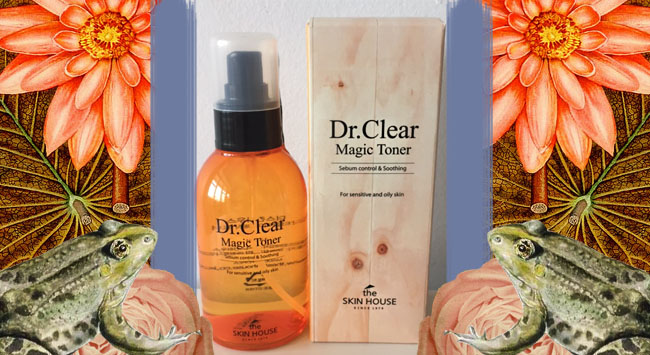 The Skin House Dr Clear Magic Toner
Product Description:  Containing Melaleuca Alternifolia (Tea Tree) Extract.  The first step of skin care for controlling troubled skin.  Dr. Clear Magic Toner completed the clinical demonstration of adaptability to troubled skin from Derma Pro Co., LTD/Dermatology Research Center at June, 2011. Just spray it on the troubled part of your skin and it will be hushed. It supplies moisture to your skin and controls sebum and pores. It is a mist toner which manages your skin to be smooth and clean. You can feel the refreshed skin without stickiness by its function of keeping the balance between oil and moisture
How To Use:  Spray the Magic Toner evenly over your face at the first stage of your skincare routine (my note: after cleansing of course!)
Main Ingredients: Malva Sylvestris (Mallow) Flower Extract, Hyssopus Officinalis Extract, Thymus Vulgaris (Thyme) Extract, Ecklonia Cava Extract, Loess Extract,red clay Jijangsu, Petersen extract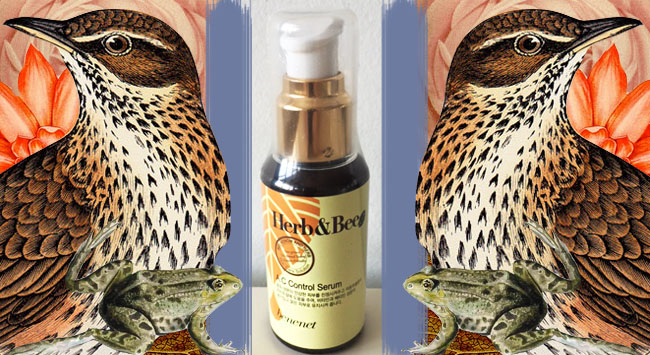 Bennet Herb & Bee AC Control SerumProduct Description: This Herb & Bee A.C. Control Serum contains bee venom, which is 75% protein and has proven effective in relieving, protecting, repairing and hydrating the skin and also 5 different kinds of herbal extracts from grapefruit, citron, eucalyptus leaf, sophora root, and clove flower, which all help maintain a healthy skin balance.
How To Use: Apply an adequate amount evenly over your face after toner and before emulsion application.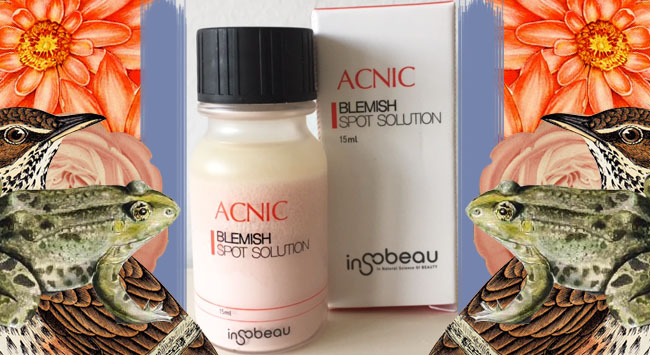 Insobeau Acnic Blemish Spot Solution

Product Description:  Consisting of half liquid and half pink powder, thic Acnic Blemish Spot Solution utilizes a combination of both layers to target skin troubles and red spots.  Its mandarin and unshin oil formula from Jeju Island is rich in Vitamin A, B1, B2, and C for reliving skin redness and stress levels and protecting the skin from possible infections and further damage.
Major Ingredients:  Niacinamide, unsyu oil, Houttuynia extract, salicylic acid,bergamot extract
How to use: Make sure the powder and the liquid are not mixed together before application. Dip a cotton tip down to pick up the pink powder from underneath, take it out, and apply it thickly over red spots and blemishes on your skin.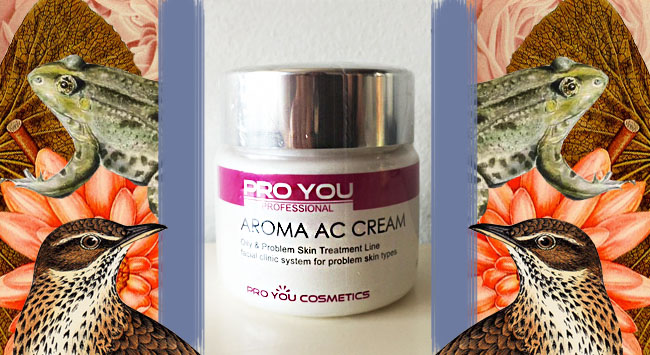 Pro You Aroma AC Cream

Product Description:  The Aroma AC Cream is made from Pro You's special Multi EX Magnotics formula consisting of green tea, grapefruit, machilia and thujopsis dolabrata (Cypress) extracts and work to tighten up enlarged pores and control the sebum level of your skin.  It also contains various essential oils – juniper berry, lavender and tea tree – which help sooth and purify irritated skin.
How to use: Apply adequately over your face both day and night.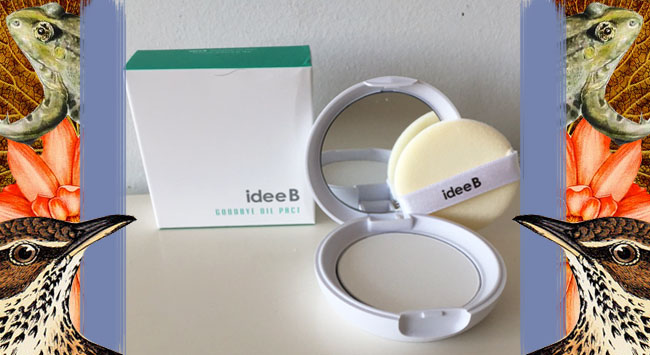 ideeB Goodbye Oil Pact
Product Description: This shine-stopping translucent pressed powder blots oil and keeps shine at bay. The lavender shade applies invisibly and works on every skintone. Try it on naked skin or over foundation or for touch ups any time throughout the day because the formula contains super lightweight, oil-absorbing ingredients to get you shine-free results.
How to use:  Pat the translucent powder into the face with powder puff. Use anytime throughout the day to instantly mattify the face.
Looks like Memebox has you folks with oilier skin covered with this Superbox! Although I don't have oily skin, I'm always looking for oily skin products to pass along to Mr. Beauty Wolf!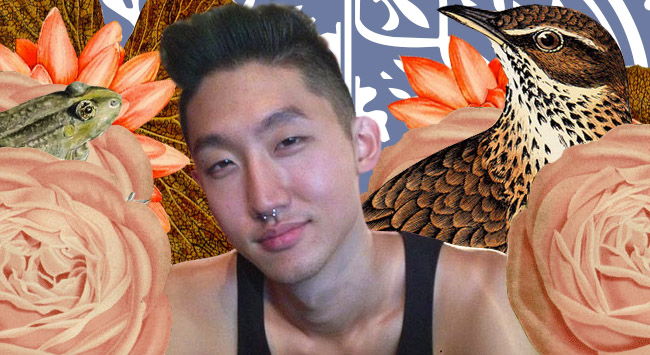 With the exception of the ideeB Goodbye Oil Pact, which I'm throwing in my purse, this overly sebum blessed man is going to be trying every one of these babies out, I'll report back with any favs he discovers!
If you've read this far along I have a little reward for you, Memebox coupon codes!
Sign up and order via my link http://us.memebox.com/user/BeautyWolf and enter coupon code MM254P for $5  off $30 or more (S&H and taxes do not apply):  That's MM254P http://us.memebox.com/user/BeautyWolf
Also is you shop via my link you will get $5 off automatically at checkout when you spend $100 or more, it's upped to $10 off automatically at checkout if you spend $150 or more

If you're looking for ideas for how to use your coupon codes, I highly recommend picking up this Pony palette, brush set, and Chosungah glow pact. It's an $86 value on sale for only $55, I think it's an excellent value for some excellent products! My own father even ended up getting my mother one for her birthday and she absolutely loved it! It's really a great gift for all ages for the upcoming holidays. I even got one for myself! This ships to the US only
http://us.memebox.com/chosungah-x-memebox-get-peachy-glow-pact-pony-x-memebox-eye-shadow-palette-meme-brush-set-us-ship?acc=44f683a84163b3523afe57c2e008bc8c

For International customers there's still the Pony palette x Chosungah Glow Pact combo, a $50.00 value for only $37.00. It ships worldwide!
http://us.memebox.com/memebox-collection/pony-x-memebox-eyeshadow/chosungah-x-memebox-get-peachy-glow-pact-pony-x-memebox-eye-shadow-palette-intl-shipping?acc=44f683a84163b3523afe57c2e008bc8c#.VGy6d1fF_wY 
There's also my old favourite Benton, Memebox has a special value pack where you can get my absolute favs, a full sized serum, steam cream, and 10 sheet masks for only $30
http://us.memebox.com/benton-value-set#.VGy7z1fF_wY
In the wise words of Donna Meagle and Tom Haverford: Treat yo self!












by