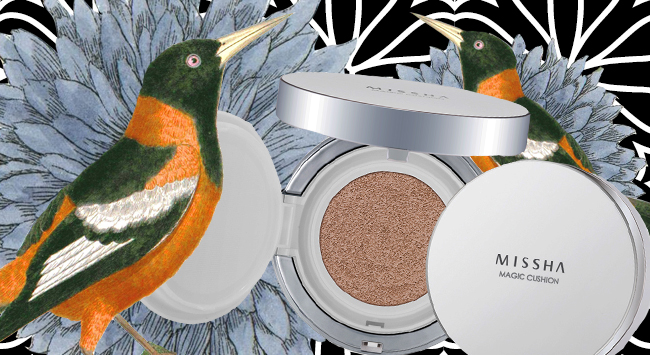 I had the opportunity to test drive Missha's new M Magic Cushion BB over the past month, and it's been a delight! If you're familiar with Missha's BB cream selections, you know that they offer good, buildable coverage, without being overly cakey or sticky. Missha's M Perfect Cover was actually the first BB cream I ever tried, so Missha will always have a special place in my heart.
This is Missha's first proper BB cushion, so I was very excited. Before this I had been making my own Missha cushions with their Magic Cushion Case (which is a very handy little thing btw, you can make a cushion out of any of your favourite bb creams or even your sunblock!). What I really like about this newest cushion is the finish. It strikes the perfect balance between matte and dewey. A lot of complaints I get from my oily skinned friends and readers, is that they find a lot of BB cushions to be either sticky and dewey, and that that really isn't congruent with a good experience for their oily skin. This is cushion is the answer to that. And dry skins you aren't left out either! This cushion contains some really excellent ingredients like baobab fruit extract, witch hazel extract, and bamboo water. The coverage is medium, and makes short work of small imperfections and evens out skin tone wonderfully. Here's a super close up of it on my skin with no filters or photoshop.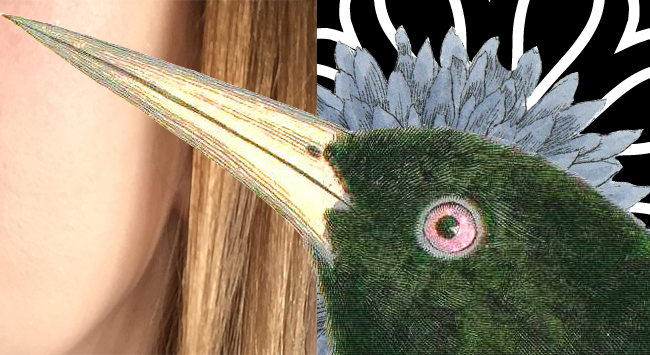 I really like this cushion for the matte, and quasi-matte looks that are gaining popularity right now in the world of makeup. As a matter of fact, I liked it so much that I used this cushion on our models during photoshoots for our book. One of the models, my beautiful sister in law Hana, wanted to take the cushion I used on her home. She was matched with shade #21, which was a perfect match for her tone, which is neutral and fair. Here's Hana at the photoshoot wearing the M Magic Cushion with some Volumer around her cheeks, nose bridge, and forehead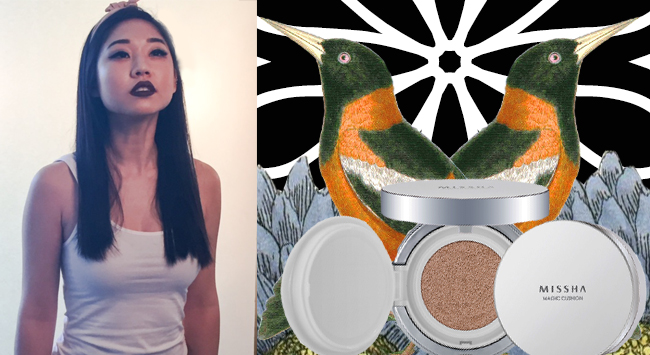 She actually reached out to me two weeks later and raved about how much she loved it. She said she prefers it over her old Hera BB Cushion and that the M Magic Cushion matched her skin a lot better, didn't cake like the Hera did, and that she feels like her skin breathes better under this one. I think she means it's a lot less thick than her old cushion. I know exactly what she's talking about, your skin feels incredibly smooth and clean after applying this BB. It leaves your skin feeling softer than before you applied your makeup, what a rarity!  I'm sure that all those nice emollients in the ingredients have a lot to do with it. My sister in law has oily to normal skin and I have dry to normal and we both really loved this product equally! I chose the #23 shade for myself since it's summer and I tend to shade up during this time of year. This BB applies slightly orange at first but worry not, it soon oxidizes into the perfect shade. It doesn't have that sickly grey cast that some BBs have, nor the ultra pink cast that's sometimes common. I'd say it's a warm that skews neutral. Another thing I really enjoy is the smell of this product. It smells so clean! It has the same scent as a nice cleanser, which I find really refreshing as it's getting hotter outside. With it's skin beneficial ingredients, low acne triggers, and it's brilliant sweet spot finish, this cushion is my new summer crush. Love it!
This cushion officially launches at http://www.misshaus.com/ on May 26th! I highly recommend it!
You can also find it heavily discounted on ebay right now
http://www.ebay.com/itm/MISSHA-M-Magic-Cushion-15g-Magic-Moisture-Cushion-15g-SPF50-PA-/371269717186?pt=LH_DefaultDomain_0&var=&hash=item5671664cc2
and on amazon
here
http://www.amazon.com/Missha-M-Magic-Cushion-No-23/dp/B00U8ZNIXI/ref=sr_1_1?ie=UTF8&qid=1432947717&sr=8-1&keywords=missha+m+magic+cushion
and here
http://www.amazon.com/Missha-M-Magic-Cushion-No-21/dp/B00U3TE9ZU/ref=sr_1_2?ie=UTF8&qid=1432947717&sr=8-2&keywords=missha+m+magic+cushion
Five out of five light and airy turtles!


















by