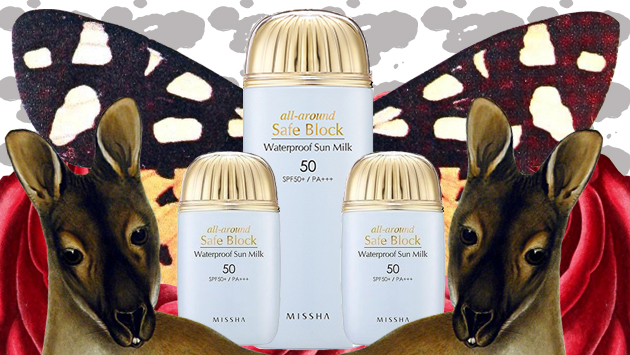 I've mentioned before that I absolutely hate the feel of most sunblocks. Since they're such an important part of our daily skincare, it's usually a very uncomfortable exercise in necessity for me. If you're in same boat with regards to being extremely picky in the feel of your sunblocks you're going to love this stuff. Hell, even if you're not, you still might love it. It's pretty damn awesome.
Missha All Around Safe Block Waterproof Sun Milk SPF 50 PA+++ just might be my favourite sun protection around right now. It comes in a bottle with a little bead inside to help stir the contents (much like a nail polish bottle). Make sure you remember to shake it thoroughly before use, otherwise you're going to get a weird oily looking separation of the product. I found that out the hard way one groggy morning when I forgot to shake the bottle and ended up looking like someone coated my face in vinaigrette.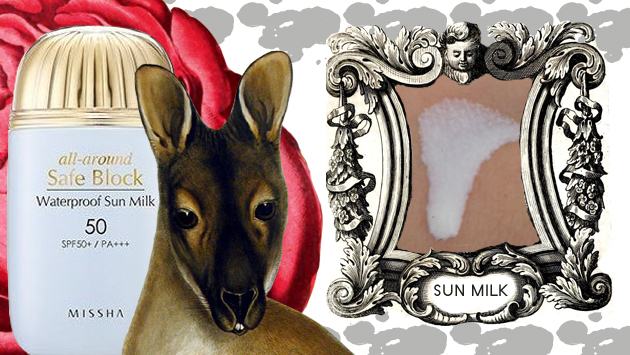 As the name would suggest, once shaken up it has the consistency of of milk. What makes me absolutely love this product is that it blends away into the feeling of absolute nothing. It's weightless, almost more like a serum than a moisturizer which most sunblocks tend to present as. There is also no white cast left on your face, another thing typical of most sunblocks that thing stuff manages to avoid. When you plug the ingredients into the
COSDNA
site we see that this has zinc oxide which offers full UVA and UVB protection. I guess the tradeoff for the weightlessness is that this has a high alcohol content, which can be an irritant to some people. For me personally I have no problems with alcohols and irritation, but of course your mileage may vary. The scent is the normal sunblock smell but a very mild incarnation, it's not really noticeable. Now, as far as the waterproof claims, I really have no way of telling accurately. I do have a pool in my building but I don't use it, nor do I do any heavy outdoor activities as it's currently the dead of winter. So I'm going to have to rate this solely on it's high 50 SPF, full UVA/UVB protection, and it's magic lightness. This particular version of the waterproof sun milk is not currently available on Missha's US or Canadian website. (edit: It's available now! http://www.misshaus.com/all-around-safe-block-waterproof-sun-milk-spf50-pa.html ) That leads me to believe this is an Asian exclusive. It's available at various online Korean shops in the 40ml and 70ml size that I've shown in my graphic at the beginning of the post. You can get the 70 ml size on Amazon here:  
http://www.amazon.com/MISSHA-All-around-Block-Waterproof-SPF50/dp/B00EBZCI9Q/ref=sr_1_1?ie=UTF8&qid=1430698845&sr=8-1&keywords=Missha+All+Around+Safe+Block+Waterproof+Sun+Milk+SPF+50+PA
and ebay here in 70ml:
http://www.ebay.ca/itm/MISSHA-All-Around-Safe-Block-Waterproof-Sun-Milk-70ml-SPF50-PA-/380984806549?pt=LH_DefaultDomain_0&hash=item58b476cc95
and 40 ml size:
http://www.ebay.ca/itm/MISSHA-All-Around-Safe-Block-Waterproof-Sun-Milk-40ml-SPF50-PA-/380984806539?pt=LH_DefaultDomain_0&hash=item58b476cc8b
Because of the high alcohol content I can't rate this a 5 for everyone (it's a 5 for me though!) but this is a soild 4 sunning turtles.

















by