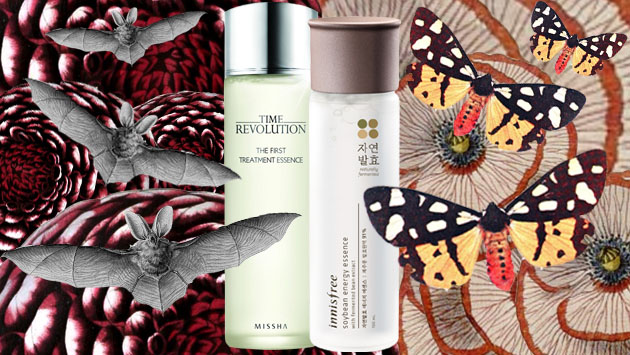 One of the toughest parts of writing this blog is introducing products that really have no equivalent that we're familiar with over here, and trying to impart to you just how much awesomeness you're most likely missing out on. Missha First Treatment Essence is one such product.
 I can't accurately explain this stuff without a little background first. You see, Missha First Treatment Essence is actually a dupe of a much more expensive Japanese product called SK-II Facial Essence. The SK-II version was/is a hugely popular product all throughout Asia, but at well over $100 a bottle it's a punch in the wallet. It retails between $150 and $195. So the Koreans being the ever clever innovators that they are said 'Fuck that, we can make one cheaper and better'. And the crazy thing is, they really actually did.
These treatment essences are supposed to be the first product you use directly after washing your face. When I say directly after I mean directly after. You're supposed to wait no more than 6 seconds after patting dry to apply. It's a clear liquid that's ever so slightly thicker than water. There's really no point in me showing you a swatch because it just looks like some water chilling on my hand. Some people apply it using a cotton pad as you might your toner, but I've taken to just spraying it directly on my face with a spritzer I purchased. It's near odorless and absorbs completely without any trace once you pat it in.
I guess at this point you may be asking yourself what the hell it's supposed to even do, I'll let the Missha website explain:
"Back to the Basics, a Stepping Stone to a Healthier and New Skin. Contains 80% Fermented Yeast Concentrate, "FISSIONE", which absorbs into skin instantly to energize your skin. Also contains Niacinamide, a Vitamin B3 component, to improve skin elasticity, enhance skin barrier function, and revive skin tone and texture. DN-Aid, made from Cassia-Alata Extract, provides vitality to aging skin, protects DNA from aging caused by UV rays, and promotes restoration of damaged DNA.
THE FIRST TREATMENT ESSENCE improves fine lines and skin tone. Miracle water "FISSIONE" hydrates, restores, rejuvenates, and gives you a glowing complexion.
Do you know what YEAST is?
YEAST is a naturally fortified Vitamin B Group. Vitamin B supports and increases the rate of metabolism and maintains healthy skin. Recently, more and more researches prove fermented yeast extract to be a good source for skin care products."
LOL @ "Do you know what YEAST is" but yeah, you get the idea. At first I had no idea what they meant by fissione, all I knew was fissione is literally the French  word for fission so I was a bit lost on that part and was wondering if I was going to have a nuclear reaction on my face. But apparently the actual explanation is rather mundane, Fissione is a by-product of brewing beer. That brings us to where the major difference lies between SK-II Facial Essence and Missha First Treatment essence. The source of the yeast for SK-II is from sake, while Missha's yeast is from good ole' beer. With a price difference of $100, and basically the same results between SK-II and Missha, I'll take my yeast from beer thank you very much.
 When I said above that Missha has done it better, I really think they have. SK-II has some die hard fans, but so does the Missha version. I've gotten samples of the SK-II and felt pretty meh about it. Personally my skin really prefers the First Treatment Essence. I've never had any bad reactions and it really makes my skin feel nice. It does everything it claims it will do. Also, if smell is at all a factor for you, the SK-II smells a bit funky whereas Missha doesn't really smell like anything.
Innisfree Soybean Energy Essence
A lot of other Korean brands have jumped on board the first treatment essence train. The only other one I've tried so far is the Innisfree Soybean Energy Essence. I guess I'll go ahead and make this a double review while I've got you here since there really isn't a huge big difference between the two in terms of performance. Innisfree Soybean Energy Essence contains 91% Jeju island grown fermented soybean essence while Missha of course is 80% fermented yeast. It's also formulated with Innisfree's 5 free system containing no fragrance, animal ingredients, mineral oil, or artificial colors. It comes in a plastic bottle compared to Missha's frosted glass bottle. In terms of feel this is thicker and more viscose than Missha FTE.  It's also way more hydrating, you can really feel the hydration and plumping with the Innisfree. I think dry to normal skin would like Innisfree better maybe, but it's certainly not excluded from oily skin, it's not overwhelmingly heavy or anything. I find myself reaching for the Innisfree more in the winter whereas Missha is perfect and refreshing for summer. Again though, dry skins and winter skin would also like Missha. Both are good for any skin type. At around $25 for 80 ml, Innisfree is cheaper than Missha which sits at about $52 for 150 ml. But then again Missha has insane sales all of the time. I picked up my bottle at half of the $52 price point so it ended up being cheaper for more product. You could buy either one or even both and not be going overboard. I currently have three bottles stockpiled because I'm afraid of running out and not having any on hand. So there you have it, yet another of my newly discovered holy grail products I've come to know and love in my adventures with Korean skincare.
Both Missha First Treatment Essence and Innisfree Soybean Energy Essence get five happy, hydrated, fermented, soothed turtles.






Where to Buy:
Missha First Treatment Essence is available at:

Amazon (with Prime shipping) : $40 »

W2Beauty: $42 »
You can get $5 off your first W2Beauty order by signing up via my affiliate link and entering code 071087605 upon sign up!
Innisfree Soybean Energy Essence is available at:

Amazon (with Prime shipping) : $40 »

W2Beauty: $42 »
You can get $5 off your first W2Beauty order by signing up via my affiliate link and entering code 071087605 upon sign up!












by