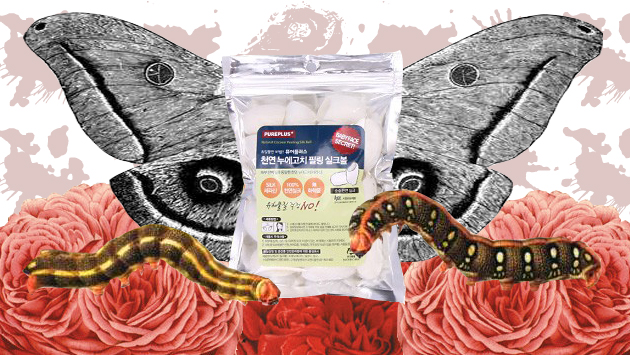 I've tried some pretty 'out there' things on this journey of reviewing products for you guys. I've tried bird poop masks, snail slime & bee venom concoctions, donkey milk cream, the list goes on and on. Honestly, there's not much I wouldn't do in the name of discovering new cool things for you all to add to your beauty routine. When I came across the opportunity to review these cocoons, I jumped at the chance.
Natural Cocoon Peeling Silk Balls are the actual cocoons woven by silkworms. They are made of 100% silk with no other additives. But I'm getting ahead of myself here, first I should explain what these little guys even do. These are meant to cleanse and exfoliate your face. If your face is doing anything other than the "lolwut" look right now, kudos to you and you're a better man than I am, because that's exactly what mine was doing at first. I'm going to let the Memebox website (where I found these little guys) explain everything:
"Close in composition to skin proteins, Grand Plan's Natural Cocoon Peeling Silk Balls are made with 100% natural silk and no added chemical ingredients. These luxuriously soft cocoons will gently exfoliate and hydrate your skin, removing impurities, dead cells, and makeup residue to reveal the all-natural, baby-smooth complexion underneath.
WHAT IT DOES
Exfoliate
Cleanse
Hydrate
Nourish
KEY INGREDIENTS
100% Natural Silk"
.
Makes sense now? Awesome. Now let's get to how to use them:
"HOW TO USE
Soak peeling balls in lukewarm water for 3 minutes.
When moist and soft, place on fingertips through opening (if too small, cut slightly to widen).
Massage skin with fingertips in circular motion. 
Any impurities on the cocoons are harmless and gained naturally through the production process. Simply wash them off with warm water. "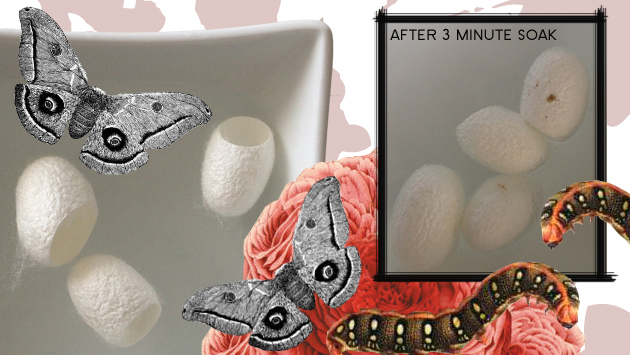 So after I followed the instructions and fit these little silk balls on my fingers, I got to work massaging my face. It didn't feel weird or strange, but to be quite honest it wasn't the most pleasant of smells emanating from the wet cocoons. However, it wasn't all that bad, just real…uh, natural. With that being said these did give a gentle, effective manual exfoliation and my skin was left feeling extremely soft and smooth afterward. I'm not a huge proponent of manual exfoliators, but this one felt very soft while still being thorough enough to make a difference.  I noticed after using these they picked up a lot of oil and dirt, as was evident on the formerly pristine white balls. Afterward they darkened and had schmutz on them as you can see below. It was surprising how much stuff these picked up as I had already washed my face beforehand.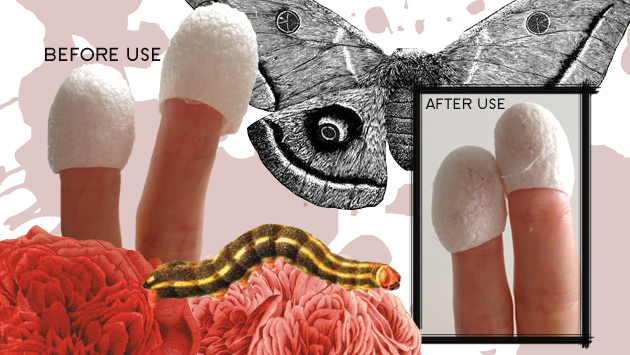 These are quite the novel thing to use. Not exactly practical as you have to soak them, fit them on your fingers, and then dry them (you can reuse them a couple of times apparently). But, they do honestly work! And to those of you who worship all natural products, it doesn't get any closer to nature than rubbing a moth's bachelor pad on your face! If you're into having odd new experiences and love nature, I suggest giving these a spin 🙂 Make it a theme night and eat the worm out of your tequila beforehand.
Nature Cocoon Silk Peeling Balls get a 4 out of 5 turtles (but a 5 out of 5 turtles for novelty and overall fun!).





Edited to add: These are no longer available on the Memebox site where I originally got them, but Wishtrend has them for even cheaper here ! At only $3.90 that's a great deal considering you can reuse them. And you can get $5 off your first Wishtrend order by signing up for an account via my link here https://www.wishtrend.com:48598/?s=022463306 and entering code 022463306 upon sign up 😉
You can also find them on ebay here
http://www.ebay.com/itm/Organic-Natural-White-Silk-Cocoon-for-Cleanser-facial-Massage-Scrub-/261649847305?pt=LH_DefaultDomain_0&var=&hash=item3ceb8bd409
and here
http://www.ebay.com/itm/500-Silk-Natural-Cocoon-For-Face-Massage-Scrub-/331322547976?pt=LH_DefaultDomain_0&hash=item4d245cdf08












by