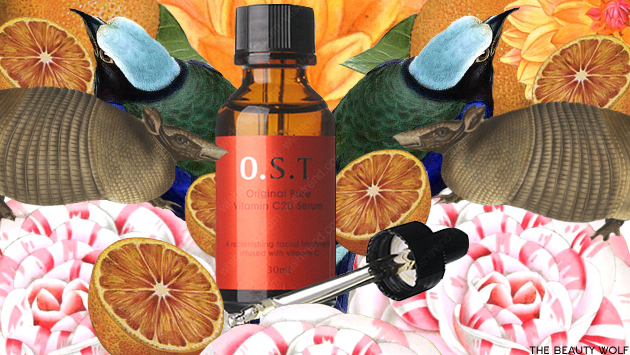 Well, count this in with the ever growing number of products that I had no idea I really needed and now cannot live without. OST Original Pure Vitamin C20 Serum is one of the overall best selling products in Korea, it usually tops the Best Of lists and voter's polls. This is a clear liquid that is advertised as a whitening, exfoliating, pore refining, scar reducing, revitalizing, blackhead removing, miracle serum. If you're wondering how just one thing is supposed to do all of that you're not alone. I was in the same boat. Well let's examine this little guy and see what he's holding.
First of all this stuff is 20% pure vitamin C, which scientifically is the optimum amount for proper topical absorption by the skin. Vitamin C is a powerful anti-oxidant and studies have shown that it can help battle premature aging by fighting the damages caused by sun exposure. Note that this does not and will not take the place of a sunblock, it just helps with the damage you've already done and helps minimize further damage (and let's be real, you've done damage). It's suggested that topical application because of it's direct contact with the skin, is even better than oral ingestion when it comes to protecting you from the sun's damaging rays. Vitamin C also helps with collagen production and can speed up wound healing with it's rapid cell turnover. In fact, that's the thing that got me hooked right away. The first night I used this I had a small but visible scratch across my face care of my toddler. The very next morning that thing was damn near completely gone. I was amazed and knew I had picked a winner.
Another thing I noticed personally was this product really does tackle blackheads. I've never had large or clogged pores before but after a particularly hormone heavy pregnancy I had found myself with small blackheads across my nose for the first time in my life. I tried treating them with salicylic acid for about a year straight but it didn't really solve the problem. Three weeks into using the OST Original Pure Vitamin C20 Serum they were all but gone. This stuff does not mess around, it's really a powerhouse of a serum. Now, some reviews have talked a slight stinging or burning sensation upon application of this product. It doesn't really do that to me personally. I have felt only the slightest of tingles when it's comes into contact with either an abrasion or really dry areas of my skin. Speaking of dry areas this serum really helps knock them out, it's very hydrating but not at al greasy or oily. According to studies the vitamin C helps skin retain it's moisture. The serum itself has a really pleasant, light, natural citrusy scent that I really like. I will say this though, it is extremely sticky on it's own! Some people have given up using it despite it's great results because they just couldn't hang with the stickiness of it all. I can't remember where I read this suggestion but someone said to try mixing it with your toner, let me tell you that person was genius. I mix 2-3 drops of this with my Benton AHA toner and it cancels out the tacky feeling completely. It glides on with no trouble, absorbs quickly, and leaves my skin smooth afterward.
A word of warning, vitamin C degrades in direct sunlight and humidity so don't keep this stuff in your bathroom unless it's well ventilated and out of the light. I've heard of some people keeping it in their fridge even but I can't speak to the effectiveness of all that! At least in regards to the sunlight, this stuff is in a dark brown bottle, so that should help filter some of that light out. But if you can, keep it tucked away somewhere just to be on the safe side. At between $20-$25 for 30ml it's a good value and I heartily recommend you picking up a bottle and giving it a whirl.












by