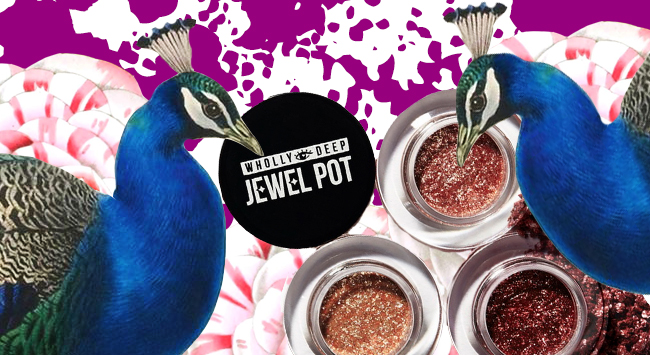 I love glow, I love glam, I love glitter. Well, I love grown up modern glitter, not the 90's chunky glitter of yesteryear, but the shimmering kissed by the gods glittery formulations of today. Until very recently, if you wanted to have something light reflective on your lids you were going to have a little hell to pay in the form of fallout. Fallout is when your eye product comes loose and drifts below your bottom lash line, creating a mess. If you were lucky it was just a glittery dusting, at it's worst you came out looking like you got punched by the toothfairy and ended up with a very glam black eye. Either way it was almost impossible to come out unscathed. My favourite performer, but worst fallout offender, was always the Mac loose pigments. They would delivery excellent colour payoff and shine but using them was a pain since you dealt with fallout from application and then more fallout after they'd been worn awhile. I both loved and hated them on set, I'd be armed with a fanbrush and makeup wipes just waiting for the inevitable dust cloud to settle under the model's eyes.
When I first saw the Peripera Wholly Deep Jewel Pots I instantly thought of the Mac pigments. They were gorgeous but I was dreading the aftermath. As soon as I was able to play with one, my whole world got flipped upside down. These things are amazing. They're so amazing I had to go back and edit the last sentence I wrote because it had three curse words in it, that's how much I love these, they made me cuss. This product joins my Tonymoly Backstage Gel Liner as a holy grail must-have Korean cosmetic. Here's why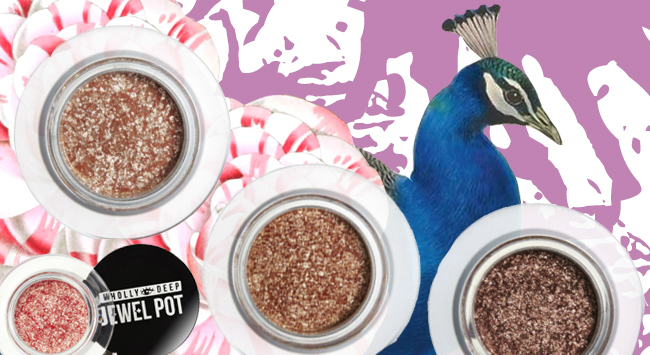 With 8 beautiful shades to choose from, these things have insane sparkle without being overly teeny-bopper glittery. They're sparkly and perfect for nighttime wear, but totally appropriate for daytime as well IMO. The formulation is insane, it's somewhere between a cream and a powder, it reminds me of that magic sand stuff my toddler plays with. I've never used anything like it before. Because of the unique formulation you get all of the rich colour payoff, all of the shine, and NONE of the fallout.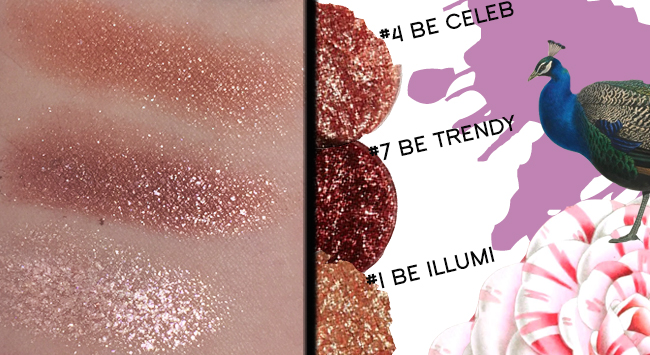 It's genius! It's gorgeous! It's genius and gorgeous! It's a top supermodel neuroscientist! It's the impossible! Really, you've got to try this product out.  I'm about to buy the entire shade line, it's that good! These are both cute and glamorous, sophisticated and fun. They apply best with your finger and sweep on easily with amazing colour payoff as you can see in the swatches above.  I can't sing their praises enough, I'm in love with these little pots of pure joy!
Grab yours at W2 Beauty for $15 http://w2beauty.com/en/clio-eye/16455-clio-peripera-peripera-wholly-deep-jewel-pot-8-colors.html
I have always loved w2Beauty because of their free shipping, generous samples, and excellent customer service! And as always you can receive $5 off your first purchase by signing up for an account through my sponsor linkhttp://w2beauty.com/?s=071087605 and entering code 071087605 at sign up!


Available on eBay here
http://www.ebay.com/itm/PERIPERA-WHolly-Deep-JEWEL-POT-Multi-Angle-Glitter-Multi-proof-as-brownie-/152072036330?var=&hash=item2368331fea:m:mUScq7-jsvUapOH5M0z5naA
Amazon here
http://www.amazon.com/Peripera-Wholly-Deep-Jewel-Trendsetter/dp/B010WLST5E/ref=sr_1_2_s_it?s=beauty&ie=UTF8&qid=1462523676&sr=1-2&keywords=peripera+jewel+pot
Five out of five turtles,  plus one extra for changing the pigment game! Ugh, where have you been all my life?! Clio/Peripera continues to slay with their quality and innovation!






 + 

You can also get these directly from Club Clio USA if you're in the States. And if you happen to live in NYC drop by one of their locations to grab them in person!
http://clubclio-en.com/product/PERIPERA+WHOLLY+DEEP+JEWEL+POT/116
Lastly, you can see them in action in a tutorial I did over at the K-log, where we gave Kpop makeovers on a lazy Saturday using these pots and a few other great products!












by