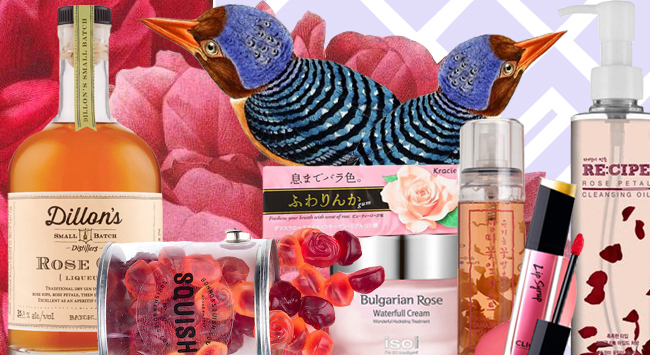 Valentines has come and gone, the roses received as tokens of affection have long since died. However, my love of rose infused/influenced/enhanced products is immortal.  Although not my favourite flower in a bouquet, products containing rose have always been a huge draw for me as a consumer. The fragrance, anti-inflammatory, anti-bacterial, and moisturizing properties make rose something that always catches my eye when I'm looking for intriguing goodies.  I've also come to find that rose as a flavouring knocks it out of the park when it comes to adding that little extra something to an otherwise run of the mill treat.
My rose romance started with the now cult classic Sum37 Miracle Rose Cleansing stick, the cushy luxurious cleansing stick sparked something collectively within us, and given the number of rose products on the market, our rosy affair continues. I've gathered up a bouquet of my favourite rose delights for you here today, and you don't even have to worry about thorns!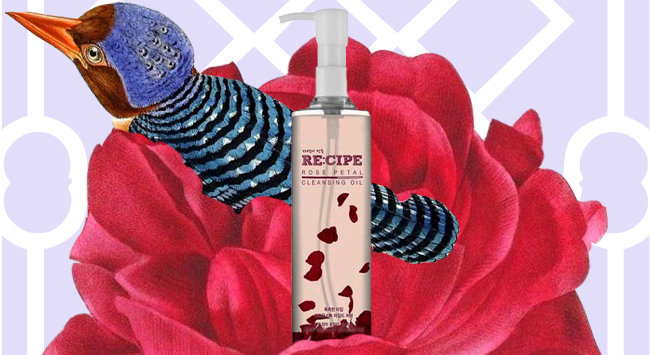 Re:cipe Rose Petal Cleansing oil
Since a rose cleanser started this whole rose journey, might as well start off with another. A cleansing oil infused with real rose petals to rejuvenate and hydrate the skin for a brighter, more radiant complexion. I personally love this oil, it's my new HG oil (review here). Some people are put off by the strong rose aroma, but I personally delight in it! Available at Memebox USA here , and Bisou Beauty Bar here for Canadians.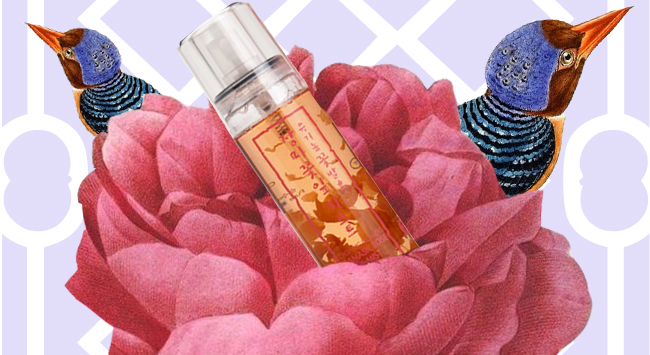 Whamisa Organic Flowers Damask Rose Petal Mist
An unbeatable mist, the best one I've ever laid my hands on. This mist's ingredients put it on par with a particularly effective toner in a pinch. It's also gorgeous, don't act like you don't care about gorgeousness 😉 It's available here at Glow Recipe where you can get 15% off your order by ordering through my referral link http://i.refs.cc/Mxk05ta7 or here at Tester Korea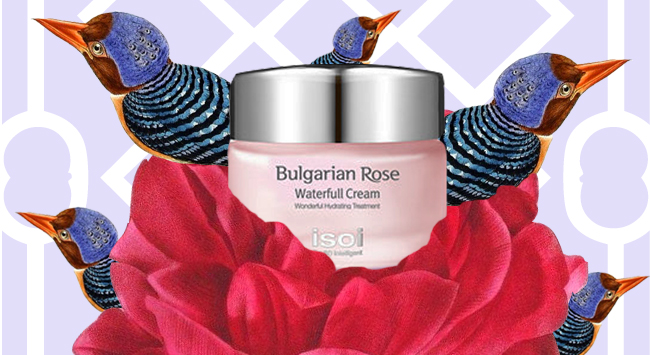 Isoi Bulgarian Rose Water-full Cream
With it's first listed ingredient being Shea butter, this deeply moisturizing cream combines the power of rose with some heavy hitting yet all natural hydrating components. The texture of this cream is lush and gorgeous,  it's kind of like the cream version of the Sum:37 rose cleansing stick, although not as rosy smell wise. This is a little hard to come by, but it's here on ebay , here on Korea Depart, and here on Sasa.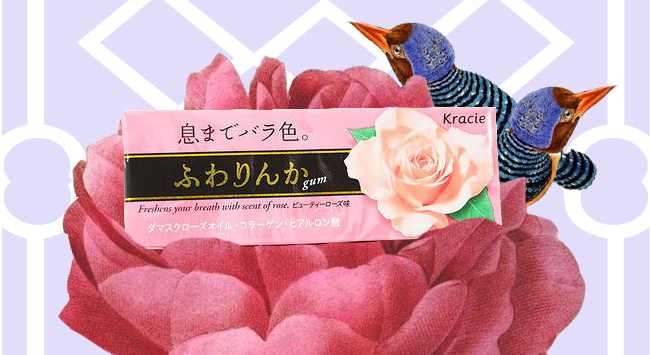 Fuwarinka Chewing Gum Beauty Rose
"Beauty Gum, as it is called in Japan, freshens your breath while providing your body with its beneficial ingredients. Vitamin C, Collagen, and Hyaluronan. The flavor is very accurate as it contains Damask Rose Oil." I don't know how "beneficial" this gum actually is but it is certainly delightful. With a delicate rose flavour, I love to chew on this gum post meal when I'm out dining with friends.  Be sure to carry backup though, because once people see it everyone wants a piece! Available here on ebay and here on NapaJapan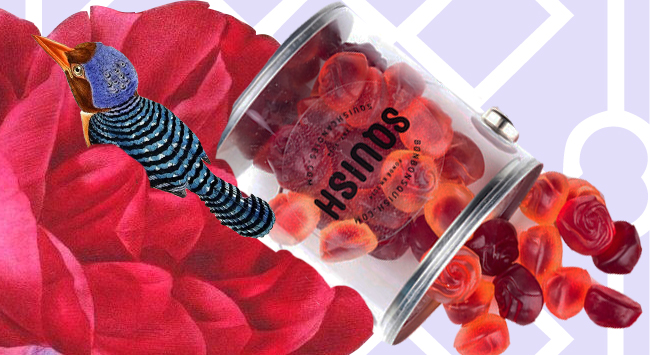 Squish Red Roses Paint Can
If you want the beauty of the rose but aren't quite on board with eating one, Squish candy has these almost unbelievably flavoured rose gummies. From their website:
"These beautifully-shaped gummy roses are a much tastier alternative to a bouquet of blooming red roses. Gorgeous shades of light and dark red, filled with luscious fruit flavours of raspberry, strawberry, cherry, black currant and hints of rose." Mmmm pure love. The flavour is so intense and delicious, you'll be instantly spoiled and never want to have cheap corner store candy again. At least, that's what happened here in my house! Available from Squish artisanal candies and gummies here, shipping currently to the USA and Canada.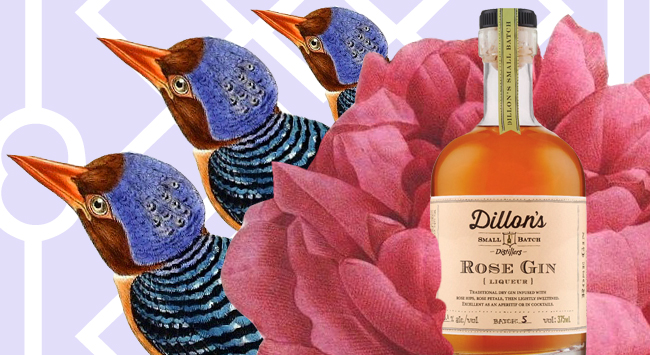 Dillion's Small Batch Rose Gin
For a grown-up touch of rose, you can't beat Dillion's Rose Gin. It's a traditional dry gin infused with rose hips, rose petals, and then sweetened. The rose aftertaste is the most delightful thing I've experienced since I got to the point in life where I didn't have to always go with the crappy cheap stuff. Oh, the dark days before I discovered how to make a proper cocktail.  Speaking of cocktails, your gin based ones will never be the same if you're lucky enough to get your hands on a bottle of this. It's a little hard to come by, in that it's currently only sold in Ontario (grab it online here). But give them a shout and see if they can't hook something up for you. It's well worth the effort and at $50 Canadian a 750ml bottle, very reasonably priced.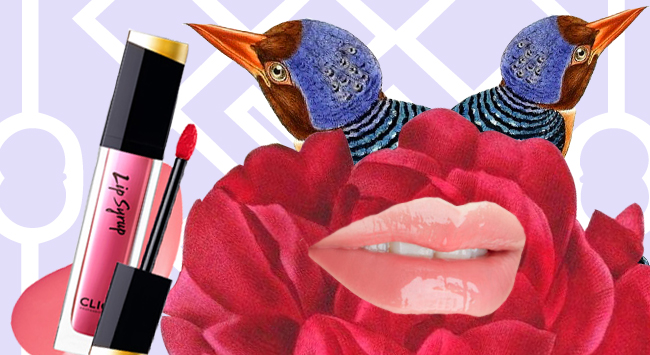 Clio Stay Shine Lip Syrup in #06 Naked Rose
I can't do a rose roundup and not include a gorgeous rosy lip! Leave it to Clio, known for their inventive, high quality, (not to mention FUN) lip products, to bring us a new fav. Matte lips are still all the rage, but sometimes you want a sexy sultry alternative . Gotta switch it up and shine every once in awhile, and shine you will. This super plush syrup has a high refractive index, making your lips look plump and juicy. I love this shade, Naked Rose, because it would work for just about anyone, it's a beautiful universal rosy nude.  The coverage is build-able, so you can go with more colour or a sheerer wash, depending on your preference. You can't go wrong by adding this rose to your current lip bouquet. Available directly here at Club Clio USA if you're in the States, or on ebay here
I hope this walk through the rose garden has awoken your senses, don't be afraid to reach out and pluck something for someone, conversely, there ain't no shame in pluckin' (somethin for) yourself~












by