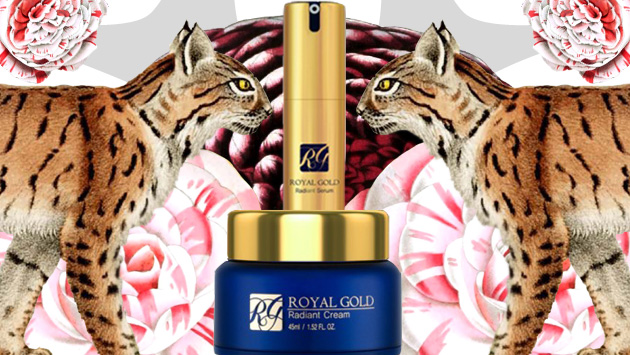 Could someone be a dear and fetch me my crown? What's what? I don't have a crown? Well, I'll settle for something luxurious containing pure gold. Royal Gold Radiant Serum and Radiant Cream you say? That'll work.
 Once again I found myself in a position reviewing something that has no real English information or ingredients list so these are my blind impressions. I'm going on pure feel and results, which I suppose one should always do. I guess it's sort of like those dining in the dark restaurants that force you to savor your food without the influence of visual presentation.
I felt like Marie Antoinette using these products. Well, Marie in the height of her luxury. All of the decadence with none of the imprisonment or beheading. The serum is clear with a goldish tint thanks to the, you know, actual GOLD inside. You can visibly see the pure gold flakes suspended within.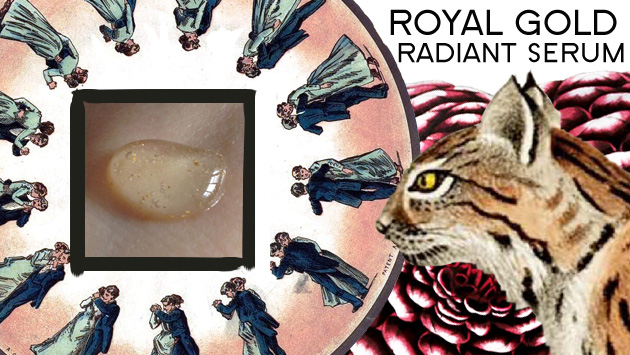 It has a floral scent that smells very fancy. Really I can't think of any other way to describe it. It's just fancy! Even if you were handed this is a plain unmarked tube you would be able to pin this as a high end product. It has a very light texture that absorbs fairly quickly. There is seriously almost no information about this product out there, but from the description on the RoseRoseShop website, this serum is "anti-wrinkle/elastic skincare" which I assume means it addresses anti-aging concerns. Don't think that relegates this to old ladies only, it's never too early to start an anti-aging regime. Remember, it's much easier to prevent damage than to reverse it.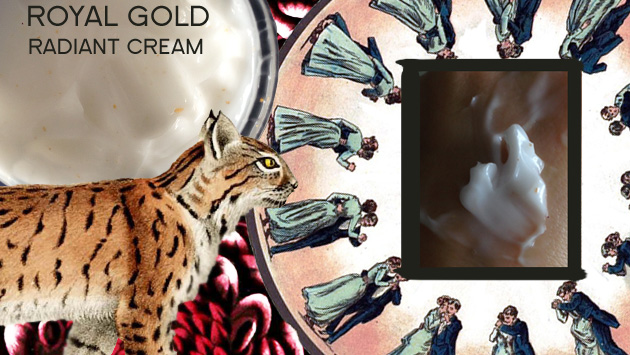 The Royal Gold Radiant Cream feels as fancy as it looks. It has the same floral scent that screams money, and a light airy texture. Again, and even more so than with the serum, you can see the pure gold flakes. It's very light, it's not at all a heavy or greasy moisturizer. It does not sit on your skin, it sinks in with minimal massaging. If you have very dry skin you may need a heavier cream than this, I think this would be best for normal to oilier skin types. Aside from gold containing anti-oxidants, I really don't see exactly what the benefit of having it in your skincare is supposed to be. Some places claim that it stimulates circulation and regeneration but in such a small amount I'm not sure that it could do all of that. I will admit though, the gold gimmick makes this really fun to use. You can't help but feel regal sitting at your vanity using these golden potions. Even without the inclusion of the gold, these are decent high end products. My skin stayed in the good condition it was in before I started testing them. I think I will find myself coming back to them especially during the warmer months, as they're very light and refreshing.
Royal Gold Radiant Serum
and
Royal Gold Radiant Cream
both get four little gilded turtles.




You can catch them for 15% off right now at the always trustworthy RoseRoseShop!












by