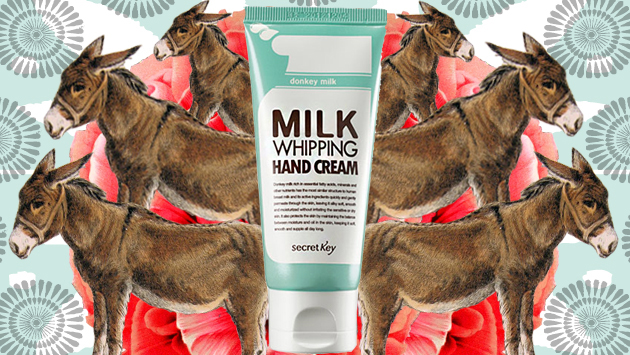 When I saw the main ingredient in this hand cream, I knew there was no way I could stop myself from giving it a try. Listen, my face is already slathered in bee venom, snail secretions, and fermented soybeans. If you think something is going to stop me from putting donkey milk all over my hands, you'd have to wait until they're cold and dead to pry it away from them.
Secret Key Milk Whipping Hand Cream looks like an everyday unassuming hand cream on it's surface but it's not until you look closely at the top of the tube and see "donkey milk" in small white letters that you realize 'holy shit, yessss sir, I need this".
What's the big deal about donkey milk you ask? Well, donkey milk is a very rare and hard to come by ingredient. It's only available for six months out of the year and even then, you can only collect less than 1 liter a day from each mama donkey. It's also the milk that is the closest in composition to human milk, their PHs are nearly identical. Human milk has a PH of 7.0 – 7.5, donkey milk sits at 7.0 – 7.2! Donkey milk is also full of both omega 3 and omega 6 fatty acids. It's also very rich in lactose so it's extremely hydrating and nourishing to skin. It's been used since the dawn of civilization in Egypt, Rome, and Greece so this is nothing new. Hell, Cleopatra herself used to take donkey/ass milk baths to preserve her beauty. I guess her motto must have been live by the Ass, die by the Asp. (Lordt, I really think someone should take this blog away from me sometimes).
 In addition to the milk, this cream also contains collagen and hyaluronic acid to create a barrier and prevent moisture loss. All in all, some pretty serious awesomeness in this humble little tube. The texture is very light for a hand cream, after all that ingredient hype I was expecting a L'Occitane level grease-fest honestly. I was skeptical about it's abilities until I rubbed it in. As soon as I did it really wowed me! It absorbs so ridiculously easily compared to the heavy handed moisturizers I had been using. And even though it's texture is airy it's results are so much better than it's thick counterparts. In the spirit of giving you a good review I wanted to really put this stuff to the test in extreme conditions. As I've written about before, the air in my apartment is drier than dry. It's also currently frigid outside. So I didn't moisturize my hands for a few days and then upon waking up today I went outside and walked the dog sans gloves while the temps were in the negative numbers. My hands were a nasty dehydrated, battered, irritated, desiccated mess and looked like they belonged to a Granny.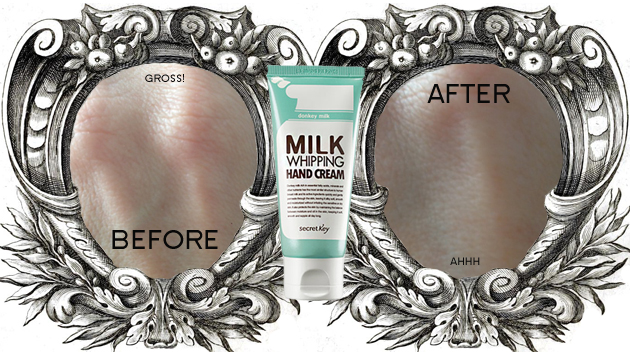 As you can see this stuff made a pretty dramatic dent in all the manufactured damage I caused. So you can imagine if you use it daily the kind of results you're going to get. It soothed the redness and irritation and plumped up my skin with hydration. Also of note, the cream absorbs so wonderfully and thoroughly that I was able to snap those iPhone pictures without leaving so much as the faintest  grease spot on the screen after I was done. I absolutely cannot stand the feeling of lotion on my hands normally. But honestly this stuff just melts away into nothingness and leaves your hands feeling clean yet moisturized. I almost forgot to mention it's scent, I know that's an important factor for a lot of people. It's got an almost baby powder kind of smell, but somewhat cleaner and less cloying. I'm not usually a baby powder fan but this I can tolerate. It's not overwhelming and it just kind of fades into the background after a minute. As sensitive as I am to smells I don't like, I have to honestly say that this cream works so well I would probably put up with it even if it were funky. It's just that good in my opinion.I'm going to give Secret Key Whipping Milk hand cream a solid four out of five turtles.












by