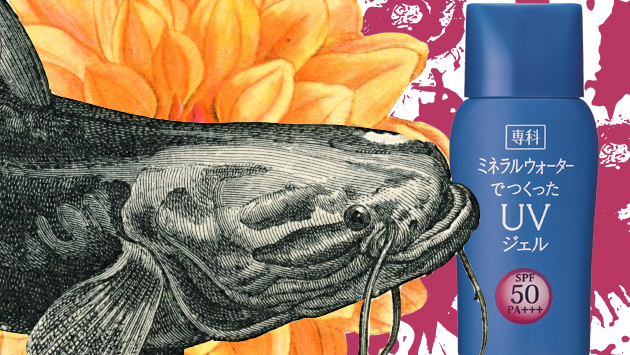 Ahh, the never-ending quest for good sunscreen. I really wish the world at large would have figured out just how horrible the sun's rays are sooner, so we wouldn't be scrambling like we are now (many of us having gone through skin cancer, premature aging, and childhoods peppered with sunburns). I think I've talked about it before, but it was the removal of skin cancer from the tops of my ears that really made me sit up and get serious about the sun. I grew up in the south in a time where people coated themselves in butter to get as dark as possible and sunblock was only for the palest of non-tanning white kids. Nowadays you'll find me in long sleeves in the dead of summer cursing the beaming rays and testing out a non-stop revolving door of sun products. That very activity is what lead me to today's product, Shisedo's Hada Senka Mineral UV Gel SPF50 PA+++
If we take a look at the ingredients on the Cosdna site we see a couple of things here, the most important being that this protects from both UVB and UVA rays. UVB rays are the one that will burn you up like a steamed hotdog, UVA rays are what make you look like an old leather crypt keeper. It's very important that whatever product you ultimately choose, that you make sure you're protected from both kinds of UV rays. If you're curious about the "PA" you typically see on Japanese and Korean sunscreen offerings, wikipedia solved that mystery for me:
"PA system
Asian brands, particularly Japanese ones, tend to use The Protection Grade of UVA (PA) system to measure the UVA protection a sunscreen provides.
The Protection Grade of UVA (PA) system is based on the PPD reaction and is now widely adopted on the labels of sunscreens. According to the Japan Cosmetic Industry Association PA+ corresponds to a UVA protection factor between two and four, PA++ between four and eight, and PA+++ more than eight."
After finding that out I'm always on the look out for that sweet, sweet "+++".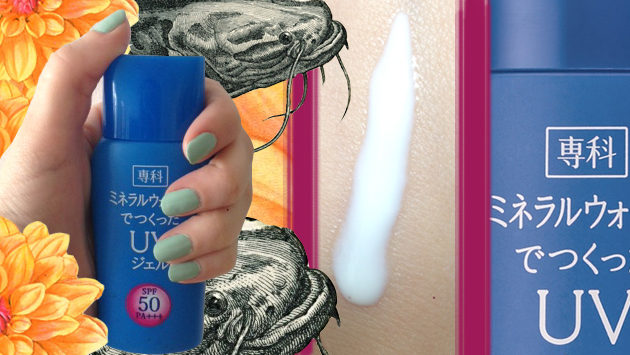 Now, let's get down to business. This bottle is a lot smaller than North American sunblocks if that's what you're used to. As you can see in the picture above, the whole thing almost fits in my hand, and I have tiny itty bitty hands. Before use, be sure to shake the bottle vigorously to mix everything together. You'll hear a little mixing ball inside helping things along. Once you squeeze out the desired amount you will see how liquid-y this is, which is a texture I love for my sunblocks. The consistency is extremely light. When you first apply this to your skin there is a slick feeling and a sheen, but it quickly dissipates and dries nearly matte (I guess this is thanks to the inclusion of alcohol in the ingredients). This makes it easy to layer your product to get the best coverage. It's suggested you use 1/4 tsp to get the maximum benefits from sunblock. That's quite hard to do with heavier formulations. This is extremely easy and user-friendly. That is probably the greatest selling point for this particular product. Another thing that I really liked was that it did not cause me any breakouts.
Now, back to that alcohol. I normally don't worry much about alcohol in products personally. But for some reason, this time around, the alcohol really did a number on me. However, I wouldn't take my experience as typical, I have some factors that are pretty rare. I have a disease called lupus (let me take this time to say, seriously, f*ck lupus) and it's been bothersome lately. During the first half of the month I starting testing this, everything was just perfect. But recently I've been dealing with some lupus related flare-ups and for me that usually manifests on my skin, mostly on the soft tissues. The alcohol in this coupled with the lupus crap made for a horrible reaction around my eyelids and mouth. I had huge red puffy flaky skin around those two areas. I'm steal dealing with the fallout from it now, which is why I haven't been able to take photos and do reviews lately, I apologize for that! But like I said, that is a rare circumstance and I don't think for a minute this product would do this for a regular user. It's a really good sunblock, especially for oiler skins and the for the summertime. The almost matte finish it leaves you with makes for a good base to put your bb cream or foundation on top of without any interference. The high SPF and PA+++ rating is also another plus. I'm not exactly sure how to rate this product, do I base it on my personal experience or how I think it would fare for someone else? I'm just going to have to go with a middle of the road 3 out of 5 turtles. Drier skins and skins going through any sort of irritation or trouble should probably avoid this particular product and opt for something more moisturizing, but I encourage oiler skinned people looking for something light and layer friendly to check it out.
You can grab yours here on ebay
http://www.ebay.com/itm/SHISEIDO-Hada-Senka-Mineral-Water-UV-Sunscreen-Gel-40ml-SPF-50-PA-FREE-SHIP-/181762255798?pt=LH_DefaultDomain_0&hash=item2a51dfebb6
and here on Amazon with Prime shipping
http://www.amazon.com/Shiseido-SENKA-Sunscreen-Mineral-Water/dp/B004Q1WT58/ref=sr_1_1?ie=UTF8&qid=1434120105&sr=8-1&keywords=SHISEIDO+HADA+SENKA+MINERAL+UV+GEL












by