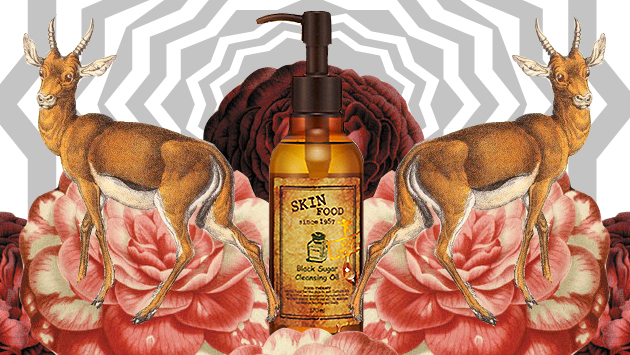 When I bring up oil cleansing as part of a two step cleansing process to people, more than half of the time they scrunch up their face at me and tell me that don't have time for that. Some people are too obtuse to reason with, but those of us who are on the two step cleansing train already know how great it is. Stubborn waterproof makeup, sunblock, bb cream, mascara, all gone in a gentle instant. If you're not already doing the two step cleansing routine, you should definitely be at least willing to give it a try. I'm almost positive you'll never go back to doing things the old way! I've tried a variety of oil and sherbet cleansers, the most recent being Skinfood Black Sugar Cleansing Oil.
Let me start by telling you what I love about this particular oil cleanser, the pump. It has a long narrow hooked spout that perfectly dispenses what can sometimes be a messy product. Each time you depress the pump it gives you the perfect amount. The oil itself is, well, oily of course. I put it on my dry face and gently massage away my makeup. I find this works wonders on my insanely stubborn Tony Moly gel eyeliner and waterproof mascaras.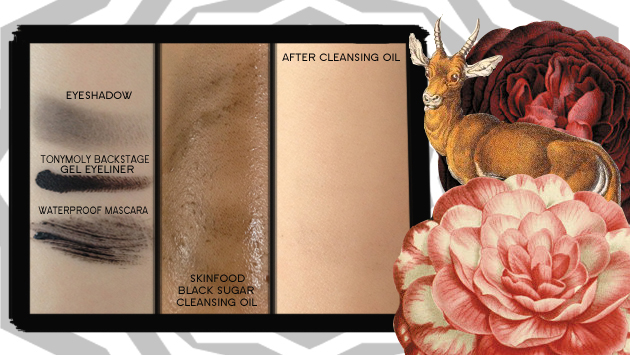 As effective as this cleansing oil  is you might think you would have a hard time rinsing it clean. Absolutely not! It rinses clean with minimal effort. After you've used and rinsed away this oil cleanser, you follow up with your normal cream or foaming cleanser.
My sole complaint about this is the scent. Since it's called Black Sugar one would assume it would smell, well, sugary. At the very least somewhere on the baked goods scale, but nope, this stuff smells like straight up PineSol. It has the most misleading name ever! It's so lemony and antiseptic scented that as great as this stuff works, I find myself dreading using it. That being said, scent preference is so subjective, someone else might absolutely love the smell, this is just a personal opinion of mine. The product itself works great, the dispenser is great, the scent is it's only negative.
Available on Ebay
http://www.ebay.com/itm/SKIN-FOOD-Black-sugar-Cleansing-Oil-170ml-Korea-cosmetic-/271249056008?pt=LH_DefaultDomain_0&hash=item3f27b42108
Amazon with Prime shipping
http://www.amazon.com/Skinfood-Black-Sugar-Cleansing-Oil/dp/B005T5CARW/ref=sr_1_1?ie=UTF8&qid=1433881255&sr=8-1&keywords=skinfood+black+sugar+cleansing+oil
Skinfood Black Sugar Cleansing Oil gets 4 out of 5 clean little turtles.

















by