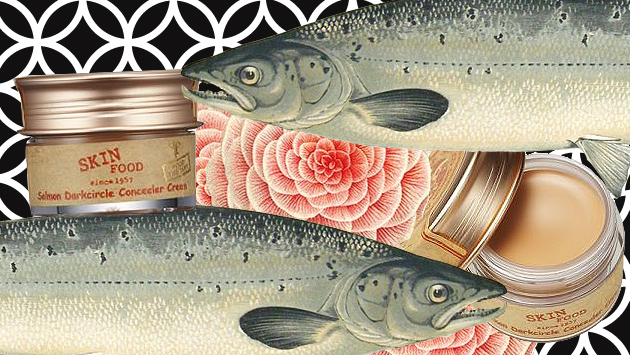 Concealer is one of the most important products in our makeup lineups, it's also one of the trickiest. We all have that seemingly impossible wishlist for our concealers that goes something like: must have great coverage, must not settle into lines, must not be cakey, and must look natural. 
 I, like a lot of other fair skinned people, have dark circles no matter what. Being stressed and tired exacerbates the problem, but even under optimal conditions the purple shines through. That's just the nature of the tissue thin skin under the eye if you don't have a lot of colour to block out the blood vessels underneath. As if that wasn't bad enough, things get a little worse since I'm at the stage in life where fine lines are an issue. That means traditional liquid concealers can migrate into those bastards and make for an unflattering creased look. The problem with a lot of other cream concealers are that they're cakey as all hell, and scream to the world that you're wearing very obvious cover-up. It's enough to leave most people frustrated and hopeless when it comes to finding the right product to get the job done. 

Thankfully, I found Skinfood Salmon Dark Circle Concealer Cream. It's is exactly what it says it is, a cream type concealer that specifically address dark circles. It's rich, creamy formulation comes housed in a little pot with a screw top lid.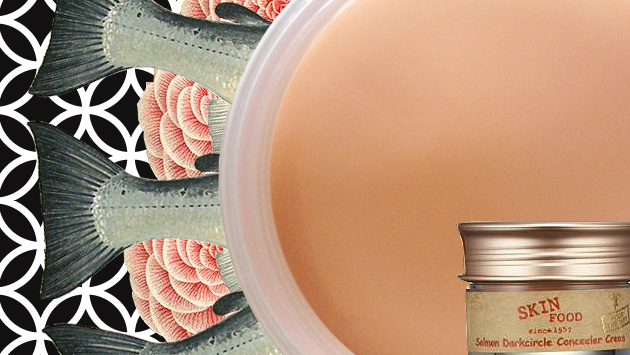 The texture is buttery and smooth, it melts and softens slightly when it comes into contact with your body heat, which makes it blend wonderfully. It's a very emollient cream, which is the best news ever if you're worried about your concealer settling into fine lines. However, this may be a downside for you if you'll be the subject of flash photography, as the light reflecting properties are exaggerated by the flash. However this can be tempered with a light dusting of powder and it's not something that's visible anywhere but in pictures. You won't notice it during the course of a regular day or night out. The coverage is excellent, the salmon undertones do a great job of cancelling out the blue and purple tones of dark circles.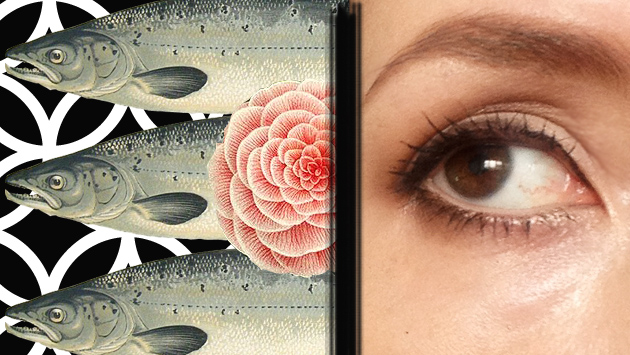 My only complaint is this is only available in two shades, #1 and #2. I'm using #1 here which looks dark in the pot but actually suits my NC15-NC25 (depending on the season) skin perfectly, no matter if I'm at my darkest or my lightest. If you fluctuate between NC25 and a darker shade, #2 might be a better fit for you, depending on what you're going for (some people like a might lighter concealer shade under the eye, some like natural).


The wear time is great, it's never let me down and lasts throughout my day and into the night. Although, I do not have oily skin, so I can't vouch for it's performance if that's your condition. But as far as normal to dry skin goes, this does have great lasting power. I really love this product! It's a totally different animal than the Missha concealer I reviewed before, this is a thicker, moisturizing, type product that will serve me well in the upcoming Fall/Winter seasons. I'm so glad I gave it a try! Without a doubt I will definitely be repurchasing this item. With it's well under $15 price tag and stellar performance, how could I not?  Well done, Skinfood!
Five happily concealed turtles









This product is available at W2Beauty for $13.08. For an even better deal, you can get $5 off your first purchase at W2Beauty if you sign up for an account and enter my code 071087605 at registration!
You can also get it on ebay here in #1:
http://www.ebay.com/itm/SKINFOOD-Salmon-Dark-Circle-Concealer-Cream-10g-01-/331530489337?pt=LH_DefaultDomain_0&hash=item4d30c1cdf9
and #2
http://www.ebay.com/itm/SKINFOOD-Salmon-Dark-Circle-Concealer-Cream-2-Beige-10g-Korea-Cosmetics-/271818367945?pt=LH_DefaultDomain_0&hash=item3f49a323c9
And Amazon here in #1
http://www.amazon.com/SKINFOOD-Darkcircle-Concealer-Blooming-Whitening/dp/B004FKD3HI/ref=sr_1_2?s=beauty&ie=UTF8&qid=1430701859&sr=1-2&keywords=salmon+dark+circle+concealer

and here in #2
http://www.amazon.com/Salmon-Circle-Concealer-Cream-Korea/dp/B0035LT8WM/ref=sr_1_1?s=beauty&ie=UTF8&qid=1430701859&sr=1-1&keywords=salmon+dark+circle+concealer












by