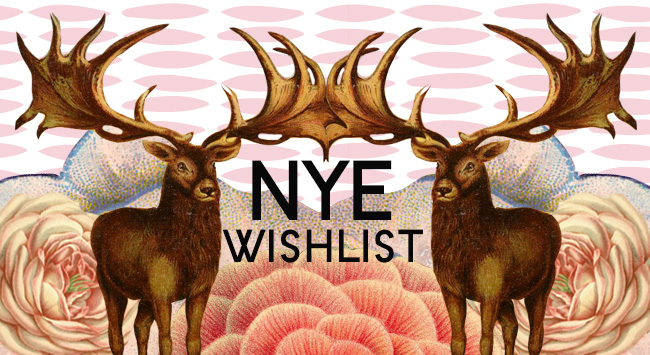 I've always felt like the holidays were for everyone else. I gleefully shop for everyone in my life, friends, family, offspring, but don't think much about anything for myself. The holidays aren't about me, they're about the people in my life. New Years Eve though, that one is very "me"-centric. It's all about saying farewell to the old you from last year, and saying hello to a better person in the upcoming year.
This year I don't have much of a Christmas wishlist, but I do have a New Years Eve wishlist. Who's to say wishlists have to only be for birthdays and the traditional gift giving holidays? This wishlist is full of items to help me stick with my goals and resolutions for 2k15!
My resolutions are: to eat more fruits and veggies, to always bring a touch of fancy to every-day items (because life is too short for ugly shit), and to travel more!
I've selected these inspiring items: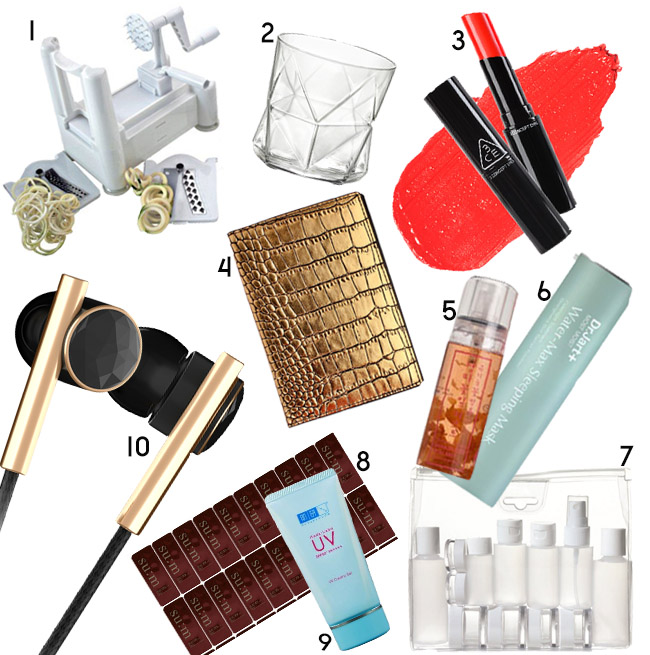 1.
Veggies are so good for you, but let's be real, they can be incredibly boring. What better way to liven up their presentation then a spiralizer? Hell, I'll want to eat more veggies just so I can play with this thing. How satisfying would it be to watch this sucker turn a zucchini into a fancy, spirally, spring?
http://www.amazon.com/gp/product/B0007Y9WHQ/ref=ox_sc_imb_mini_detail?ie=UTF8&psc=1&smid=ATVPDKIKX0DER
2.
A great way to pack a whole lotta antioxidant rich fruit and veggies into one convenient meal is by making smoothies. But just because you're taking a liquid lunch doesn't mean you have to forgo the fanciness. Why not serve it up in these cool faceted tumblers? They're available in two sizes, depending on how hungry you are 😉 With glasses this gorgeous, I think I'll use the spiralizer to add little twists of cucumbers to garnish my green smoothies.
http://www.amazon.com/Bormioli-Rocco-Cassiopea-Rocks-Glass/dp/B008PCV6J4/ref=sr_1_1?s=home-garden&ie=UTF8&qid=1418679663&sr=1-1&keywords=Bormioli+Rocco+Cassiopeia+Glass&pebp=1418679664514
3.
Speaking of fanciness, what better way to be the personification of that then a bold festive lip? I've tried these Style Nanda Three Concept Eyes Creamy Lip products before and they are unbelievably buttery and moisturizing. I selected a very neutral shade to test run, but I've regretted not picking up this shade, Kitsch Biker, ever since! This one is high on my list!
http://www.ebay.ca/itm/3CE-3-CONCEPT-EYES-Creamy-Lip-Color-KocoShop-/181446945927?pt=US_Makeup_Lips&var=&hash=item2a3f14ac87
4.
This little gold number brings me to the "travel more" portion of my resolutions. I've already given myself a kickstart by booking a weeklong trip to Iceland for next year, and I can't wait to whip out my passport housed in this beautiful crocodile embossed fine leather case. Your passport is a precious document, treat it as such! I'll make sure I travel more just to have an excuse to use this thing!
http://www.amazon.com/GAZE-Hologramful-Snakeskin-Leather-Passport/dp/B00MF9Q0KS/ref=sr_1_1?ie=UTF8&qid=1418771972&sr=8-1&keywords=snakeskin+passport&pebp=1418771977946
5 & 6.
While on long (or even short) flights, it's exciting as hell. The downside of that is you're subjected to that terrible, terrible, recycled, dry as an ancient egyptian tomb air and it's awfully hard on your skin. No one wants to step off the plane feeling like an old dry cat turd, and the good news is there's something you can do to prevent it! Whamisa Organic Flowers Damask Rose Petal Mist gives your skin instant hydration with a few spritzes. It does so by forgoing water and using ingredients like fermented rose extract and petals, chrysanthemum extract, and aloe vera. I've reviewed their Organic Flowers Olive Mist and it turned out to be a holy grail item for me. I can't wait to try this version! If you want to try it with me, order through this link and get 15% off! http://i.refs.cc/Mxk05ta7
After spritzing some of that awesome mist, why not really fortify your skin and protect it from that awful air with a sleeping mask? If you're familiar with sleeping mask/packs, you know that there's no better way to wake up refreshed and hydrated, so imagine what it could do for you on a plane? Dr Jart+ Water Fuse Water-Max Sleeping Mask is something I've tried before and I love it! It is so good! The good news for me is, it's not available at Sephora. From their website "this weightless, leave-on mask that creates a protective barrier on your skin, locking in vital moisture and nutrients while you "beauty sleep." Hyaluronic acid macromolecule feeds continuous moisture deep into the dermal layer, replenishing skin's nighttime water supply, while olive leaf and cranberry strengthen the skin barrier to boost elasticity. A fragrant blend of nine essential oils promote a deep, comforting sleep, leaving your skin ultimately revitalized and you refreshed."
http://www.sephora.com/water-fuse-water-max-sleeping-mask-P374570?skuId=1421981 
7.
Traveling when you've got a skincare routine as in depth and product heavy as I do isn't easy. You don't want to risk putting all your products in your checked baggage because not only might it spill on your clothing, but it also takes up way too much valuable luggage room. Solve that problem by transferring everything into these handy travel friendly bottles! I plan on having my skincare with me in my carry-on bag, and this is going to make that possible.
http://www.amazon.com/Travel-Smart-Bottle-Set/dp/B004HCECVA/ref=sr_1_25?ie=UTF8&qid=1418772167&sr=8-25&keywords=travel+accessories
8.
Some things in my regime are just too precious to decant and put into bottles. I plan on getting around that by getting myself a large lot of samples to not only easily tote around, but also give me a fresh dose of product every time! Perfect!
http://www.ebay.ca/itm/SU-M37-Secret-Programming-Essence-30pcs-Anti-Aging-Skin-Care-Moisture-SUM37-/350719395464?pt=US_Skin_Care&hash=item51a8814688&clk_rvr_id=750151230419&afsrc=1
9.
After all of that dry airplane air, I'm going to need a nourishing sunblock for my adventures. Hada Labo UV Creamy Gel SPF 50 PA+++ contains hyaluronic acid, my favourite hydrating ingredient!
http://www.ebay.com/itm/Hadalabo-RHOTO-Hyaluronic-Hyaluronic-UV-Creamy-Gel-SUNSCREEN-SPF50-PA-50g-/221413614914?pt=US_Skin_Care&hash=item338d47a542
10.
I'm a podcast junkie. I subscribe to so many that I've always got a backlog going on. The easiest way to work through them all is by popping on my earbuds and listening while I'm going about my daily life. While I'm eating my veggies, traveling, or just walking my dogs, I want to add that fanciness by replacing my ugly white earbuds with these absolutely gorgeous faceted black and gold accented ones. These things are undeniably gorgeous, they look more like pieces of jewelry than they do headphones. How can you possibly be in a bad mood with these lovely things in your ears? Please Santa, leave these in my stocking so that I can kill it in the upcoming new year 😉
http://www.caeden.com/collections/linea_no_2/
Well, there's my list! What are your resolutions going to be? Let me know in the comments!












by