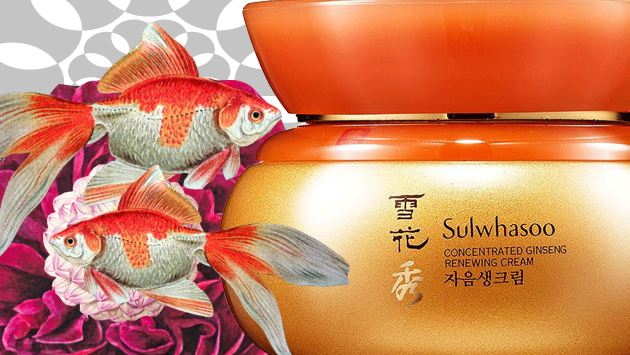 Once upon a time, I used to be a counter manager for a higher end cosmetics company. I would have this inner soul cringe every time I had to sell a woman some b.s. cream upwards of $100 that I knew good and well wasn't going to deliver on anything that it promised. They would send us away on these "business meetings" which were just corporate brainwashing sessions about the latest skincare product. I'd sit there hating life because I knew from the first cursory glance at the labels that these products were no better than going home and just putting $5 vaseline on your face. But in between photoshoots and makeup gigs I needed a day job so I had to grin and bear it. It left me pretty jaded when it came to high end skincare. I said it would have to take something pretty dramatic to get me to cave in and try those waters again. Well guys, something pretty dramatic happened, and it's name is Sulwhasoo Concentrated Ginseng Renewing Cream.
This cream is like the most luxurious, melt into your skin, slap your mama, butter souffle from heaven. I love it. Why? Let's have a look at the description of this cream and the ingredients:
"Formulated with the roots, berries, and water of rare five-year-old Korean ginseng, this treatment stimulates cell regeneration to revitalize and ultimately restore youthful looking skin. Additional Korean herbs such as milk-vetch and white mulberry promote an ageless complexion, as jojoba, avocado, mango seed, and sunflower oils moisturize and condition for soft, smooth skin."
Ingredients:
Panax Ginseng Root Extract, Water, Glycerin, Squalane, Cyclopentasiloxane, Butylene Glycol, Beta-Glucan, Trehalose, Limnanthes Alba Seed Oil, Sodium Hyaluronate, Glyceryl Stearate, Perilla Ocymoides Seed Extract, Phytosteryl Isostearyl Dimer Dilinoleate, Octyldodecyl Myristate, PEG-40 Stearate, Stearic Acid, Camellia Sinensis Leaf Extract, Ophiopogon Japonicus Seed Extract, Licorice, Hydrolyzed Ginseng Saponins, Panax Ginseng Berry Extract, Glutinosa Root Extract, Chrysanthemum Morifolium Flower Extract, Paeonia Suffruticosa Root Extract, Citrus Unshiu Peel Extract, Adenophora Stricta Root Extract, Lycium Chinense Root Extract, Coix Lacryma-Jobi Ma-yuen Seed Extract, Angelica Tenuissima Root Extract, Honey, Morus Alba Root Extract, Astragalus Membranaceus Root Extract, Angelica Acutiloba Root Extract, Cnidium Officinale Root Extract, Vitis Vinifera, Gardenia Florida Fruit Extract, Nelumbo Nucifera Leaf Extract, Scutellaria Baicalensis Root Extract, Terminalia Chebula Fruit Extract, Paeonia Lactiflora Root Extract, Acetyl Glucosamine, Mangifera Indica, Helianthus Annuus Seed Oil, Phytosteryl/Behenyl/Octyldodecyl Lauroyl Glutamate, Persea Gratissima, Jojoba Esters, PEG-100 Stearate, Polyacrylate-13, Cetyl PEG/PPG-10/1 Dimethicone, PEG-30 Dipolyhydroxystearate, Glyceryl Linoleate, Pantethine, Retinol, Cetearyl Alcohol, Hydrogenated Vegetable Oil, Dimethicone, Propylene Glycol, Cyclodextrin, Tocopherol, Dimethiconol, Polyisobutene, Salicylic Acid, Polyquaternium-51, Tocopheryl Linoleate, Copernicia Cerifera Wax, Caffeic Acid, Polycaprolactone, Glyceryl Linolenate, Lauryl PEG/PPG 18/18 Methicone, Glyceryl Arachidonate, Dextrin, Polysorbate 20, Methoxy PEG-114/Polyepsilon Caprolactone, Phytosphingosine, Disodium EDTA, Benzophenone-5, Methylparaben, Ethylparaben, Phenoxyethanol, Fragrance
.
As you can see the first ingredient is the ginseng root extract, "rare five-year-old Korean ginseng" to be exact I guess. This ginseng's antioxidant and anti-inflammatory properties are well established. If you want one of the most in depth breakdowns of the ingredients of this cream and what they mean (plus the best reviews ever) please check out what Skin&Tonics has to say about it.
 Since ginseng is the first and most prominent ingredient, do be braced for the unmistakable ginseng smell, because this cream certainly has it. Even if you're not a fan of that particular fragrance, I'm willing to bet you'll get over it quick once this stuff is actually on your face. It melts right in and leaves your skin pretty much instantly softer, exactly like how I wish those creams I used to sell all those years ago would have preformed. It's extremely hydrating, and it leaves a glossy effect on your skin as you can see in the photo below: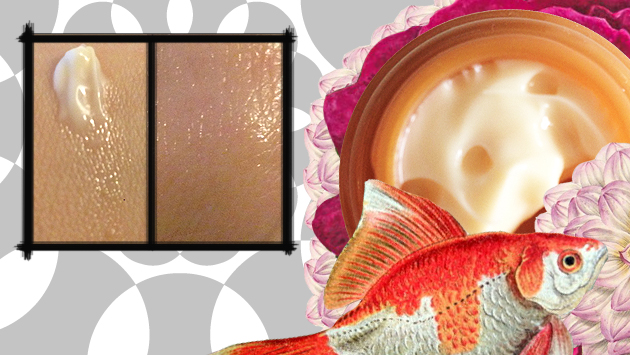 If it's doing that to my gross dry hand above, think of what it will do on your face. Because of that I think mature skins would particularly like this cream, especially impatient ones, because you'll notice it doing it's thing right away. I'm afraid that oily skin types might not care much for that aspect of it, unlike their drier peers will love and appreciate it. I'd also venture to say that combination skins would also like this cream, especially if they concentrated it just on the drier areas. It's a pretty inclusive cream, it would do well for a variety of skin types. The only ones I would think wouldn't care for this would be the very oily, just because I know how much they tend to hate any sort of sheen. This cream is effective without being heavy at all. Like I said before, it really just melts right into the skin, I can't say that enough. It's texture is such a pleasure. It manages to be extremely hydrating and give your skin a definite suppleness without being occlusive or suffocating. At no time did this cream cause me any breakouts whatsoever. What it did do was leave my skin smoother, calmer, and with insane softness. There's a richness there that's just so very nourishing to the skin, really it's phenomenal and a perfect ending to your skincare routine. Sulwhasoo Concentrated Ginseng Renewing Cream gets a very well deserved 5 out of 5 turtles, plus an extra turtle for convincing this old jaded soul that there are some luxury creams out there that actually work.





+

If you're looking to buy this cream, I'd really suggest getting it from W2 beauty. If you're going to make the splurge not only do they have this cream discounted and 
on sale right now
, they're also so very generous with samples and have free shipping available worldwide 🙂 
Plus if you're a first time customer, you can get a five dollar voucher to use immediately on your purchase by entering my sponsor code 071087605 when you sign up for an account!

It's also available on ebay here:
http://www.ebay.ca/itm/Sulwhasoo-Concentrated-Ginseng-Renewing-Cream-60ml-Free-sample-/121108700295?pt=LH_DefaultDomain_0&hash=item1c32a41c87

And Amazon here:
http://www.amazon.com/Sulwhasoo-Ginseng-Concentrated-Cream-60ml/dp/B005D4Q6R4/ref=sr_1_1?ie=UTF8&qid=1430700602&sr=8-1&keywords=Sulwhasoo+Concentrated+Ginseng+Renewing+Cream
You can get deluxe samples here on Amazon if you're not yet ready to take the plunge!
http://www.amazon.com/Sulwhasoo-Concentrated-Ginseng-Renewing-Cream/dp/B00M1Y7ZEM/ref=sr_1_4?ie=UTF8&qid=1430700602&sr=8-4&keywords=Sulwhasoo+Concentrated+Ginseng+Renewing+Cream
Same on ebay
http://www.ebay.ca/itm/Sulwhasoo-Concentrated-Ginseng-Cream-Samples-5mlx10pcs-50ml-Free-Tracking-ship-/261478038806?pt=LH_DefaultDomain_0&hash=item3ce14e3d16
In the words of Donna Meagle and Tom Haverford, "treat yo self".












by