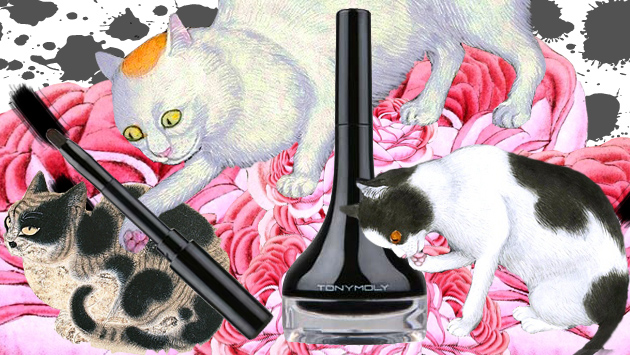 I'm not even going to mince words.Tony Moly Backstage Gel Eyeliner should be front and center on your vanity table. I'm lucky enough to live in a city large enough to have a Korean cosmetics store. I'm luckier even still that it's literally across the street from my building. As you can imagine I'm a constant browser in that store. On that particular day the Tony Moly Backstage Gel Eyeliner caught my eye. It's unconventional shape was the first thing to grab me. When I picked up the tester and discovered that the unusual shape was due to the fact that there was a built-in telescope brush in the lid, I was very impressed with it's cleverness. This was pretty much me in the picture below: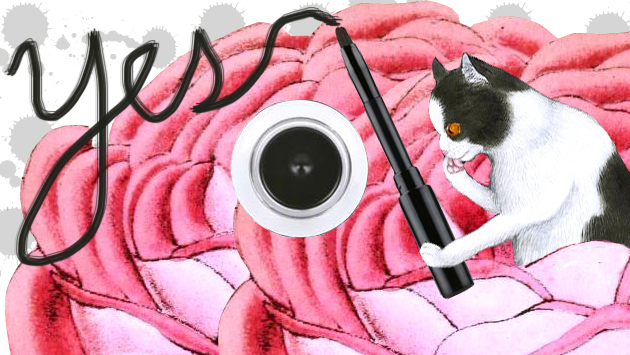 I was a MAC Fluidline devotee pretty much since it's release. I never even thought about straying because it never made me unhappy. On the day I was at the Korean cosmetics store I had found myself running low on my Fluidline that morning. I was getting to that nasty end of the pot dried out stage where it just drags on your eyes like skid marks. Even though I was skeptical about the performance of the Tony Moly I had just been amused by, I decided why the hell not, and threw it in my basket. I figured at around $10 I could safely give it a shot.
The next morning when I got to the eyeliner step of my routine I broke out my new goodie. Whoa. Daaaaaaaaaamn. Blacker than a vortex and it just absolutely glided on like a dream. No dragging, smooth as hot butter, creamy, and yet drew a perfect defined cat-eye point. Even the brush was amazing. I can't remember the last time, if any time, that a provided brush really wowed me. I really honestly dig that little brush. I'll put it this way, I have at least $75 worth of different eyeliner brushes from my professional makeup artist days on hand and I almost always just use the brush that comes with the Backstage Gel Eyeliner. It's handy as hell, and it works great. It works especially well when you're doing the Korean puppy eye. I find that this brush shape lends itself perfectly to that look. Here it is compared to it's counterparts; Mac Fluidline and an E.L.F Studio Cream Eyeliner pot I had laying around. All swatched twice.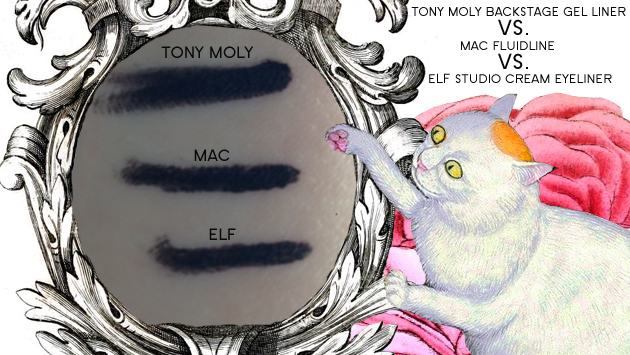 As far as durability? Forget about it. Tony Moly Backstage Gel Eyeliner beats the ever loving dogshit out of it's competition. I'm serious. Check out these pictures. These are all waterproof gel eyeliners but Tony Moly is so far superior when it comes to the stress test. Look at what happens when we push the limits.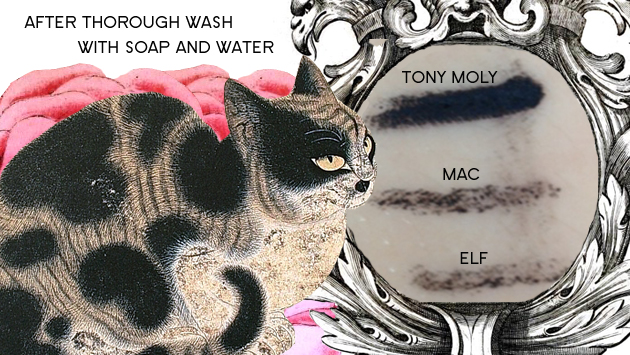 My thoughts exactly, cat. MTE.  Look at that! Mac and Elf are done. Done. Girl, bye.
What more do I need to say? This is my new holy grail eyeliner. The price is amazing, the product is stellar, and it's as tenacious as my pit bull with his chew toy. Five totally on point flawless turtles.

















by