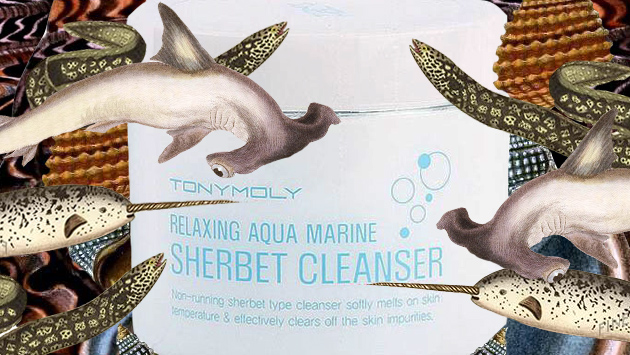 Sherbet cleansers are going to be another one of those products I'm going to have to explain if you're not already familiar with them.  In an Asian skincare routine, there is typically a two step process during nighttime cleansing that involves two different products. The first one is traditionally an oil cleanser to remove your makeup, followed up by your regular foaming cleanser. Sherbet cleansers are basically a solidified oil cleanser. Liquid oil cleansers work wonderfully, but some people eschew them for the sherbet style cleansers due to their ease of use. The liquid oil type has a pretty messy nature. It also has a tendency to get into the eyes, leaving you with an annoying temporary hazy film. The solid sherbet cleansers are a lot easier to handle and won't dribble everywhere.
The most famous sherbet cleanser is probably the Banilla Co. Clean it Zero cleansing balm. The second is probably the Tony Moly Relaxing Aqua Marine Sherbet Cleanser, which is what I'll be reviewing for you today.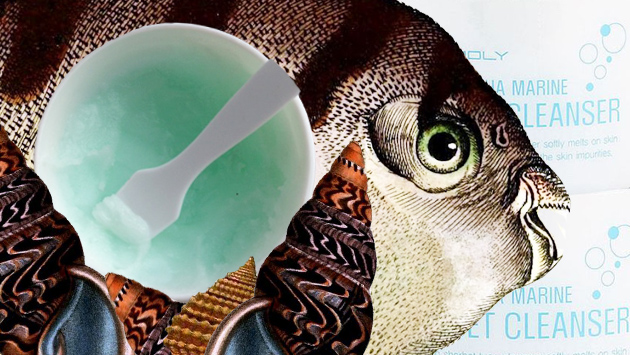 Tony Moly Aqua Marine Sherbet Cleaner has a texture that's something like that lemon ice cup dessert you can get from street vendors, if it were somehow able to be room temperature without melting. Kind of like butter straight out of the fridge before it gets soft. It's a strange texture and hard to describe!
Once you scoop some out,  you can rub it with your fingertips and melt it down to a more oil like consistency. Next, you apply it to your face in a massaging motion as you would any makeup remover. It has a sort of vaguely citrusy smell that's very subtle and refreshing. It glides all over with minimal effort, which is exactly what you want when dealing with the skin in the delicate eye area. It does a pretty decent job of removing your makeup. It completely rids your face of bb creams, foundation, base, blush, eyeshadows and even waterproof mascara. I used it here to remove the extremely tenacious Tony Moly Backstage Gel Eyeliner and the remnants of some MAC Fluidline and ELF gel liner. As you can see, it removed all but the very faintest ghost trace of the Tony Moly, which was easily removed with the foaming cleanser afterward.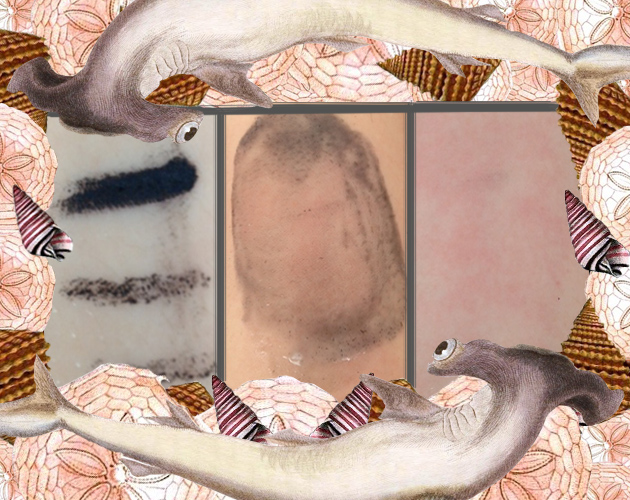 Excuse my red skin, that has nothing to do with the cleanser, my skin is extremely reactive to the slightest friction, it goes back to normal in a minute or two lol.
Now, your face is most definitely not going to feel clean after using this product. Keep in mind that it's a makeup remover and not a stand alone cleanser. You'll be left with a kind of oily film on your face. Not to worry though, that's where your foaming cleanser comes in and the two step process begins.
After you've used the sherbet to gently massage away your makeup, you wash your face with your favourite regular cleanser. It completely removes the oily feeling left by your sherbet or oil cleanser, leaving you with clean skin. I find that the Tony Moly Relaxing Aqua Sherbet Cleanser is removed a lot easier than some cleansing oils I've tried. All in all this is a pretty fool proof method for throughly removing makeup and experimenting with two step night cleansing. Using two cleansers might seem like overkill and take some getting used to, but together they do things that neither one could do alone.
Tony Moly Relaxing Aqua Sherbet Cleanser gets  4 out of 5 turtles.




e
dit: This cleanser has been renewed and updated! It's available here
Ebay:
http://www.ebay.ca/itm/CLEANSER-KOREAN-TONY-MOLY-Aqua-Porin-Sherbet-Cleanser-Korean-Cosmetics-/251804079859?pt=LH_DefaultDomain_0&hash=item3aa0b156f3












by