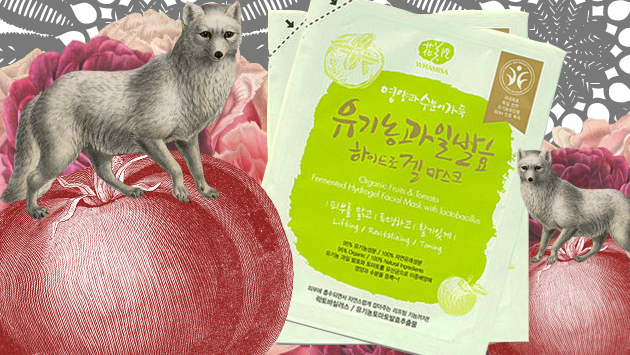 I'm convinced Whamisa can do no wrong. I sat down to try yet another of their superb mask offerings and once again I was thrilled. The Glow Recipe website does the best job of giving this mask a proper run down so I'm going to paste their description for you here and then give you my thoughts on it.
"The Gist: 
An organic hydra-gel mask that has been soaked in skin-plumping botanical serum. Drench your face in ultra hydration and nutrition for instantly glowing, clear skin. It works hard and fast to improve skin's elasticity and firmness. For all skin types.
How it works:
Formulated with 95% organic ingredients, including Tomato, Apple, Licorice and Banana, which are naturally fermented to preserve maximum efficacy. This one of a kind mask relies on a blend of fermented seeds and rice to help rehydrate and calm dry, depleted skin. BDIH Standard Certified.
Free of:
Parabens, Silicones, Mineral Oils, Synthetic dyes & fragrances  
See Glow Recipe's standards for product curation here.                                                                                               
Our Insight: 
Long before sheet masks became a staple in Korean skincare regimes, geishas would boil water underneath flowers and herbs, then capture the steam on a piece of kimono silk, which they would then apply to the face. Today's sheet mask is a little more high-techs. The best sheet masks now transcend fabric masks – the new trend is innovative gel-mask forms. 
This gel mask is Glow Recipe team favorite. We recommend applying the liquid serum inside the mask packaging before placing the mask onto the skin. The best part is the sensorial experience as the mask reacts to skin's temperature to adhere seamlessly to the facial contours and maximize the benefits."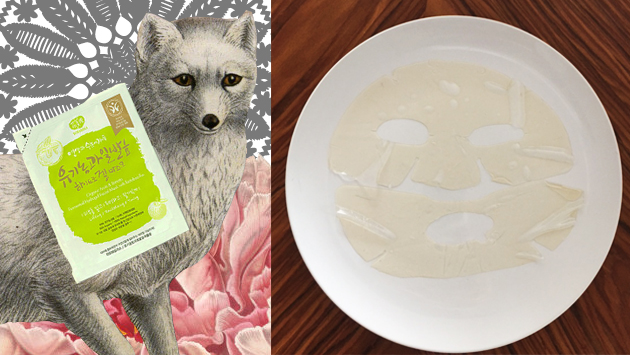 First of all, the hydra-gel is so neat! It's like a solid paper thin sheet of jelly. It's super wiggly-wobbly and a lot of fun to put on your face. Take care when removing it from it's peel back packaging, it's slippery and easy to drop if you're not paying attention. This mask is absolutely brimming with essence and that essence is brimming with stellar skin care ingredients. My skin loves ferments so I'm always happy to have them in all the products I use. The effects of this mask are immediate in that your skin comes away plumper, fuller looking, and fabulously hydrated. Like I said about it's sister, the Whamisa sea kelp mask, the effects are like that of getting an expensive facial. I see no difference between how my skin looks and feels after this mask followed by my other Whamisa products and how it looks and feels after a facial. It's a better investment in my opinion!
I stuck this guy in the fridge and the cooling effect was amazing! It was as refreshing as a cold shower after a hot yoga session. In fact I'm just going to refer to this as my after yoga shower in a package from now on because this thing is bliss! I cannot wait to use these masks this summer. I'm just so impressed with them. As a matter of fact, the day after I used this, I had an insanely hectic day, and I wasn't able to do my usual daytime skincare routine. When the day was finally over and I got a chance to start my nighttime skin regime, I was pleased to discover that my skin was in the same condition it would have been had I not skipped everything! This mask from the day before was enough to carry me though 24 hours of neglect and helped me retain plump moisturized skin! I promptly ordered 6 more of these, because damn, what more could I ask for in a mask.
Glow Recipe has curated yet another absolute must try from Whamisa. At $9 it's steeper than a regular cotton and glycerin mask, but again, you're getting what you pay for here, top notch ingredients and no potentially acne triggering or irritating fillers. This mask is easily gets 5 out of 5 turtles plus one for being exceptional. Order yourself a few and stick them in the fridge next to your veggies and other good for you stuff!






+

Where to Buy:
Available at Glow Recipe here:
http://www.glowrecipe.com/products/whamisa-organic-fruits-tomato-fermented-hydrogel-facial-mask
Good news, Glow Recipe has offered to give you 15% off your order if you order through my link! Get in on this great stuff with this great deal and check out Whamisa's other products! 


http://i.refs.cc/Mxk05ta7












by