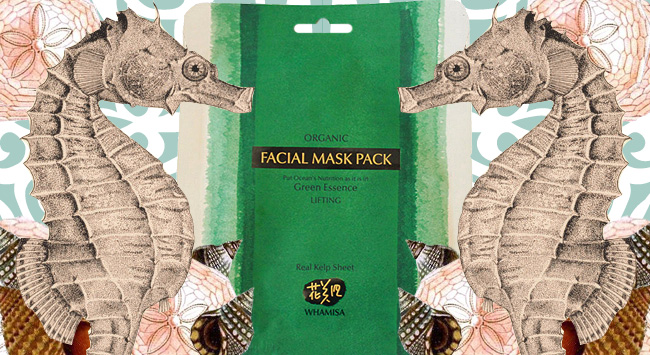 Whoa, daaaamn! I never thought something as benign as sea kelp would illicit that kind of enthusiasm from me but then again I'd never tried Whamisa Organic Sea Kelp Facial Sheet Mask before.
Where do I start with this awesome mask? The ingredients:
Laminaria Japonica, *Aloe Barbadensis Leaf Extract, Laminaria Japonica Extract, *Lactobacillus/Aloe Barbadensis Ferment Filtrate, Serenoa Serrulata Fruit Extract, Angelica Polymorpha Sinensis Root Extract, ☆(-)-alpha-bisabolol, Trigonella Foenum-Graecum Seed Extract, Natto Gum, Leonurus Sibiricus Flower/Leaf/Stem Extract, Dioscorea Opposita (Wild Yam) Root Extract, *Camellia Japonica Seed Oil, *Centella Asiatica Extract, *Argania Spinosa Kernel Oil, Anemarrhena Asphodeloides Root Extract, *Bambusa Vulgaris Leaf/Stem Extract, Chlorella Ferment, *Avena Sativa (Oat) Kernel Extract, *Corylus Avellana (Hazel) Seed Oil, Angelica Keiskei Leaf/Stem Extract, Citrus Junos Fruit Extract, Royal Jelly 0.05, **Paeonia Suffruticosa Root Extract, Xanthan Gum, **Scutellaria Baicalensis Root Extract, Plantago Asiatica Extract, **Glycyrrhiza Glabra (Licorice) Root Extract, ☆Adenosine, Lavandula Angustifolia (Lavender) Oil, Aniba Rosaeodora (Rosewood) Wood Oil, Citrus Aurantium Bergamia (Bergamot) Fruit Oil, Cymbopogon Schoenanthus Oil
*Certified Organically Grown **Natural Preservative ☆Ecocert
LOOK AT THAT, LOOK! THIS HEAVENLY INGREDIENT LIST No fillers, no crap, nothing but goodness. It's like a buffet of emollients, antioxidants, and anti-imflammitory goodness with absolutely NO acne or irritation triggers. I'm talking zero. It's also organic if that stuff is important to you. I notice that this shares some wonderful ingredients with my new favourite Whamisa cream. Yaaaas, slay Whamisa. Perfection.
Another thing that separates this from the typical water and glycerin cotton sheet mask is that this sheet is made entirely of laminaria japonica, otherwise known as sea kelp. Sea kelp itself can help aid in moisturizing the skin, so what a perfect, genius delivery system for all of those top notch skin nourishing ingredients.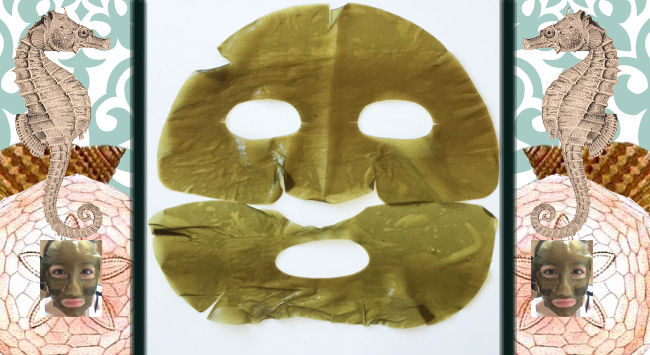 Because the mask is made of kelp, it's got that very distinct seaweed smell. If you're familiar with Korean or Japanese food, you know the aroma I'm referring to. As soon as I put this mask on I felt like the fanciest human kimbap (my husband actually remarked the same thing "smells like kimbap!" and promptly went out to procure himself one after this mask triggered the craving lol). The kelp is thick and laden with serum, it's very slippery so take care getting it out of it's package, I wasn't being careful and I almost dropped it. The fact that it's so slippery is good, that means it's heavily concentrated. I also really like that this mask comes in two parts, it makes fitting it onto your face easier. Once applied the mask was very soothing and cooling, it felt extra nice on my winter wind irritated skin. This would also be amazing in the summer, I imagine putting one on after a hot day outside would be out of this world. In fact, I'm going to stock up on these to use after my hot yoga classes!
After removing the mask my skin was noticeably bouncier, and unbelievably hydrated and soothed. I mean really, seriously, bouncy. And really, seriously, hydrated. Like, really. Seriously. This is the part of writing this blog I love the most, because I'm discovering new holy grail products that I wouldn't otherwise have. If not for this blog I would probably be lulled into a comfort zone. This product certainly takes it's place on my holy grail roster.
At $14 the price is a bit steep for a sheet mask but it really is totally worth it. Put it this way, I'd rather have one of these masks than a facial at a spa, so $14 is better than the $100 at the minimum I'd spend at a spa. Buy a couple of these and save them for date nights or special occasions, or if you're ballin' use these suckers every damn day and feel my seething jealousy.Whamisa Organic Sea Kelp Facial Mask
five out of five turtles + one turtle for excellence and making me look like I'm cosplaying a Ninja Turtle while I'm wearing it.





+

Whamisa has grown to be my favourite company right now, taking the crown from Benton and even Sum:37. Not that Sum:37 isn't awesome, I still use their serum and cleansing stick every day. But this mask demonstrates why Whamisa reigns supreme for me, top quality ingredients and absolutely stellar results.
Available at Glow Recipe here
http://www.glowrecipe.com/products/organic-sea-kelp-facial-sheet-mask
Good news, Glow Recipe has offered to give you 15% off your order if you order through my link! Get in on this great stuff with this great deal and check out Whamisa's other products! 


http://i.refs.cc/Mxk05ta7
Also available in a five pack via eBay here












by